Hardliner, no, pious Muslim believer in Islam 101, yes.
Yet another Muslim fundamentalist in need of a smacking down by those who believe in the ideals and principles of the enlightenment. There is no ideology in existence that should be 'hands off' from the same criticism and lively debate that all others go through. What's next, no criticism of commies and nazis and statism in general?
H/T: Fluffy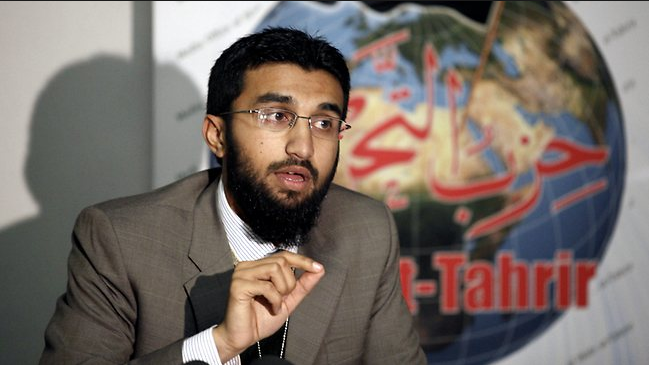 Top debate spot for Muslim hardliner
EAN HIGGINS
THE AUSTRALIAN
NOVEMBER 02, 2013 12:00AM
A RESPECTED ethics centre will next week provide a coveted speaking platform to the spokesman for Islamic group Hizb ut-Tahrir, who has called Australian Diggers in Afghanistan "fair game" whom Muslims had an obligation to attack.
The event will be sponsored by AMP, and recorded by the ABC. It will also be broadcast by the BBC.
Uthman Badar, who will take part in the IQ Squared debate put on by the St James Ethics Centre in Sydney, has also called on Muslim Australians to boycott Anzac Day because it celebrates British colonialist attempts to seize Muslim land from the Ottoman Empire.
Mr Badar is the highly vocal media spokesman in Australia for Hizb ut-Tahrir, which rejects Western democratic values and calls for an Islamic caliphate to rule Muslims around the world. The organisation is banned in some countries.
The topic of Thursday's debate is "God and His Prophets should be Protected from Insult", and the ethics centre invited Mr Badar to be one of the speakers presenting the case in favour.
The Malaysian opposition leader Anwar Ibrahim had to pull out as his debating partner at the last minute, and the organisers are looking for a stand-in.
Speaking against the proposition will be author Tom Keneally and the founder of Youth Without Borders, Yassmin Abdel-Magied.
Asked in 2011 if he condoned the killing of Australian troops in Afghanistan, Mr Badar replied: "If you are occupying someone else's land then those victimised people have the right to resist."
Mr Badar said yesterday he did not plan to stray much from the topic, although he might use sensitivity about Anzac Day as an example of how there were "red lines" in all societies about what was reasonable to say about religious or national icons.
NSW Jewish Board of Deputies chief executive Vic Alhadeff said the selection of Mr Badar was "a blight both on the organisers and on the event itself".
The ethics centre's director, Simon Longstaff, said the whole approach of IQ Squared was to grapple with controversial issues through a disciplined, respectful approach. As chairman of the debate, he would not tolerate expressions of hatred or racism.
"Two sets of ideas run up against each other: whether you should have a broadly unfettered freedom of expression, or you say no, religion ought to have a special kind of respect," he said.
The IQ Squared debates are normally broadcast on the ABC's Big Ideas program, but the show's executive producer, Peter McEvoy, said this was on a case-by-case basis.
"The ABC captures a wide range of public lectures and debates for Big Ideas," and broadcasts them "where they meet our editorial standards".
AMP spokeswoman Jane Anderson said the debates "encourage vigorous discussion" and "can from time-to-time be controversial".
"But we are not involved in deciding the topics or the speakers and certainly don't endorse any of the speakers or their views."
– See more at: