OIC's sec-gen. Ekemeleddin Ihsanoglu would disagree: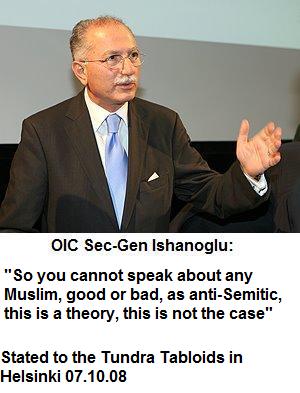 NOTE: This was a sign greeting the Islamonazis on the Mavi Marmara in the Turkish port before leaving for Gaza. The sign reads: "Hands of health".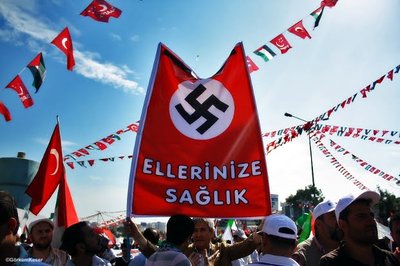 Turkish Students Arrested for Nazi Salutes at Nazi Death Camp
Two Turkish students could face up to three years in jail for "promoting fascism" after shouting "Heil Hitler" at Israeli group.
By Ari Soffer & Ege Berk Korkut
First Publish: 10/15/2013, 1:39 PM
Illustration: Jewish visitors at Majdanek
Flash 90
Two Turkish university students were arrested at the site of the Majdanik Death camp, after giving Nazi salutes to a group of Israeli students and shouting "Heil Hitler".
The two, identified by Turkish media as Mehmet A. and Mesut T., were arrested after members of the Israeli group filed charges, and are being detained for promoting fascist propaganda – a crime punishable by up to three years imprisonment in Poland.
But the pair protested their innocence, saying that although they appreciate that their actions were offensive, they had only meant it as ajoke, according to Today's Zaman
"All we wanted was to take a couple of pictures [posing making the salute] as memories from the camp. We did not know it was a crime in Poland," claimed Mehmet A.
Mehmet said Polish police confiscated both of their passports, as well as a camera, and kept them in custody for two days before questioning them at the prosecutor's office, following which they were released pending charges.
Anti-Semitism in Turkey is a growing problem, which some analysts blame on the ruling Islamist AKP party, whose own leading officials have actively engaged in anti-Semitic rhetoric.
ISLAMOFASCISM IS ISLAM 101