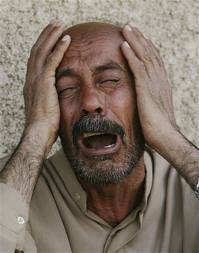 7 killed, 4 injured in militant attack in SW Pakista
English.news.cn   2013-10-29 13:26:03
ISLAMABAD, Oct. 29 (Xinhua) — At least seven people were killed and four others injured on Tuesday morning when some unknown militants stormed a house of a tribal elder in Pakistan's southwestern province of Balochistan, local media and official said.
Officials from Balochistan Levies, a paramilitary force, said that some unknown militants attacked the house of a tribal elder Tara Khan in the Zain Koh area in Dera Bugti district of Balochistan.
The armed assailants entered the house and sprayed bullets with automatic weapons and killed six members of the family including two women and three children besides injuring five others.
Local people and personnel of the paramilitary force shifted the bodies and injured to the civil hospital of Dera Bugti where one of the injured succumbed to his injuries.
There was no immediate report about the tribal elder whether he escaped the attack or not.
Taliban attacks killed 3,000 Afghans in seven months: Interior Ministry
Taliban militants in Afghanistan
Tue Oct 29, 2013 4:31PM
Militant attacks have claimed lives of nearly 3,000 people across war-ravaged Afghanistan over the past seven months, Interior Ministry says.
This comes after Taliban militants and their associated militant groups carried out nearly 6000 attacks in different regions of the violence-wracked country.
Chief of the Afghan police forces at Afghan Interior Ministry, Gen. Salim Ehsas said on Tuesday that 2052 security personnel and 856 civilians have lost their lives in deadly bombings and assaults.
The senior official also added that more than 5,000 others were also injured as a result of the ongoing violence.
Roadside bombs and improvised explosive devices are by far the most lethal weapons Taliban militants use against Afghan forces, foreign troops, and civilians.
In late April, the Taliban announced the start of their annual "spring offensive" against US-led and Afghan forces, vowing a new wave of attacks across Afghanistan.
Two killed, five critically injured in shooting at Benghazi protest
By Ahmed Elumami.
Tripoli, 29 October 2013:
Two people were killed and a further five critically-wounded last night when gunmen opened fire on a group of protestors outside Benghazi's Tibesti Hotel.
The protestors were in a tent erected outside the hotel when two masked gunmen opened fire at around 9.30 pm, Spokesman for Benghazi Joint Security Room (BJSR), Abdullah Zaidi, told the Libya Herald. The gunmen immediately escaped from the scene of crime, he said.
Seven wounded people were brought to the hospital at 10 pm last night, according to the head of Jalaa Hospital media office, Fadia Barghathi. Two of them died shortly after they arrived, she said, and the others remain in critical conditions in the hospital's intensive care unit.
Sudan Bombings Video Exposes Horrors Of Army Campaign
Posted: 10/29/2013 11:44 am EDT
Hosna Tutu was sitting next to the remnants of a burned house in the Sudanese village of Angola. Antonovs belonging to the Sudanese army had pounded the village, reducing furniture to scrap metal. "Just the other day they dropped bombs on me twice," Tutu said. "My children and I are worn out and hungry. How am I going to feed my children. With what?"
Tutu is one of dozens of villagers in Sudan's South Kordofan province, telling their story in a new film by Nuba Reports. The organization has documented the bloodshed in the region since fighting broke out between the Sudanese army and SPLM-N rebel fighters based in the Nuba mountains in June 2011.
According to the organization, Sudanese planes have dropped nearly 1,200 bombs on civilian targets since April 2012, killing more than 50 people. While the government says its campaign targets fighters, Nuba Reports' tallies indicate that only 100 of the more than 1,000 bombs landed near a military target. Most of the attacks are carried out with Antonovs, old Russian cargo planes loaded with explosive devices.