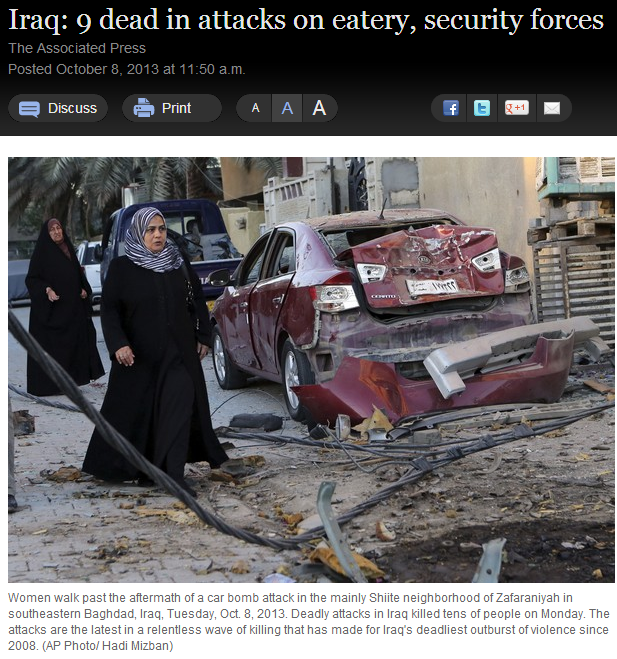 BAGHDAD (AP) – Iraqi officials say a car bomb in Baghdad and attacks on security forces in the north of the country have killed at least 9 people.
Police say the blast went off Tuesday evening in front of a restaurant in the mainly Shiite neighborhood of Zafaraniyah, killing three and wounding 10.
Authorities say a military convoy was ambushed by gunmen after an explosion 120 kilometers (75 miles) south of the city of Mosul, with three soldiers dead and three others wounded.
Group: 3 Palestinian refugees killed across Syria
Published yesterday (updated) 08/10/2013 12:26
(MaanImages/file)
BETHLEHEM (Ma'an) — Three Palestinian refugees were killed in Syria on Monday during clashes between the Free Syrian Army and government forces, a local group said.
The Workforce for Palestinians in Syria said in a statement that Luay Majid Suwwan, a member of the Syria-based Palestine Liberation Army, was killed during clashes.
Another man, Ahmad Awad, was shot dead by a sniper at a checkpoint manned by Syrian government forces while protesting the army's siege on Yarmouk camp, the group said.
Aisha Lafi was killed by shrapnel from a shell which landed near her home in the Damascus area.
The group said that Palestinian refugees in al-Aedin camp near Homs had appealed to both sided of the conflict to respect the neutrality of Palestinian refugees.
Syrian military forces detained Husam Ahmad Othman, from al-Aedin camp, on Sunday at an army checkpoint, the group added.
Three killed in Afghanistan bombing
Tuesday, Oct 8, 2013, 14:33 IST | Agency: IANS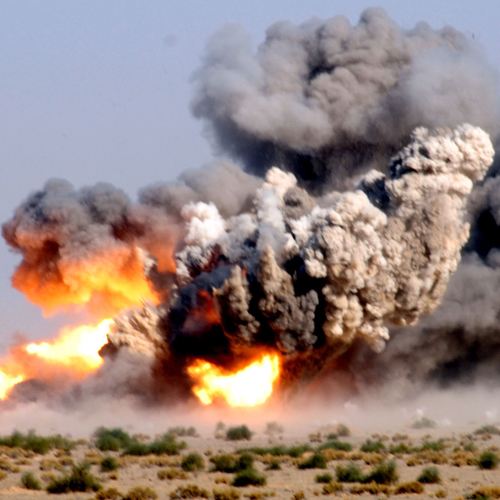 Representational Image
At least three people were killed in a bomb attack in Afghanistan's Wardak province, officials said Tuesday.
"On Monday evening, three people were killed when a bomb attached to their vehicle by militants was detonated in the provincial capital Maidan Shar," Xinhua reported citing a provincial government statement.
The victims were employees of a local construction company, Aziz Hashimi, and were travelling to a construction site when the incident took place, the statement said.
No group has claimed responsibility for the attack so far.
Iraq bombing kills eight
AFP – A roadside bomb exploded near a truck carrying workers in Iraq on Wednesday, killing eight people, a police officer and a hospital employee said.
The blast south of Baghdad also wounded seven, they said.
Violence in Iraq has reached a level not seen since 2008, when the country was just emerging from a brutal sectarian conflict.
This year's surge in violence has raised fears of a relapse into the kind of intense Sunni-Shiite bloodshed that peaked in 2006-2007 and killed tens of thousands of people.
Diplomats and analysts say the Shiite-led government's failure to address the grievances of the Sunni Arab minority — which complains of political exclusion and abuses by security forces — has driven the rise in unrest.

Hezbollah, Iraqi militia capture Damascus suburb – opposition
By Khaled Yacoub Oweis
AMMAN | Thu Oct 10, 2013 12:16am IST
(Reuters) – Iraqi and Lebanese Shi'ite militia backed by Syrian army firepower overran a southern suburb of Damascus on Wednesday, opposition activists said, in a blow to Sunni Muslim rebels trying to hold onto strategic outskirts of the capital.
At least 20 rebels were killed when Hezbollah guerrillas and Iraqi militiamen captured the town of Sheikh Omar under cover of Syrian army artillery and tank fire and aerial bombardment, the activists said, with tens of Shi'ite fighters killed or wounded.
Sheikh Omar sits between two highways leading south of Damascus that are crucial to supplying President Bashar al-Assad's forces in the provinces of Deraa and Sweida on the border with Jordan.
Syria's 2-1/2 year war has killed more than 120,000 people and forced millions from their homes into sprawling refugee camps in neighbouring countries.