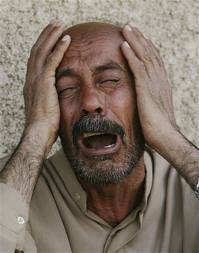 Iraq violence: Bomber hit primary school
A suicide bomber has attacked a primary school in northern Iraq, killing at least 12 children and their headteacher, police and medics say.
Another 90 people were injured in the attack near Tal Afar, some 420km (260 miles) north-west of the Iraqi capital Baghdad, the town's mayor said.
At least 12 people were killed as another suicide bomber hit pilgrims heading to a Shia shrine in Baghdad.
Iraq has seen a sharp rise in sectarian violence in recent months.
More than 50 people were killed on Saturday alone in Baghdad's Adhamiya district as pilgrims walked to a Shia shrine.
Almost 1,000 people were killed in Iraq during the past month alone, the UN has said, amid fears of a return to the sectarian conflict that peaked in 2008.
Nearly 6,000 have been killed so far this year.
Violence rose after an army raid on a Sunni Arab anti-government protest camp in April.
Soldiers among seven killed in Iraq violence
AGENCE FRANCE PRESSE
Published — Friday 4 October 2013
BAGHDAD: Attacks in Iraq, including two suicide bombings, killed three soldiers and four civilians on Friday, security and medical officials said.
In Anbar province, west of Baghdad, a suicide bomber detonated an explosives-rigged vehicle near an army checkpoint at an entrance to the town of Heet at about 7:30 a.m. (0430 GMT), killing three soldiers and wounding five.
Militants frequently carry out attacks against security forces and other government employees.
While the mostly Sunni Anbar province was home to militant strongholds in past years, it has been relatively quiet in recent weeks, with most of the latest violence seen in Baghdad and several northern provinces, which are more confessionally and ethnically mixed.
Another suicide bomber blew up a vehicle near a police checkpoint in Salaheddin province, north of Baghdad, killing three people and wounding seven, while a roadside bomb near the home of a Shiite family in Diyala province's capital Baquba killed one person and wounded two.
Members of Iraq's Shiite majority are frequently targeted by Sunni militants, who consider them apostates.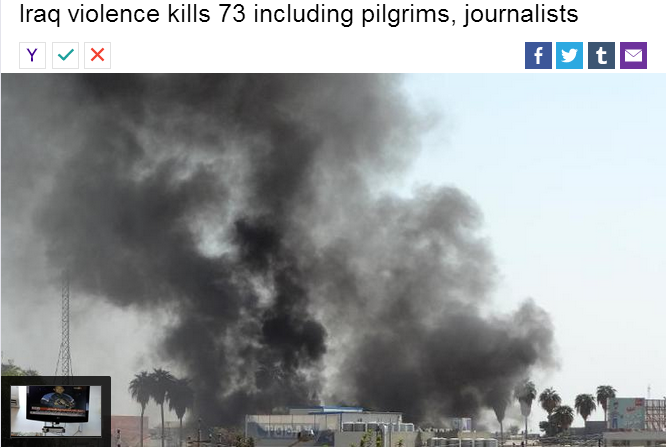 Baghdad (AFP) – Violence including an attack on Shiite pilgrims in Baghdad killed at least 73 people across Iraq on Saturday, among them two journalists gunned down in the north, officials said.
Violence is at a level unseen since 2008, and there are persistent fears that Iraq will relapse into the kind of intense Sunni-Shiite bloodshed that peaked in 2006-2007 and killed tens of thousands of people.
Accounts differed as to whether the attack on the pilgrims in the Adhamiyah area of north Baghdad, which killed at least 49 people and wounded at least 75, was a bomb followed by a suicide bombing, or a suicide attack alone.
It came as pilgrims walked to a shrine to commemorate the death of Imam Mohammed al-Jawad, the ninth Shiite imam.
Iraq is home to some of the holiest sites in Shiite Islam, and millions of pilgrims visit them each year.
But crowds of pilgrims are frequently targeted by Sunni militants including those linked to Al-Qaeda, who consider Shiites to be apostates.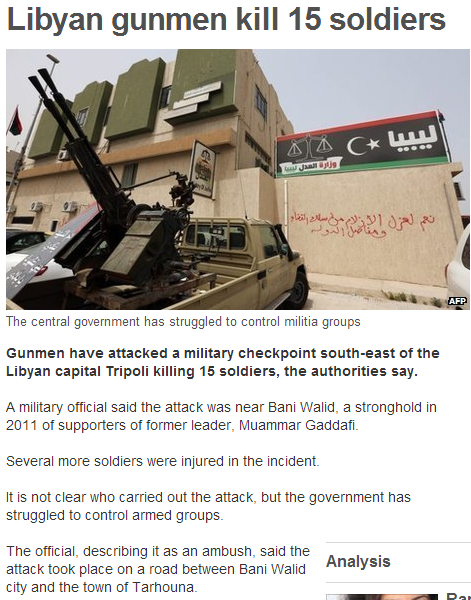 19 killed as Syrian rebel groups battle each other
(AP) / 5 October 2013
Al Qaeda militants battled fighters linked to the Western-backed opposition along with Kurdish gunmen in Syrian towns along the Turkish border on Friday, in clashes that killed at least 19 people, activists said.
The violence is part of an outburst of infighting among the myriad rebel groups opposed to President Bashar Al Assad for control over prized border areas. Extremist fighters and more mainstream rebels are increasingly turning their guns on each other in what has effectively become a war within a war in northern and eastern Syria, leaving hundreds dead on both sides.
Turkey has been a staunch supporter of the rebels seeking to topple Assad, and has allowed the flow of weapons, men and supplies through border crossings into Syria.
In an interview with Turkey's private Halk TV, Assad said Turkey will pay a "high price" for allowing foreign fighters to enter Syria from its territory.
"You cannot hide terrorists in your pocket. They are like a scorpion, which will eventually sting you," Assad added.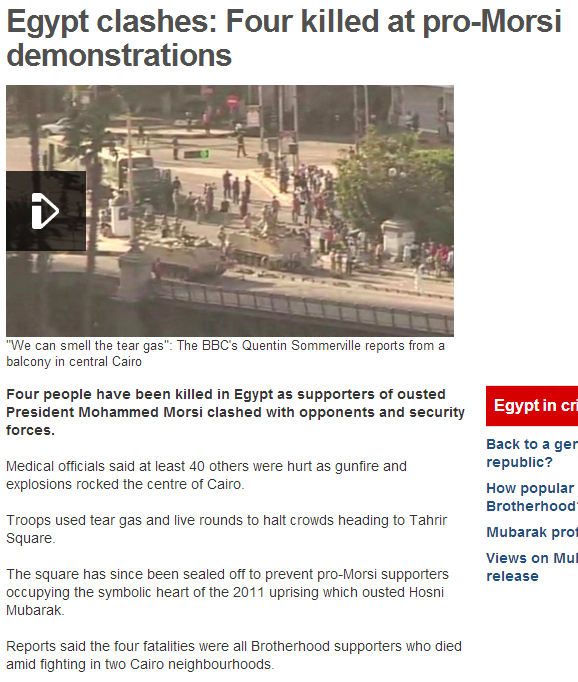 Armed attack kills 1 soldier in Yemen
One Yemeni soldier was killed while another was wounded in an armed attack staged on a Yemeni military checkpoint.
Unknown gunmen carried out an armed attack in the city of Radda in the Yemeni province of Al-Bayda, according to the security sources.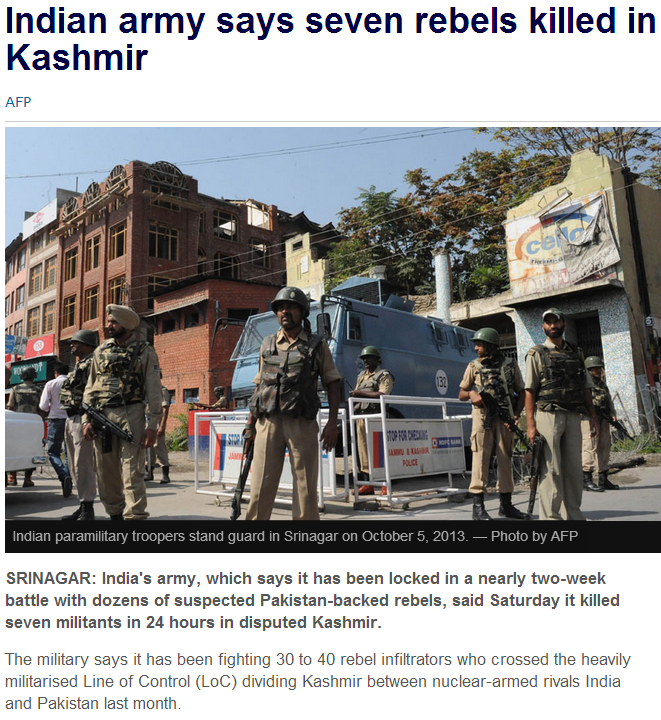 "Four militants were killed in the Fateh Gali area" of Indian Kashmir on Saturday, Colonel Rajesh Kalia told AFP, adding three other rebel suspects were killed in another gunbattle in nearby Gujardur area the previous day.
Kalia said assault rifles, pistols and rocket launchers were found at the scene of the latest firefight, just west of the abandoned village of Shala Bhattu in Kashmir's Keran sector.
Suicide bombers target Iraq Shi'ites, killing 60
By Kareem Raheem
BAGHDAD | Sat Oct 5, 2013 5:10pm EDT
(Reuters) – Two suicide bombers targeted Shi'ite Muslims in Iraq on Saturday, killing 60 people on the eve of the anniversary of one of their imams' deaths, police and medics said on Saturday.
In the northern city of Mosul, unidentified gunmen shot two Iraqi television journalists dead as they were filming, security sources said.
No group immediately claimed responsibility for either of the bombings, but such attacks are the hallmark of Sunni Islamist al Qaeda, which views Shi'ites as non-believers and has been regaining momentum this year.
In Baghdad, a suicide bomber detonated his explosives at a checkpoint, killing 48 Shi'ite pilgrims on their way to visit a shrine in the Kadhimiya district, police and medical sources said.