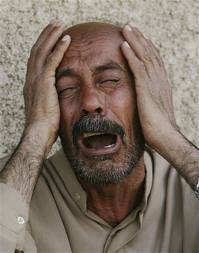 Al-Qaida Attack in Yemen Kills 2 Security Guards
SANAA, Yemen October 15, 2013 (AP)
By AHMED AL-HAJ Associated Press
A Yemeni military official says suspected al-Qaida militants have killed two security guards and wounded four others in a drive-by shooting in a southern province.
The official says two attackers on a motorcycle opened fire on Tuesday at soldiers guarding a checkpoint in front of a security base in the southern province of Lahj.
The official says the gunmen fled after the attack. He spoke on condition of anonymity according to regulations.
Yemen is fighting a war against al-Qaida's local branch, considered by Washington as one of the world's most dangerous offshoots of the terror network.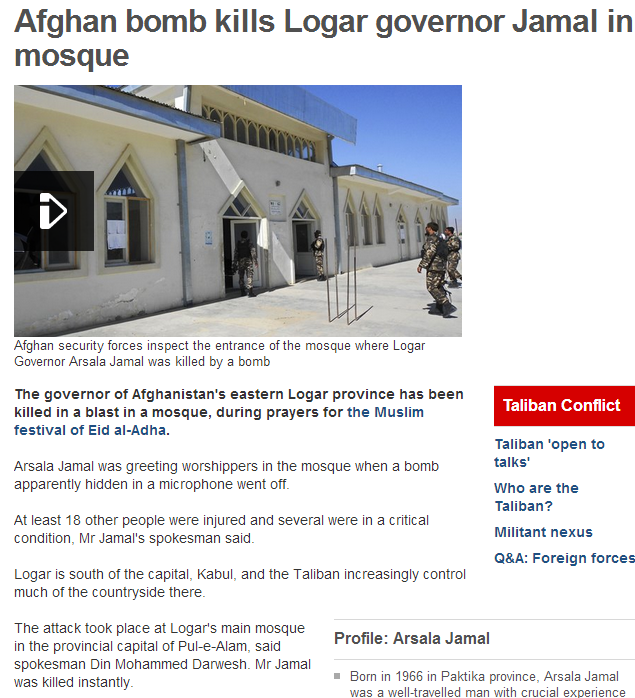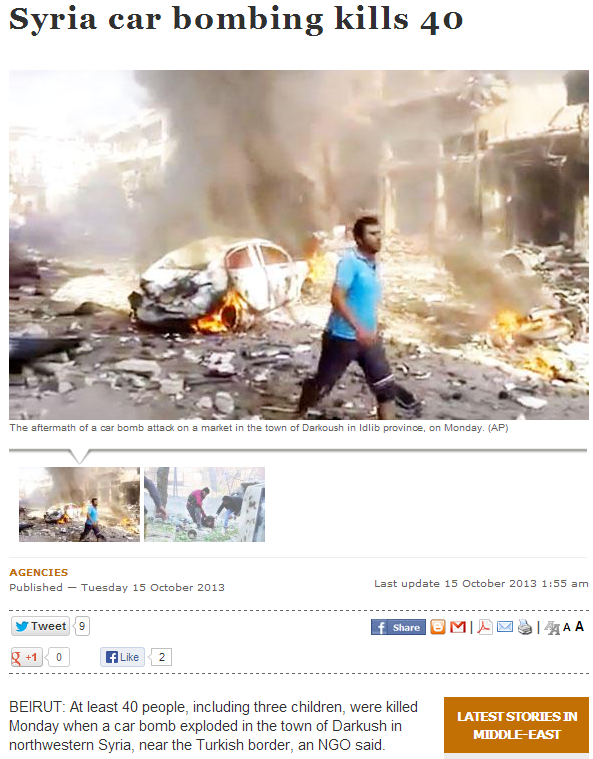 The Syrian Observatory for Human Rights, which had earlier reported a toll of 20, said the number of casualties was expected to rise due to the large number of people who suffered serious injuries.
"The toll has risen to 40 dead, including three children and a woman, as a result of a car bomb blast," said the Britain-based Observatory, which relies on activists across the country for its reports.
Activists from the Syrian Revolution General Commission network said the blast took place in the market area of Darkush, which is under rebel control. The Observatory confirmed the report.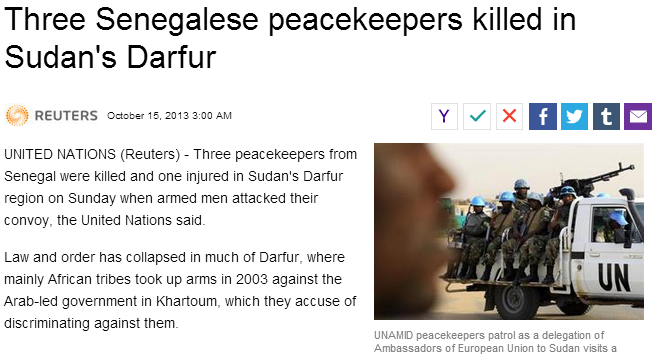 One of the world's largest peacekeeping forces, a joint African Union/United Nations operation known as UNAMID, has been deployed in the region since 2007.
"All too often UNAMID peacekeepers are attacked and killed in the line of duty, while helping the Sudanese bring peace to Darfur. These attacks are unacceptable," a spokesman for U.N. Secretary-General Ban Ki-moon said in a statement.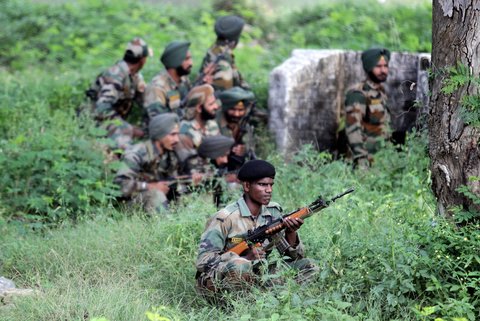 Indian Army jawan killed in heavy firing by Pakistan on LoC
Last Updated: Wednesday, October 16, 2013, 00:59
Zee Media Bureau/Manisha Singh
Srinagar: Heavy firing from Pakistan side along the Line of Control in Balakote sub-sector in Poonch district in Jammu and Kashmir was reported on Tuesday. One Indian Army jawan has been killed in the shelling, while six others have been injured.
Indian troops retaliated and heavy exchange of fire continued for several hours. The firing had started at 5.30 pm from across the border, a defence spokesman said tonight.
The jawan, who died after being hit by a mortar shell, was identified as Lance Naik MS Khan of 15 Bihar regiment, the spokesman said.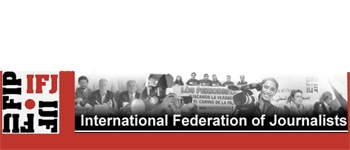 October 14 2013
Impunity Rampant as Death Toll of Pakistan's Journalists Hits Nine for the Year
The gunning down of a journalist outside his home in the district of Karak in Pakistan's northern province on October 11 has taken the country's journalist death toll to nine this year.
The International Federation of Journalists (IFJ) expresses its shock at the brutal killing of journalist Ayub Khattak and grave concern for the ongoing safety of journalists as Pakistan's death toll reached a global high for 2013.
According to information available from the Pakistan Federal Union of Journalists (PFUJ), an IFJ affiliate, Ayub Khattak had just left his residence in the Takht Nusrati area of Karak when unknown assailants opened fire on him. He died at the scene.