I have noted my disagreements with the Norwegian Progress Party in the past, for its trashing of other parties in Scandinavia in trying to appear more in line with other so called 'moderate' parties. None of the serious opposition parties I have supported however, even the Progress Party, are 'anti-immigrant nor anti-immigration'. What they object to is massive, uncontrolled migration through a porous border kept open by elites foreign and domestic, which makes any form of assimilation nearly impossible.
NOTE: The lame media however, has its marching orders and will pursue that narrative till the cows come home. The Progress Party would do well in refraining from doing the same to other anti-mass immigration & anti-Islamization parties as well.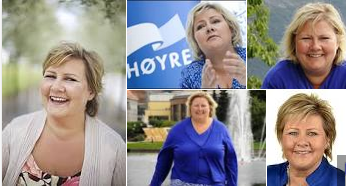 Norway's new government concedes on oil, immigration for support
By Balazs Koranyi and Joachim Dagenborg
OSLO | Mon Sep 30, 2013 4:15pm EDT
(Reuters) – Norway's Conservative leader Erna Solberg said she would form a minority cabinet with the populist Progress Party after talks with two centrist parties broke down on Monday, giving ground on oil exploration and immigration.
Solberg agreed to give up plans to drill for oil in several promising Arctic areas and also agreed to tighten asylum policies to win the support of her eventual coalition partner and the outside backing of the centrist Liberals and Christian Democrats.
"We were very close to finding good solutions… This is the second best option," said Solberg, who is set to become Norway's second female premier after winning elections earlier this month. "This is not the end of cooperation between the four parties."
She now faces a difficult alliance with the right wing, anti-immigration Progress Party, which will enter government for the first time. Since it was founded in 1973, and until now, mainstream parties had considered it too radical for power.
"We can't hide the fact that we are very pleased with the immigration issues here. We have got a fairly strong tightening," said Progress leader Siv Jensen, who is likely to become finance minister when the government takes office Oct 18.
Progress, whose members once included mass killer Anders Behring Breivik, has toned down its policies in recent years and moved closer to the centre, but still faces criticism over its radical spending and tax proposals and warnings about a "creeping Islamification" of Norway.
New immigration rules agreed on Monday could increasingly differentiate among asylum seekers, making it easier for the government to forcibly return people. However, the changes will not affect immigration from the European Union, which accounts for the vast majority of migration to Norway.