When have you ever heard of Christians or Jews rioting, if and when, their own religious leaders are arrested for whatever the reason?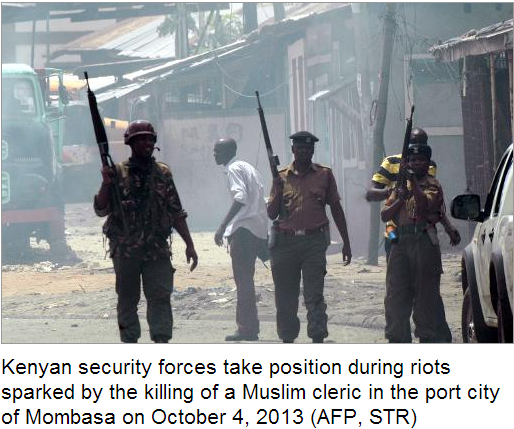 Kenya rioters torch church after Muslim cleric killed
(AFP) – 3 hours ago
Mombasa — Rioters set fire to a church in Kenya's port city of Mombasa Friday, in furious battles with the police sparked by the killing of a Muslim cleric, police said.
Witnesses said one protester was shot and wounded, as armed paramilitary police moved towards a mosque, whose leaders have been accused of links to Somalia's Islamist Shebab, insurgents who attacked a Nairobi shopping mall last month.
Riots were sparked after unknown gunmen assassinated a popular Muslim preacher and his three companions in a drive-by shooting late on Thursday, a killing that mirrored the murder of another cleric last year which provoked days of deadly riots.
Radical preachers have said the killing Thursday was an "execution" by the police, claims the force has denied.
"They have burnt the Salvation Army church and we are now trying to repulse them with tear gas," a senior police officer said.
Slain cleric Sheikh Ibrahim Ismail was viewed as the successor to Aboud Rogo Mohammed, a controversial preacher accused of links to Somalia's Shebab insurgents, who was shot dead in August 2012.
Like in the case of Rogo, radical preachers have said the killing of Ismail was an "execution" by the police, which denied the claims.
Thick smoke apparently from burning tyres rose around Mombasa's Masjid Musa mosque — where both Rogo and Ismail used to preach — while police fired tear gas and youths hurled stones in return. Several gunshots were also heard.
More here. H/T: Fjordman