Swedish utopian paradise interrupted once again.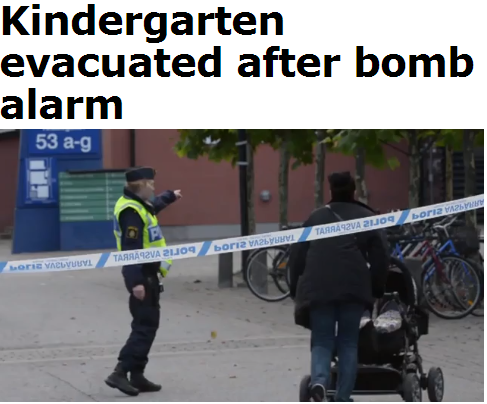 A large area at Annelundsgatan in central Malmö was cordoned off this morning after police received the alarm about suspicious objects.
– It is an object that looks like a tube with wires sticking out, says Jimmy Modin, press spokesman at Skåne police.
Shortly before noon, was the object away and barricades were lifted.
Photo: Fritz Schibli


Police bomb technicians removed the object just before 12 o'clock.

– It has been taken apart and removed. Now we will carry out a technical undersöning at closer quarters to ascertain what it is for something, says Jimmy Modin.

The barriers at the site are now removed.

It was a private person who alerted police after 08 o'clock on a suspicious object found outside a restaurant. Police patrol that arrived found the object consisted of tubes with wires sticking out.

– We can not exclude that in the case of a suspicious object, says Jimmy Modin.

An area of ​​200 meters around has been cordoned off. Within the area there are two kindergartens, among them Annelund school, which was evacuated in connection with police work. Just before 11 o'clock evacuated also a business building in the area.

More here. H/T: Ingrid Carlqvist