Now that wasn't so hard now was it?
Update to the story of a Jewish runner during the 1938 tack and field meet, being denied the win due to antisemitism by finishing line judges. It was claimed that Abraham Tokazier was denied due to visiting Nazi officials viewing from the stands. The Finnish sports federation said earlier that it couldn't rescind the original verdict, but of course they were full of crap.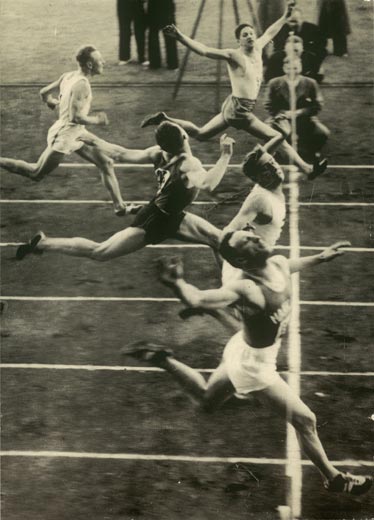 NOTE: Abraham Tokazier is the runner at the bottom of the picture.
75 years on, Jewish runner finally awarded 1938 victory
The Finnish Sports Federation (SUL) has announced it will award Abraham Tokazier with a victory in the 100 metres at the opening meet held at Helsinki's Olympic Stadium in 1938. He had been denied the win amid suspicions of anti-semitism.
On 21 June 1938 Abraham Tokazier crossed the line before his competitors in the 100 metre sprint, but was given fourth place with Aarre Savolainen declared the winner.
Tokazier's club Makkabi Helsinki protested at the judges' decision, which went against the stadium announcer—who gave Tokazier the win—and photographic evidence published later in Helsingin Sanomat and Hufvudstadsbladet.
Suspicions were raised that the presence of guests from Nazi Germany in close proximity to the judges may have influenced their actions.
SUL had apologised in September, but Makkabi insisted they wanted to see the results altered in the official records.
The new results published on Saturday have Tokazier first, Toivo Häkkinen in second, Aarre Savolainen in third and Torsten Avellan in fourth place. All retain their original time of elevel seconds exactly.