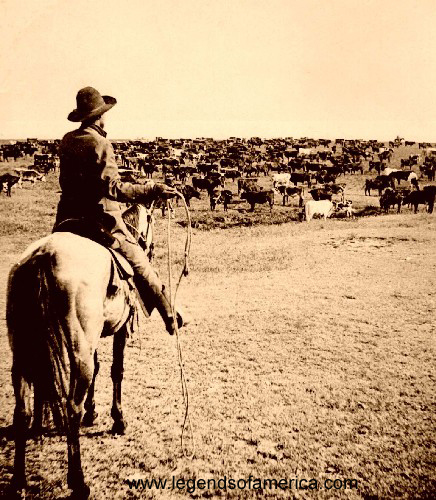 Palestinian Terror Tunnels: Sophistication of new Gaza terror tunnels surprises Israeli military
Published on Oct 17, 2013
The IDF revealed this week that it had discovered two tunnels dug from the Gaza Strip into Israel that were likely intended to be used for launching terror attacks. The sophistication of the underground passages has amazed Israelis and foreign observers.
EU Jews fear rising tide of anti-Semitism: survey shows one in five EU Jews hides Jewish identity
Published on Oct 17, 2013
A study by the European Agency for Fundamental Rights has found that nearly a quarter of Jews surveyed said they avoid looking conspicuously Jewish out of fear of anti-Semitism.
Al-Qaeda leader pleads not guilty to 1998 Kenya bombings: suspect was abducted in Libya by US
Published on Oct 17, 2013
A senior al-Qaeda suspect in the 1998 bombing of the US Embassy in Kenya has pleaded not guilty to charges in a New York court.
Lebanon catches alleged Israeli spy bird: Middle East nations paranoid about 'Zionist' animals
Published on Oct 17, 2013
Lebanese security forces have captured a bird which is believed to be a flying Israeli "spy," adding to a long list of similar accusations made against the Jewish state.
Hamas TV Airs Cartoon Lauding its Military Wing, Izz Al-Din Al-Qassam B (MEMRI)
(Al jizz) Roma girl expulsion sparks new row in France
Published on Oct 16, 2013
Recent deportation of 15-year-old Leonarda Dibrani to Kosovo raises questions about France's treatment of Roma migrants. Al Jazeera's Tim Friend reports from Paris.
Iran hints for more nuclear concessions
Published on Oct 16, 2013
Iran is signalling the beginning of a new phase in its relationship with the West. The five permanent members of the UN Security Council and Germany have been meeting Iranian negotiators in Geneva. The aim is to end the dispute over Iran's nuclear programme. Al Jazeera's diplomatic editor James Bays reports from Geneva.
(NOTE: Being against Islamization is one thing, laying your grimy fingers on someone is completely another, and should be punished to the full extent of the law. Also, the black bag is a security risk, and an overt offensive garment towards men. Also, if they do not want men to see their faces, they should wear blinders so they can't see other people's faces either). The morons.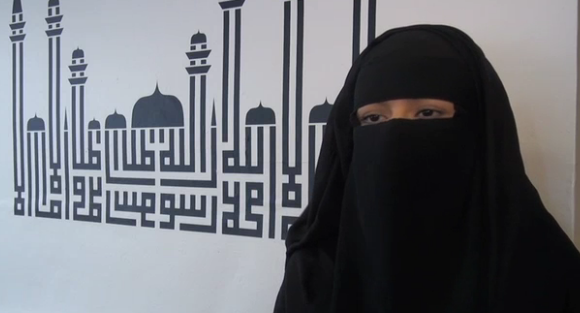 A young Muslim woman has spoken out after being attacked on the Metro for wearing her burka and face veil.
Yasmin Bint Shafiq, 22, was travelling on the Tyne and Wear Metro close to Manors Station when a man tried to pull her face veil from her head.
Other passengers were visibly uncomfortable with the situation but noone stepped in to help her.
Yasmin, from Whitley Bay, said: "There was a person behind me who I didn't notice.
"There was a man about late twenties who came and sat next to me, he goes 'I want to see your face.'
"I didn't say anything so he put his arm around me, grabbed me and tried to pull, physically pull, my headscarf and my face veil off.
"His friends had to come and pull him off."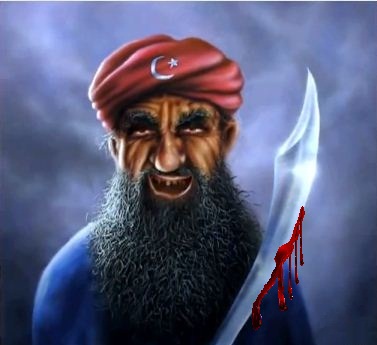 The religion of genocide: More people are killed by Islamists each year than in all 350 years of the Spanish Inquisition combined
ISLAM: THE RELIGION OF GENOCIDE
PERSPECTIVE:
THINKS THE SPANISH INQUISITION WAS BAD?
(TT: Self defense against a tide of overtly hostile Islamic pincer moves is deemed as racism.)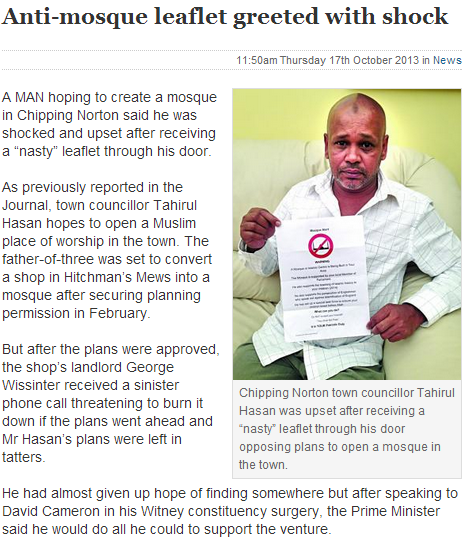 Culture and diversity addressed in the first of Halifax Minster series
The first of the live series, tonight (Thursday) focused on 'Culture and Diversity'.
The historic walls hosted a discussion directed by Professor Ted Cantle on the topic of faith in a globalised world and tackled entrenched faiths in a modern global society.
An expert panel also gave their reflections on the subject and speakers included, leader of Calderdale Council Tim Swift, Halifax MP Linda Riordan, MBE Mohammed Aslam former Himmat youth project leader, chief superintendent of Calderdale police Chris Harden and chief executive of Halifax Opportunities Trust Barbara Harbinson.
Segregated education establishments were highlighted by key speaker professor Ted Cantle as being detrimental to social cohesion in a modern world society.
Student jailed for seven and a half years for raping schoolgirl
A STUDENT who raped a 14-year-old schoolgirl in South Shields within weeks of moving to the UK was today jailed for seven and a half years.
Ferdoush Hasan raped the vulnerable girl at his house in Beaufront Terrace, South Shields, last year.
The 22-year-old led the girl, who had drunk half a litre of vodka, to a room in another part of the house from her friends, where he forced himself on her and raped her.
Julie Clemitson, prosecuting, said: "The defendant was at his home address near the Chichester metro station in South Shields. The victim was out with her friends in South Shields. They had been drinking alcohol and they were affected by it when they entered the address with the defendant.
"The defendant approached her, started to kiss her and take her clothes off. Sexual intercourse took place despite her attempts to push him off. Sex took place without any form of contraception.
Labour attacks Tower Hamlets mayor over 'black hole' in council finances
Adam Barnett, Reporter Wednesday, October 16, 2013
3:24 PM 
There is currently £71 million budget gap in the council's financial plan, which Labour blames on government cuts to council funding and what they call a "spending spree" by Mayor Lutfur Rahman.
Cllr Carlo Gibbs, Labour spokesperson for finance, said: "First the council is hit by deep and destructive budget cuts by the Tory government and now we see how the mayor's out of control spending is making the situation much worse."
The budget gap was also attacked by John Biggs, Labour candidate for mayor of Tower Hamlets and London assembly member for East Ham.
He said: "Instead of frantically trying to buy the next election with local peoples' own money the mayor should be focused on policies which protect our community in the long term."
(TT: We all know that if this happened where they immigrated from, the perp would have been slain in the streets ages ago.)
Man who murdered law student during neighbours' dispute on Isle of Dogs gets Life
Uddin… guilty of murder on his doorstep
Mike BrookeWednesday, October 9, 2013
A man found guilty of murdering a law student who tried to make peace between rowing neighbours in London's East End has been jailed for life with a minimum 14 years.
Sultan Ahmed
Shofique Uddin, 51, made a brief appearance at the Old Bailey today for sentencing, following the dispute outside his maisonette at Lanterns Way in Millwall, on the Isle of Dogs.
He was found guilty of murder yesterday after a four-week trial.
The confrontation with his neighbours in May last year was prompted by a woman cleaning a carpet with a hose in her back garden.
Several relatives arrived at the housing complex near Canary Wharf as the row escalated, including 20-year-old Sultan Ahmed the nephew of one of the warring neighbours.
Sultan's brother Thanbir and their father Kabir with the book of his life's achievements
Seven years for Swadlincote taxi office rapist
By Sarah North
A TAXI worker was jailed yesterday for raping a woman – after being stopped in a similar attack three years ago.
Judge John Burgess declared Humza Mahmood, 19, to be a danger to women and locked him up for seven years. The 23-year-old victim was left terrified and needs a panic alarm at her home.
​

Humza Mahmood was locked him up for seven years after being convicted of rape.
She was sexually assaulted and raped by Mahmood, who was working in the offices of his uncle's firm, Alpha Cars, in Swadlincote, early on March 30.
Judge Burgess said the case was made worse because a youth rehabilitation order had been imposed on Mahmood in May last year for a sexual assault on another women when he was aged around 17.
Al-Shabaab video reveals British connections to group behind Kenya attack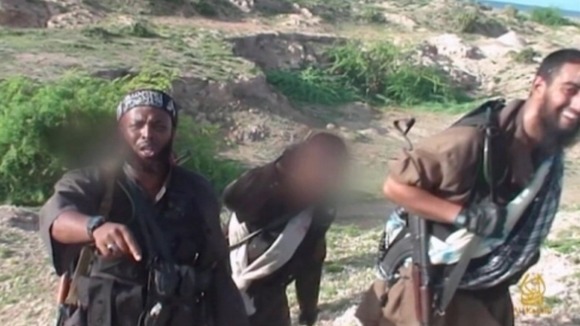 More evidence has come to light of the British connection to the terrorist group behind the Kenyan shopping centre massacre.
A recruitment video, which was made by the al-Qaeda-linked militant group Al-Shabaab before the attack, praises British fighters in its ranks for their role in key military victories.
One fighter with a British accent reels off a list of towns where he claims recruits hailed from, including London, Liverpool, Cardiff, Bristol and Birmingham.
The group is now claiming that 10 British members have died fighting in their ranks.
ITV News' Africa Correspondent Rohit Kachroo reports:
CCTV appeal: Police seek man over alleged sex assault on teenager
12:10pm Tuesday 15th October 2013
Police want to trace this man in connection with the allegations
POLICE want to speak to this man (pictured) who they believe has information about the alleged  indecent assault of a 14-year-old girl in a busy convenience store.
They were called to Stanley Wines on Pocket Nook Street in Fingerpost following reports of the incident.
Detectives believe that the man pictured can help them with their enquiries. He is described as Asian, around 6ft 2in tall with a slim build and short black hair.
Detective Constable Ellen Devers said: "This must have been a very upsetting incident for the young girl. Although she was not injured, we treat these kind of cases extremely seriously.