Queen Bea left on her own resorts to old habits.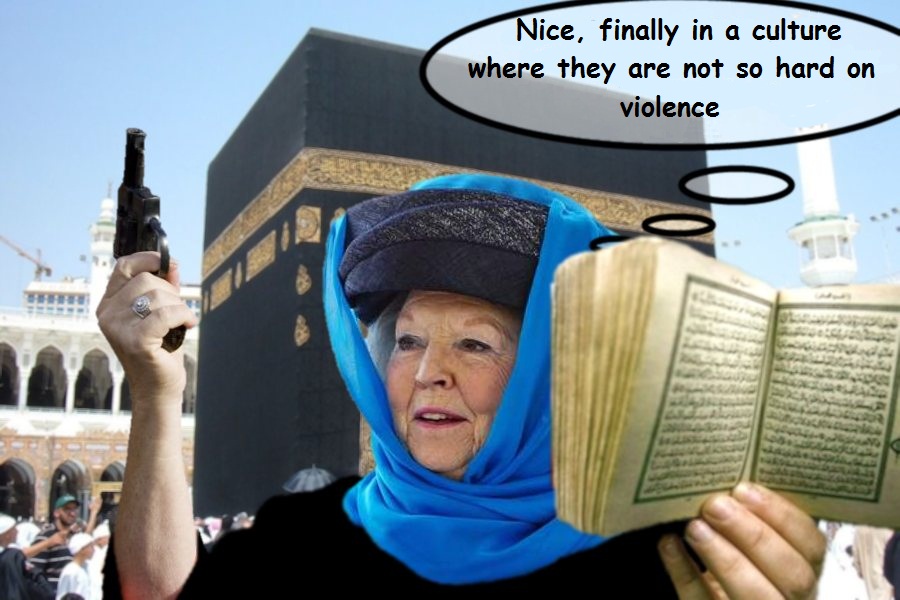 (Pic courtesy of TheWestIsVeryBest)
Rutte forced Beatrix to Revise Anti-Wilders Speech
THE HAGUE, 10/10/13 – Premier Mark Rutte repeatedly amended the Christmas speech of Queen Beatrix in 2010 because it contained passages that were disagreeable about Party for Freedom (PVV) leader Geert Wilders, Trouw newspaper reported Wednesday.
The newspaper based its report on a priest, Huub Oosterhuis, a family friend of the Royal Family. He said he had understood from Beatrix's own mouth that Rutte changed her text three times because it would stick in the gizzard of Wilders, with whom the VVD at the time formed a coalition.
"It was actually an anti-Wilders speech," Oosterhuis acknowledged. "The queen was so annoyed about this cavilling that she broke off the TV recordings and took the dog for a walk in the garden for an hour."
More here. H/T: Fjordman