No fun in the Netherlands! Not even Orange and Green 'Black Peters' suffice!
There's a reason why Dutch culture is under attack, the same as in the U.S. currently with the NFL team 'Washington Redskins' being labeled as a 'racist' logo. There's a current of Leftist miscreants and malcontents determined to divest society from its culture, so they pick and choose symbols to degenerate, as being this or that, in order to steer society towards its vision of utopian splendor.
Another regular TT commenter, POTB, has this to say about the fake controversy:
This festival is for children and it has NOTHING to do with racism. These UN-people treat our children as potential racists whereas it is about has harmless as it gets. Children get presents on the 5th of December (for good behavior) from Sinterklaas and Zwarte Piet (Black Peter). Grown ups look back at this festival with good memories and pass it on to future generations. The presents you get, the candy and all the excitement around it, it is so much fun when you're little. Nobody thinks of Sinterklaas and Zwarte Piet in terms of race (except for Shepherd and the bad spirited people backing her)

This discussion about Sinterklaas flares up every year and people are done with it. The Dutch are pretty pissed off that this commission seems to think that our festival is their business. It isn't. This just shows how useless the UN actually is.
TT commenter, Arius, had this to say earlier: 
If the U.N. High Commissioner for Human Rights South African Navanethem Pillay knew the psychology of the unconscious she would know that the Black Peter represents the psychological shadow. The world today is so disconnected from its own nature, so unconscious of what animates it, that it believes its intellect is the only fountain of knowledge, not knowing of the objective psyche.

The world today is the blind being led by the blind.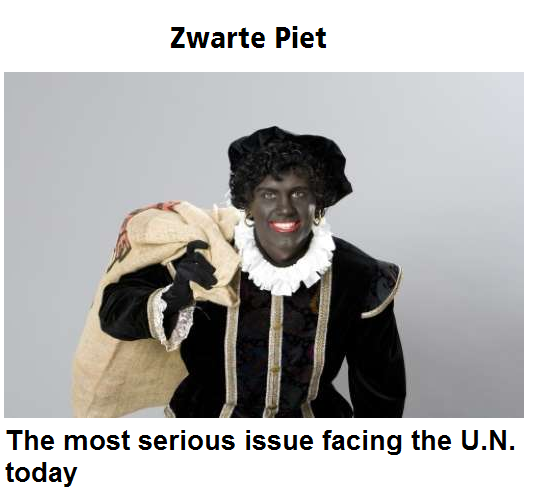 From BadNewsFromTheNetherlands:
Parade with Green Peters Cancelled due to Death Threats
A parade planned in the town of Hoogezand-Sappemeer, which has Green and Orange Peters in addition to Black Peters, has been cancelled due to threats of violence as well as threats of death. The organizers, who arrange a Sinterklaas parade every year for children from poor families, were warned by phone that they were "traitors and collaborators with the Nazis." As a result, a national poll found that 92% of the Dutch population does not see any problem with Black Peter.