Oh, and they teacher was in on the stunt as well.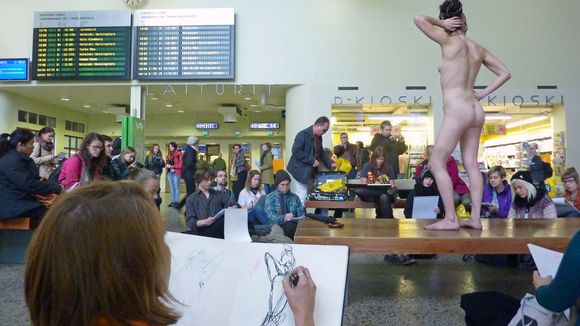 How Leftist thinking can they get, impose nudity on the general public that they are demanding money from. The welfare state is imploding, with the government borrowing billions from abroad to make ends meet, and these morons are protesting the cut in tax payer funding for their pet activity. You see folks, it's all about them.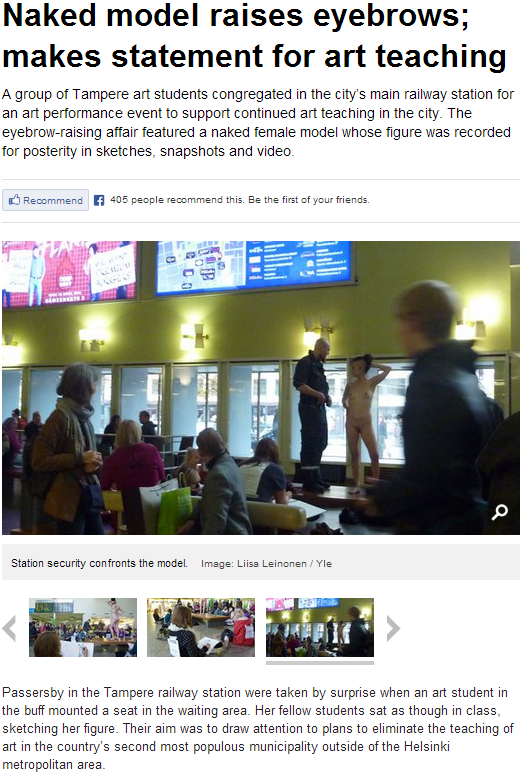 While the students drew and sketched, members of the public themselves recorded the moment in video and still photographs on their mobile phones.
According to art teacher Pekka Niskanen, the performance drew a curious response from passersby.
"There was a reverent silence at the station. It showed that the people of Tampere are accustomed to art and that they appreciate it," Niskanen said.
Art teaching valued elsewhere in Europe
The teacher used the opportunity to collect signatures for a petition to continue art teaching in the city.
The teacher said that it was peculiar that the country's second largest city should be ready to draw a line through art teaching, something that is an important part of culture and education.
"The teaching of art in Europe is a prestigious thing, why not here?" he asked.
The performance demonstration lasted just 15 minutes, after which station security put an end to the show by politely directing the model to dismount the bench.
NOTE: If the teaching of art is valued elsewhere in Europe, go there. I'm tired of paying for the upkeep of artists who in a normal competitive market, wouldn't be doing art because they'd be starving. Not all that glitters is gold.