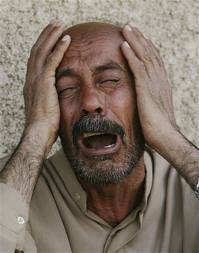 Shooting, Bombings in Iraq Kill at Least 24
BAGHDAD October 30, 2013 (AP)
By SINAN SALAHEDDIN Associated Press
Shooting and bombings, including two separate overnight suicide attacks targeting Iraqi government forces and an allied militia, killed at least 24 people, officials said on Wednesday.
The deadliest of the attacks took place late Tuesday in the town of Tarmiyah, north of Baghdad. Two suicide bombers detonated their explosives-laden belts among a group of soldiers and Sahwa militiamen gathered in the orchard of a local Sahwa leader, killing 12, a police officer said.
To maximize casualties, the suicide bombers blew themselves up in sequence: the first detonating among the group and the second at the gate of the compound as people tried to flee, the officer said. The dead included nine soldiers, one a brigade commander, and three militiamen, while 23 were wounded, he said.
A former insurgent stronghold, Tarmiya is located about 50 kilometers (30 miles) north of Baghdad.
The Sahwa movement, also known as the Awakening Council, was formed by U.S. forces in 2007 to help fight the insurgents during the height of Iraqi war. Ever since, it has been a target for Sunni hard-liners who consider them traitors.
Islamic Radicals "Convert to Islam, or you will be crucified like Jesus"
Christians in Syria are facing growing threats from Islamic jihadists, and live in fear of their attacks every day.
In the past two weeks, mortars launched from Muslim-controlled neighborhoods into al-Qassaa  the Christian district of Damascus, have killed over 32 people. "You don't know when and you don't know where they hit," said Sami Amir, a Christian merchant.
Christians are the largest group among Syria's religious minorities and receive harsh threats from Islamists within the country. Most Christians believe the threats stem from rebels' perception that Christians support Pres. Bashar Assad's reign.
While not all Christians in Syria are united in Assad's support, they have attempted to stay on the sidelines of the political turmoil, which has caused a bloody civil war over the past two years.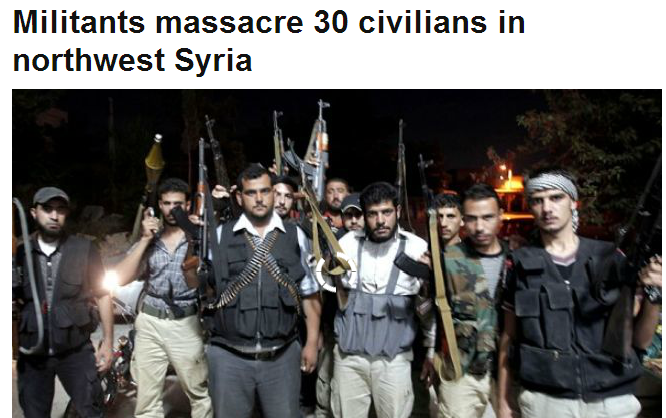 Foreign-backed militants in Syria have killed at least 30 civilians in the northwestern province of Idlib, reports say.
Al-Qaeda-linked militants of the Islamic State of Iraq and the Levant fired a series of mortar shells on Kafteen village, leaving 30 people dead and several others injured.
In a separate incident, the extremists fired mortar shells on a town in the province.
The attack primarily targeted a police station and led to the injury of a number of civilians.
Locals said they saw some people vomiting after the shelling, which could be a sign of a chemical attack.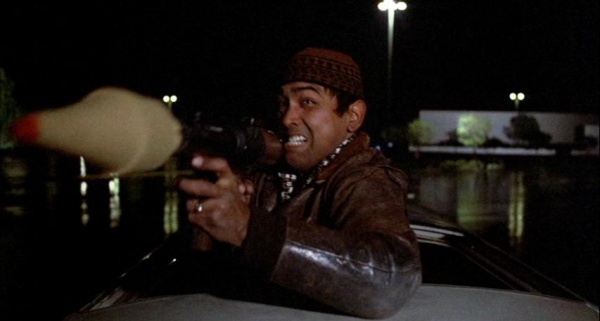 Bank manager killed after LD 10 million ransom demand went unpaid
By Maha Ellawati.
Benghazi, 30 October 2013:
The body of a bank manager, who had been held for 45 days by kidnappers demanding a LD 10 million ransom, has been found in Benghazi.
Abdallatif Zuai had been shot multiple times and his body dumped in the Guarsha district of the city.
Zuai's family said kidnappers had demanded LD 10 million for his safe release, according to the Spokesman for Benghazi Joint Security Room, Abdullah Zaidi. The ransom demand was later lowered to LD 6 million but the family were still unable to pay.
Violent clashes claim three lives in northern Afghanistan
Afghan National Army soldiers take part in an exercise in Kabul. (File photo)
Wed Oct 30, 2013 7:4PM GMT
Violent clashes between Afghan national army soldiers and Taliban militants have claimed the lives of at least two troops and one Taliban militant in the country's north, security sources say.
According to Afghan officials, the fighting began after a convoy of the Afghan troops was struck with a roadside bomb in Kohistanat district of Sar-e-Pol Province on late Tuesday.
Eyewitnesses and local residents say the intense battle continued for several hours.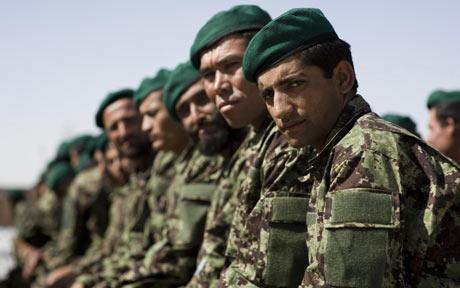 80 Afghan police killed every week in 'fighting season'
KABUL: Nearly 80 Afghan police have died every week during the current fighting season, officials said Tuesday, as the national security forces take on the battle against Taliban militants.
The figures, which are in addition to Afghan soldiers killed, reflect a sharp rise in casualties at a time when US-led NATO forces are stepping back from the frontline and steadily withdrawing 87,000 troops by the end of next year. Afghanistan's fighting season traditionally begins in April or May as snow melts in mountains, and slows in November, when winter sets in.
This year the Taliban launched their annual offensive six months ago on April 27, vowing a nationwide series of multiple suicide bombings, "insider attacks" and roadside bombings.
Salafists 'killed in rocket attack on Yemen mosque'
At least four people have been killed and several others wounded in an attack on a mosque in a Salafist-controlled town in northern Yemen, reports say.
Local Sunni leaders said Zaidi Shia rebels, known as Houthis, had fired rockets at a mosque in Dammaj, in Saada province, during midday prayers.
The rebels had besieged the town for weeks, demanding the departure of foreign religious students, they added.
Dammaj has seen frequent clashes between Houthis and Salafist students.
Dozens of students were killed during a two-month siege in 2011.
The Dar al-Hadith religious institute in the Dammaj is the biggest of its kind in Yemen, with an estimated 7,000 students of various nationalities. Its current head is Sheikh Yahia al-Hajouri.
Ten Yemen Islamists killed in Huthi rebel attack
By AFP | AFP – 16 hours ago
AFP/AFP/File – A Yemeni security officer checks a vehicle at a checkpoint set up at the entrance to the capital Sanaa, on October 27, 2013
Shiite Muslim rebels killed 10 Sunni Islamists in Yemen Wednesday and wounded several others, in an attack in the northern province of Saada, an Islamist chief said.
The Zaidi rebels fired mortars and rockets at the Mazraa mosque and the surrounding area in Dammaj during noon prayers, said Muheeb al-Dhali, spokesman of the tribal Al-Nusra Alliance in the region.
Dhali said the rebels were attempting to storm the village, home to Sunni Salafists.
He said the rebels have besieged Dammaj, scene to frequent clashes in recent years, as tensions between Sunni Islamists and the rebels escalate.
More than 110 people killed across Syria yestrday
The dead: 33 civilians (including 13 children and 3 women), 28 rebels, 7 unidentified rebels, 1 al-Nusra fighter, 12 non-Syrian fighters, 17 pro-regime militia, 20 regular soldiers.
By province: Aleppo (12 rebels, 6 civilians). Homs (12 civilians *). Der'a (4 rebels, 6 civilians). Idlib (2 rebels, 3 civilians). D Eir Ezzour (3 rebels, 1 civilian). Raqqah (1 rebel, 2 civilians **). Damascus (2 civilians). Reef Dimashq (1 rebel). Hasakah (1 civilian).
* 11 civilians, including 5 children and a teenager were killed by the regime bombardment on the al-Wa'er neighbourhood of Homs.
** 2 members of the Red Crescent in al-Tabqa city were killed by a rocket falling on the al-Resafa area.
7 unidentified rebels were killed by clashes and bombardment.
4 fighters were killed by clashes with the YPG in the village of Jelber, by Afrin city in aleppo province. 1 was al-Nusra and the others from rebel groups.