To be fair, she's an idiot.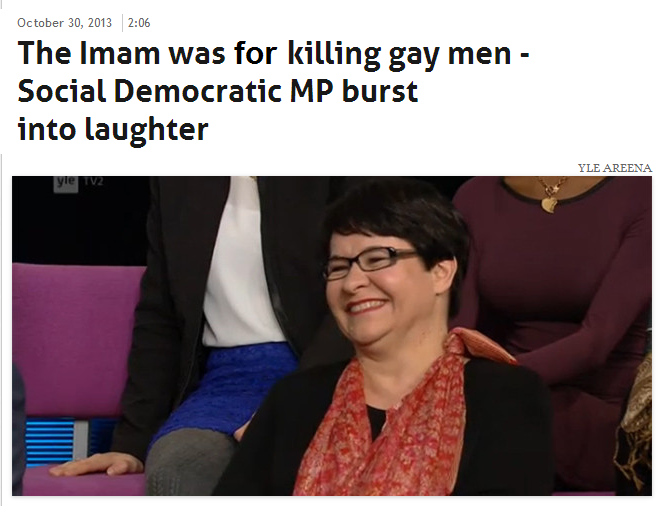 Mellunmäki imam, Bahmanpour Abbas, spoke frankly on Islam evening, that being gay is forbidden, and that the Shari'ah demands the death penalty for it. One of the debaters participating on the program was the chairman of the Employment and Equality Committee, and active MP, Tarja Filatov (sdp.) who didn't seem to think that issue that much of a dilemma, as she broke out into laughter while it was being discussed.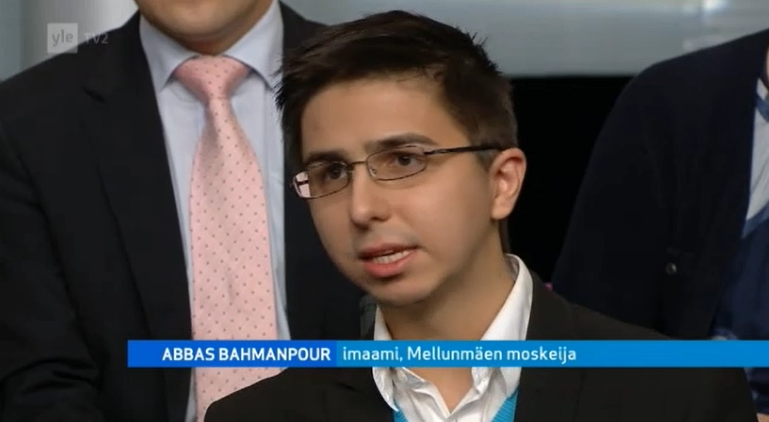 – Islam deems morally gay sexuality as wrong. The penalty is given if the gay sexual act is seen, i.e. the penetration is seen by four witnesses, so if they aren't openly in the market square when they do it no punishment will come. It's a very, very rare  punishment Bahmanpour said.
The program presenter asked for an explanation as to what is the punishment in accordance with Sharia law for gay sexual acts.
– It is a death sentence, Bahmanpour said.
Islamic teacher Ahmad Fadil is of the opinion that Finland should introduce sharialaki:
– Yes, yes, of course. Sharia law would be fine for us, Fadil commented.
The Finns Youth League Chairman, Simon Elo took to Bahmanpour's statement with astonishment as to why such rhetoric is not paid more attention to: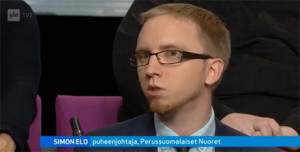 – A pretty interesting situation, when the Finnish Conservatives need to start defending sexual minorities. And it's really extraordinary how it's calmly taken the fact that homosexuals should get the death penalty. This is the context in which Islam is incompatible with Western notion of human rights.
True Finns MP Olli Immonen who participated in the discussion had enough, when he heard the Mellunmäki Imam's own words confirming that Islam punished gay sexuality with the death penalty.
– And then we're still discussing whether Sharia law should be introduced. Not in any case, Immonen snapped.
Thoughts were presented during the program, on whether Islam could interpret some of the Koranic passages in a new light, which would better suited for today's world. Bahmanpour did not accept the idea of ​​re-interpretation. According to him, the law of Islam come from god, and that it is in the final form.
Elo brought up again at the end of the program Bahmanpour's unimaginable comment and called the Social Democratic Party and the Greens, Filatov from Heidi Hautala, of their position on the matter:
– What is of concern to me in this, and is of increasing concern, is that the Social Democrats did not dare to defend LGBT equality and the Greens didn't dare defend the rights of sexual minorities to live in Finland without any such kind of thoughts as these, Elo explained.
Filatov responded with laughter.