There's still some kick left in the political resistance against Islamization.
This is going to be one interesting evening for sure.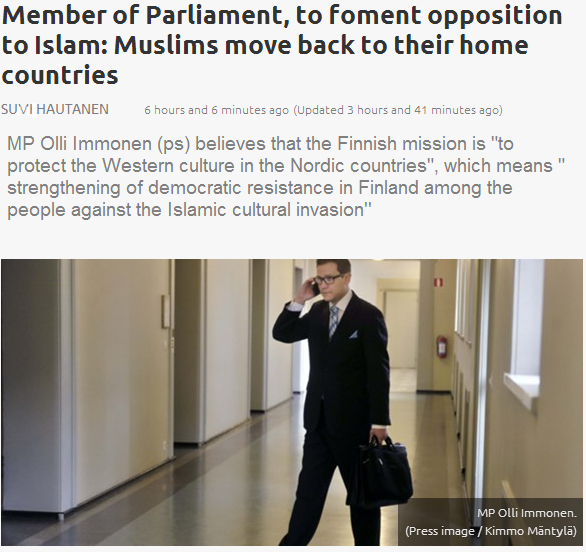 – I do not want a future for our country, in which Finnish posterity has to start the day with a Muslim muezzin's scream echoing from the minarets in our cities. I also hope never to see on the streets of our country, women reduced to the status of a "shadow human being", in a burqa and niqab, wrote True Finns MP Olli Immonen in a Uusi Suomen blog post. Immonen also serves as president of the nationalist Finnish Sisu.
– All of our population's groups, gender, age, or ethnic background should be in on the fight against Islamification, it is by only stopping the influence of Islam in Europe that secures the conditions for a decent human life for us, Immonen continues.
The MP believes that the European and Finnish Islamization must be fought resolutely. According to him, it will require administrative and legislative changes, starting in Europe, immigration from Muslim countries in order to achieve reduced minimal levels.
– In addition, Muslims living in Western countries should be actively encouraged to move back to their home countries.
The remaining Muslims in Europe should in his opinion, "should enter into the integration agreement with the host state, in which they commit themselves to the life of a secular and liberal democratic social order in accordance with those standards."
– This refers to the rejection of specific Islamic practices which war against the European way of life. If a person professing Islam can not adapt methods of integration defined by the framework agreement, it should result in the individual's deportation.
In addition, Muslims have to, according to Immonen, be brought on an equal footing with the native population, which means ending positive discrimination as well as the case law which interprets hate speech.
– All in all, it would be desirable that the number of Muslims and the role of Islam in European societies remain as little as possible to maintain social peace on our continent.
Immonen has extensively categorized on his blog the problems which are, in his opinion, associated with the "trend of Islamization". He says that the prevention of problems  with Islam has been one of the main themes of his political career. Immonen is involved in today's, Tuesday, Yle 2 program, Islam debate evening.