Excerpts from Egyptian Major's Muslim martyrdom video

h/t: Vlad
Iranian border guards killed in clash with 'bandits' near Pakistan border
Iranian prosecutor announces that authorities have already executed 16 'terrorists' in retaliation for the killings
theguardian.com, Saturday 26 October 2013 17.07 BST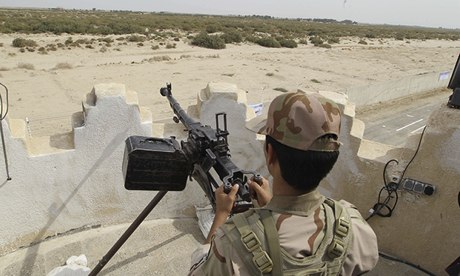 An Iranian border guard keeps watch: authorities are investigating whether the attackers were drug smugglers or armed opposition groups. Photograph: Atta Kenare/AFP/Getty Images
At least 14 Iranian border guards have been killed and three captured in clashes with "armed bandits" on the south-eastern frontier with Pakistan, it has been reported.
The clashes took place on Friday night in a mountainous region outside the town of Saravan in the south-east Sistan-Baluchistan province, the Irna state news agency reported. The Mehr news agency said "bandits" attacked a border post.
An Iranian prosecutor also announced that authorities had executed 16 "terrorists" in the same province on Saturday in retaliation for the killings.
Mohammad Marzieh, the public prosecutor of provincial capital Zahedan, told the Iranian Students News Agency (Isna): "These individuals were executed this Saturday morning in response to the terrorist action of last evening at Saravan and the martyrdom of the border guards."
The exact number of dead has not been confirmed. Different news reports quoted the number of border guards killed at 17 or 18, but the Reuters news agency placed the figures at 14 dead and three captured, citing local media.
A deputy governor of Saravan told state television that six border guards were captured by the attackers.
Gunmen Kill 2 Sunni Fighters, 5 Relatives in Iraq
BAGHDAD October 26, 2013 (AP)
By SAMEER N. YACOUB Associated Press
Iraqi authorities say gunmen broke into the home of two anti-al-Qaida militiamen in Baghdad and killed them and their entire household, a total of seven people.
A police officer said the attackers killed a father and a son in the Sahwa movement along with five members of their family, including two women, as they were sleeping in their home in the capital's southern neighborhood of Dora early Saturday.
Health officials confirmed the death toll. All officials spoke on condition of anonymity because they were not authorized to speak to media.
Ten killed in Iraq violence
File picture shows Iraqi policemen standing guard on a main highway in the Dura neighbourhood of southern Baghdad linking the city to the central shrine city of Karbala on on January 6, 2012 (AFP Photo/Ahmad al-Rubaye)
Baghdad (AFP) – Attacks in Iraq killed 10 people on Saturday, seven of them from the same family, security and medical officials said.
In the Dura area of southern Baghdad, gunmen armed with silenced weapons shot dead a father, mother, four sons and the wife of one of them at their home, the officials said.
The father was a member of the Sahwa anti-Al-Qaeda militia, who joined forces with the United States from late 2006 and are frequently targeted by Sunni militants, who view them as traitors.
In the Mansur area of west Baghdad, a lawyer was killed by a magnetic "sticky bomb" attached to his car.
And gunmen opened fire on a bus carrying Shiite pilgrims in Balad, north of Baghdad, killing two people and wounding 11. It was unclear if they were Iraqis or not.
Shiites are also often targeted by Sunni militants, who consider them apostates.
Afghan soldier killed after row with Nato troops
An Afghan soldier has been killed at a military base in the capital Kabul, after shooting at international troops.
The incident, which injured at least one foreign soldier, began after an argument, Nato officials said.
It is the fourth such attack in a month. Last year, attacks by Afghan servicemen on their Nato colleagues accounted for around 15% of all international troop casualties.
More than 100 international soldiers have been killed this year.
In June, Nato handed over security for the whole of Afghanistan to Afghan forces, but some 97,000 troops remain.
The Nato-led International Security Assistance Force Isaf currently has troops from 50 contributing nations – most of them, some 68,000, from the US – providing military back-up when needed.
Fourth British soldier killed in Afghanistan in a week
British soldiers in Afghanistan
Another British soldier was killed in Afghanistan yesterday, fuelling fresh fears about the deteriorating security situation and calls for more reinforcements.
Private Andrew Barrie Cutts was the fourth soldier to die in one mountainous enclave in the space of a week and the tragedy came as military chiefs warned that some troops are on the brink of exhaustion.
See also…
British troops 'on the brink of exhaustion' in Afghanistan
What one commander called the "novel, harsh and unforgiving environment" is making the campaign in lawless Helmand province far harder than had been anticipated.
A total of ten British troops have now lost their lives in Helmand in the last eight weeks, although the main purpose of the mission was supposed to be reconstruction.
Operations were launched against the Taliban in May and the latest death yet again pointed up the emptiness of ex-defence secretary John Reid's hopes in April of a three-year mission "without a shot fired."
NATO said Private Cutts was shot as forces pushed into the mountainous district of Musa Qala in a drive to assert Afghan government control in a rebel stronghold.
Captain Alex Eida, 29, 2nd Lieutenant Ralph Johnson, 24, and Lance Corporal Ross Nicholls, 27, were killed in the same area last week when they drove into a carefully-orchestrated Taliban ambush.
One killed as Tunisian police clash with militants in the capital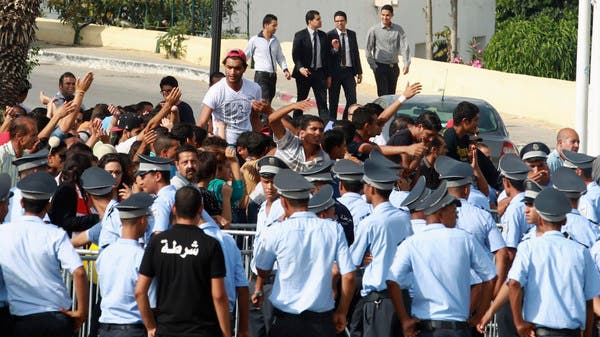 Clashes erupted at a government building on Thursday in Kef, northern Tunisia, with protesters attacking two local party offices of Ennahda in Kef and Beja. (Reuters)
Al Arabiya
Suspected Islamist militants exchanged gunfire with Tunisian security forces in the capital Tunis on Friday, killing one person and wounding three, Al Arabiya television reported.
The violence came two days after similar clashes killed six police members and two militants in the central town of Sidi Bouzid.
Tunisian police found Thursday a car bomb readied for detonation in the city.
Tensions are rising in Tunisia where the Ennahda party and the opposition have been trying to start talks to put an end to a deadlock since the assassination of two opposition leaders earlier this year.
Demonstrations broke out over the killing of seven policemen by Islamist militants on Thursday as hundreds of people attempted to storm a building used by Tunisia's ruling Ennahda party.
The violence on Friday saw bloodstains visible on the pavement at the scene, while police with sniffer dogs inspected a vehicle parked near the college to check for explosives.
"A terrorist was hit in the head, another arrested and one is on the run," the policeman involved in the clash in Ennasr City district said, asking not to be named.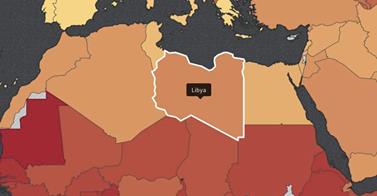 Benghazi immigration officer murdered
By Maha Ellawati.
Benghazi, 26 October 2013:
A kidnapped Benghazi immigration official has been found shot dead.
Salah Bu-Sheiba, a member of the Illegal Immigration Combat Unit, who had formerly worked with with Benghazi Central Security, was seized on Thursday morning by three unidentified gunmen. His body, with multiple gunshot wounds, was discovered on Friday dumped in the city's Kuwafiyah district.
Syria claims al Qaeda-linked group's leader killed
In this photo released by the Syrian official news agency SANA, dead bodies of Syrian rebels are seen on the ground after fighting with Syrian government forces according to SANA, near the Otaiba area, near Damascus, Syria, Friday, Oct. 25, 2013. Syrian government troops on Friday ambushed rebels near the capital, Damascus, killing at least 40 opposition fighters, state media reported. The ambush was part of the military's offensive against rebel strongholds around President Bashar Assad's seat of power. / AP PHOTO/SANA
BEIRUT Syrian state-run TV reported Friday that the leader of a powerful al Qaeda-linked rebel group has been killed – a claim that if confirmed would be a huge blow to fighters trying to topple President Bashar Assad. At least one rebel commander denied the report.
Questions remained over whether Abu Mohammad al-Golani, head of Jabhat al-Nusra, or the Nusra Front, had indeed died. State TV said he was killed in the coastal province of Latakia, but did not say when or give details. Later Friday, it removed the report from its website without explanation.
The Britain-based Syrian Observatory for Human Rights, which closely monitors the fighting in Syria, said senior Nusra Front leaders contacted by activists in Latakia and the eastern Deir el-Zour province denied al-Golani had been killed.
The murder and mayhem continues….
Car bombs kill at least 56 in Iraq
Oct. 27, 2013: Baghdad municipality workers clear debris while citizens inspect the site of a car bomb attack in the Shaab neighborhood of Baghdad, Iraq. Insurgents on Sunday unleashed a new wave of car bombs in Shiite neighborhoods of Baghdad, killing and wounding some dozens of people, officials said (AP)
BAGHDAD –  A new wave of car bombs hit Shiite neighborhoods of Baghdad and a suicide bomber targeted soldiers in a northern city in attacks that killed at least 56 across Iraq on Sunday, officials said.
Coordinated bombing onslaughts killing scores of people have hit Iraq multiple times each month, feeding a spike in bloodshed that has left over 5,000 since April. The local branch of Al Qaeda often takes responsibility, although there was no immediate claim for Sunday's blasts.
Four police officers said that the bombs in the capital, placed in parked cars and detonated over a half-hour, targeted commercial areas and parking lots, killing 42.
The deadliest blast was in the southeastern Nahrwan district where two car bombs exploded simultaneously, killing seven and wounding 15 others. Two other explosions hit the northern Shaab and southern Abu Dshir neighborhoods, each of which killed six people. Other blasts hit the neighborhoods of Mashtal, Baladiyat and Ur in eastern Baghdad, the southwestern Bayaa and the northern Sab al-Bor and Hurriyah districts.