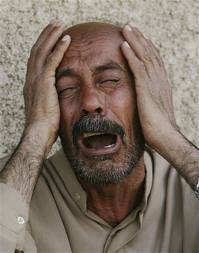 Iraq: 10 killed, 35 wounded in violent attacks
BAGHDAD, (Xinhua): At least ten people were killed and 35 others wounded in violent attacks in Iraq on Friday, police said.
Five people were killed and 16 others were wounded when a car bomb exploded in the Mishtal area in eastern Baghdad, a police source told Xinhua on condition of anonymity.
Three bombs went off in a park in the Dour area near Tikrit, some 170 km north of Baghdad, killing five people and injuring 19 others, the police source said.
No group has so far claimed responsibility for the attacks, but the al-Qaida front in Iraq, in most cases, was responsible for such massive attacks, raising fears that the terrorist group and other militiamen could return to widespread violence, particularly as Iraq is trying to fend off the spillover of the escalating violence in neighboring Syria.
Car bomb, clashes kill over 30 near Syrian capital
By Erika Solomon
BEIRUT | Sat Oct 19, 2013 2:46pm EDT
(Reuters) – Syrian rebels blew up an army checkpoint outside Damascus on Saturday and more than 30 combatants from both sides died in the blast and ensuing clashes, a monitoring group said.
The pro-opposition Syrian Observatory for Human Rights said 15 rebels and at least 16 soldiers were killed.
The British-based Observatory said the checkpoint explosion, near the suburbs of Mleiha and Jaramana, was detonated by a suicide bomber from the al Qaeda-linked Nusra Front.
Nusra supporters on Twitter, however, said the bomber had intended to blow himself up in the car, but instead got out before setting off the explosives inside. They said rebel forces had captured the checkpoint hit by the car bomb and were battling to take a second one nearby.
Syrian state television reported the blast but gave no death toll, saying only that several people had been killed or wounded in a "terrorist bombing".
Pakistan says civilian killed by Indian firing near Sialkot
AFP
ISLAMABAD: Pakistan accused Indian troops of killing a civilian and wounding two others in "unprovoked firing" across the border Saturday as New Delhi voiced "grave concern" about the new military flare-up in disputed Kashmir.
In Islamabad, a Pakistani military official said a civilian was killed and two others injured by "unprovoked firing of heavy weapons including mortars by Indian Border Security Forces" near the city of Sialkot in Punjab province.
On Thursday, Pakistan accused India of killing a paramilitary soldier in "unprovoked firing" across the border in the same region.
Indian foreign minister Salman Khurshid in New Delhi described the military flare-up as a "serious matter".
Pakistan claim 400 civilians killed by drone strikes and asks US to release death toll figures
HEATHER SAUL  
SATURDAY 19 OCTOBER 2013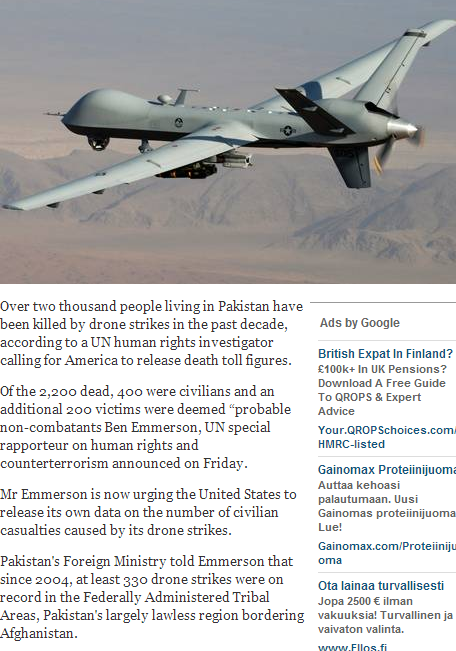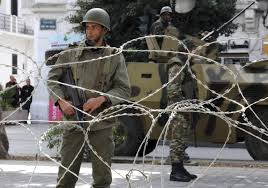 Tunisia: 9 Believed Behind Police Ambush Killed
TUNIS, Tunisia October 18, 2013 (AP)
By BOUAZZA BEN BOUAZZA
A Tunisian military operation has killed nine suspected terrorists and captured four, all of whom are believed to have been behind an ambush that left two police officers dead on Thursday.
The ambush in northwestern Tunisia set off demonstrations by police officers who want the government to take a tougher stance against terrorism, including reinstating powers they had under former dictator Zine El Abidine Ben Ali.
Interior Ministry spokesman Mohamed Ali Aroui said Saturday that explosives and rifles were seized during the three-day military operation, which also found plans for terrorist attacks and assassinations.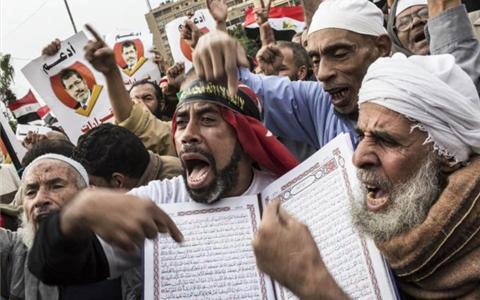 Thousands march for Mursi across Egypt; policeman killed in Sinai
(Reuters) – Thousands of supporters of deposed Egyptian President Mohamed Mursi protested across Egypt on Friday, shouting slogans against army chief General Abdel Fattah al-Sisi, who ousted him on July 3.
One person was wounded by gunfire when taking part in a pro-Mursi march of a few thousand in Fayoum, south of Cairo, state news agency MENA reported. Four were injured in clashes between Mursi supporters and residents in the Nile Delta city of Zagazig, state TV reported.
Hundreds of pro-Mursi Islamists took to the streets in the coastal city of Alexandria and in Buhayra province, witnesses and security sources said.
Friday's protests were mostly peaceful. On October 6, dozens of supporters of Mursi's Muslim Brotherhood were killed in protests in one of the bloodiest days since the military deposed him.

Afghan Taliban attack Isaf convoy near Kabul compound
Footage of the aftermath of the attack on the Green Village compound
The Taliban say they carried out a suicide bomb attack on a convoy outside an international compound in the east of the Afghan capital, Kabul.
A militant in a car detonated explosives as the convoy was leaving the heavily-fortified Green Village residential complex, say officials.
A family of six in a passing car were killed in the blast.
The attack took place as the Afghan government comes under pressure to make peace with the Taliban.
Initial investigations indicate that it was suicide car bomb attack, said an Afghan interior ministry spokesman, Sediq Sediqi.