Norquist is a crony capitalist Islamofriendly Svengali.
Frank Gaffney over at the Center for Security Policy, who laid the groundwork for revealing what kind of dangerous clown Grover Norquist is within the Republican party, deserves a great multitude of thanks and praise. He has consistently shown that Norquist is quite the operative who is more concerned with Republicans winning seats, than for Americans winning back their country.
Since the time of Frank Gaffney's Muslim Brotherhood in America series, conservative Republicans have been witness to how tightly alligned Norquist is to the Republican party establishment (the GOP old guard), since then, his shine has been seriously dulled and Breitbart has as firm grasp of him in its teeth as did Frank Gaffney (who still does).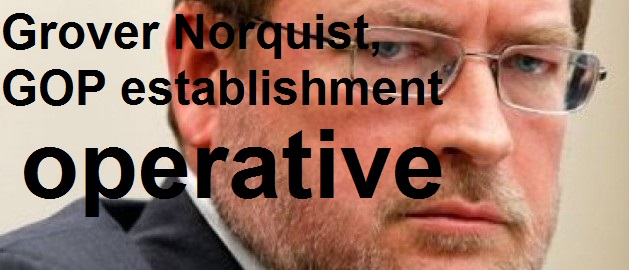 NORQUIST VS. CRUZ REPRESENTS BATTLE BETWEEN ESTABLISHMENT AND CONSERVATIVE REPUBLICANS
by TONY LEE 19 Oct 2013, 5:00 PM PDT
Americans for Tax Reform President Grover Norquist has emerged as the Republican establishment's leading crusader and mouthpiece against Sen. Ted Cruz (R-TX), repeatedly denigrating Cruz for fighting against Obamacare with a tactic that Norquist alleges hurt Republicans.
Obamacare is wreaking havoc on the healthcare choices Americans have in addition to forcing employers to reduce employees' hours in an already down economy. This has put a spotlight on many of the law's failures in a way those like Norquist were never able to do in a sustained manner.
Norquist has single-handedly tried to obliterate Cruz in nearly every outlet that has given him a microphone. He has said Cruz's effort to defund Obamacare never had a chance to work without mentioning that Cruz had said Democrats in red states could be persuaded to support defunding Obamacare only if Republicans were united first, which was what Cruz sought to do from the outset.
Cruz likened Republicans who were opposed to the defunding efforts to the Air Force bombing their own troops, undermining the chances of success.
Before and especially after the government shutdown, Norquist attacked Cruz for throwing Republicans into traffic and wandering away. He has said Cruz has dragged Republicans across broken glass, dismissed Cruz's "tactic," condescendingly suggested Cruz was now wiser, said Cruz has "crashed and burned," and even demanded that Cruz apologize not only to Republicans but to the constituents for whom Cruz was fighting and to whom he was listening.
Norquist's fight against Cruz represents the broader struggle within the Republican party between an establishment desperately clinging to its past power and a growing grassroots-powered conservative movement that represents the future.
"Grover supplies grass-roots power, which is why lobbyists want him on their side," Republican insider John Feehery said of him last decade. "He senses where he can get activists around the country riled. He's a master organizer on specific issues."
But in the age of new media, such establishment gatekeeping organizations are less relevant as information–even about inside Washington and its players–is democratized. Those like Cruz can galvanize the grassroots and put pressure on politicians in a way only those with the financial and institutional resources like Norquist had been able to do before.