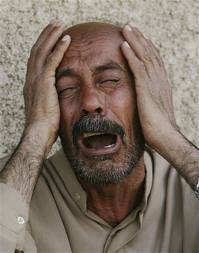 Five IRGC members killed in Iran's Baneh city
Trend – 12 hours ago
Five members of Iranian Islamic Revolution Guards Corps (IRGC) have been killed in a clash with insurgents, Fars News Agency reported. According to the report, two IRGC members were also injured in the fight with insurgents in the city of Baneh on October 10.
The report didn't mention the name of insurgent group, but Iran has been combating Kurdish Party of Free Life of Kurdistan (PJAK) in the north-western region of the country for years. The goal of the group is the secession of Kurdistan from Iran. In February 2009, the U.S. Treasury …
Iran: Four executions, one in public
Iran Human Rights, 9 October 2013: Four prisoners were hanged in two different Iranian cities reported Iranian state media today.
One of the prisoners was a 23 year old man identified as H. A., reported the state run Iranian news agency ISNA. The Iranian State Broadcasting reported that H.A. was 21 year old. The prisoner was charged with armed robbery, spreading fear and Moharebeh (waging war against God) and was hanged in public in the town of Fasa (southern Iran) today October 9.
Three prisoners were hanged in the prison of Rasht reported the state run Iranian news agency Fars today. The prisoners who were not identified by name were convicted of possession of 80 kilograms of crack. The executions were carried out on Thursday October 3., said the report.
Source: Iran Human Rights, October 10, 2013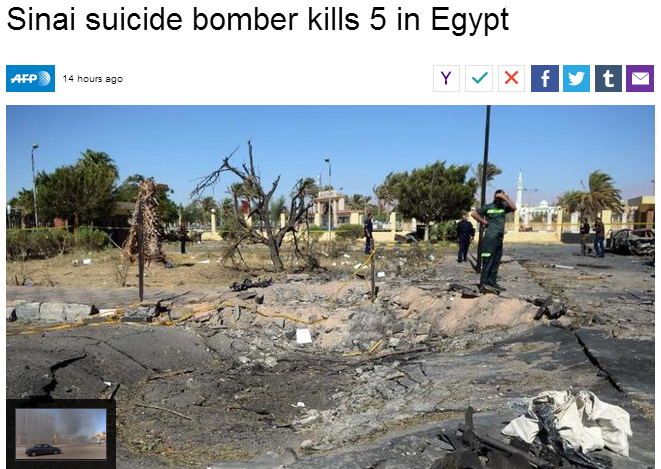 Cairo (AFP) – A suicide bomber rammed his car into an army checkpoint in Egypt's restive Sinai Peninsula on Thursday, killing four soldiers and a policeman, security officials told AFP.
Another three soldiers were wounded in the attack on the Al-Reesa checkpoint just south of North Sinai's main town of El-Arish, the officials said.
Attacks on the army and police have increased since the army's July 3 ouster of Islamist president Mohamed Morsi and a subsequent crackdown on his supporters and members of his Muslim Brotherhood.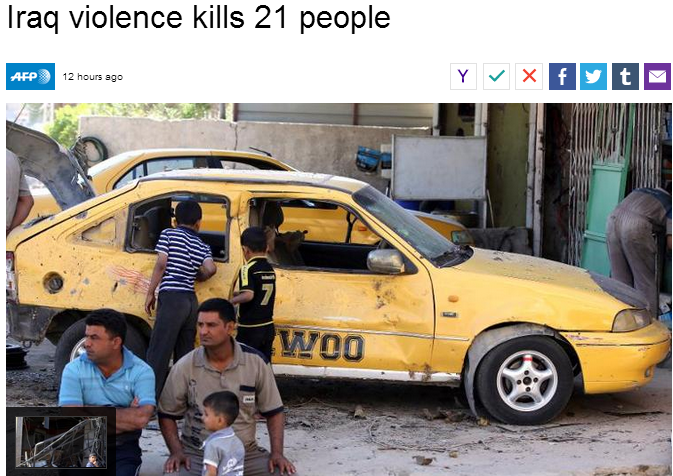 Baghdad (AFP) – Violence in Iraq killed 21 people on Thursday, among them four anti-Al-Qaeda fighters and an AFP journalist's brother, officials said.
In Samarra, north of Baghdad, gunmen killed two Sahwa anti-Al-Qaeda fighters in an attack on a checkpoint, while two more died in a similar attack near Baquba, also north of the capital.
The Sahwa, who joined forces with the United States from late 2006 and helped bring about a sharp reduction in violence in Iraq, are frequently targeted by Sunni militants, who consider them to be traitors.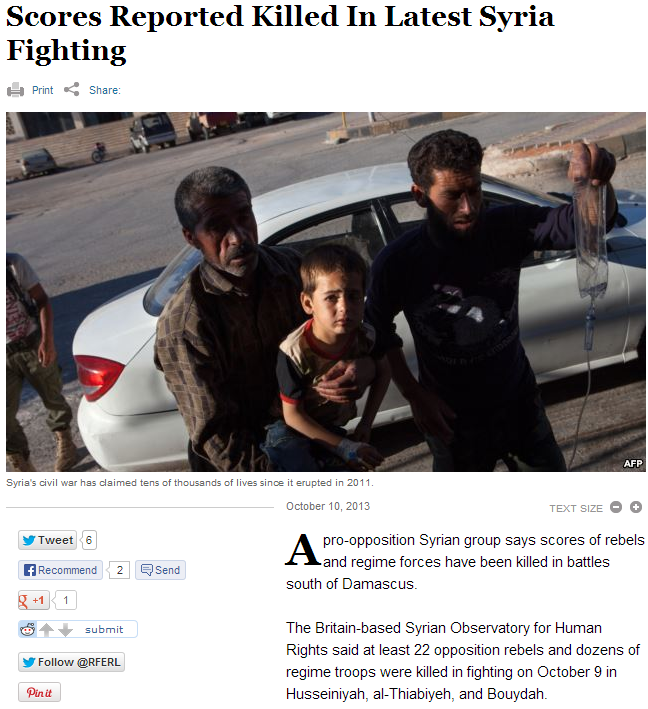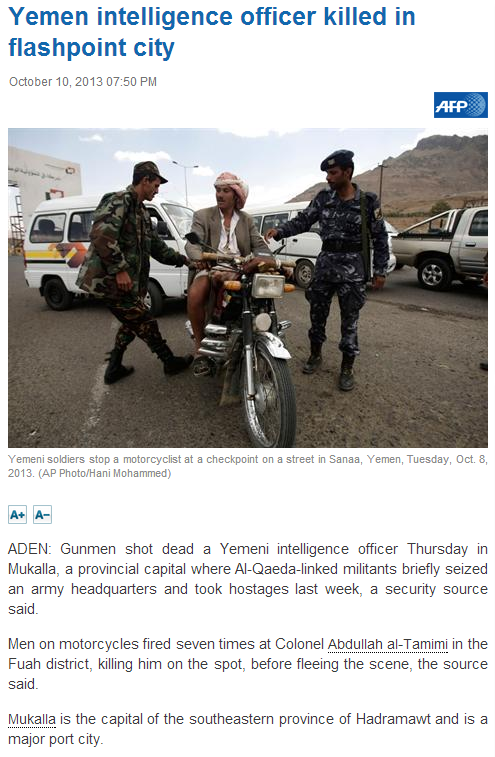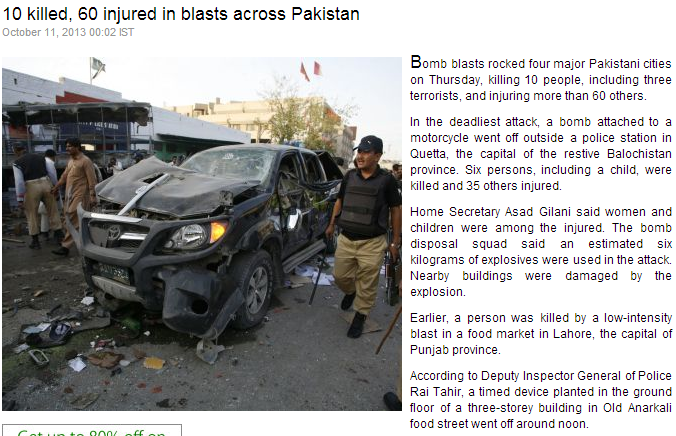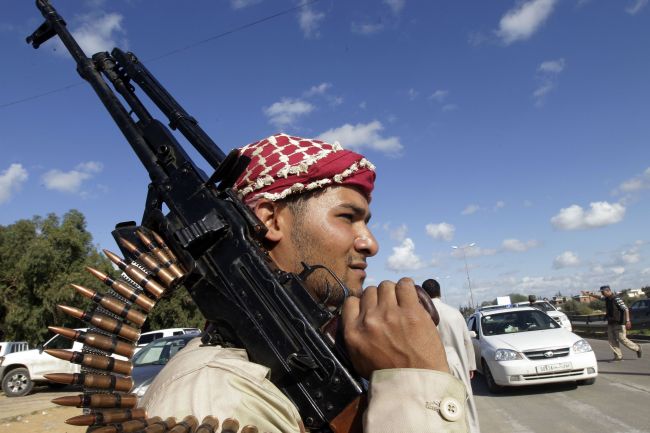 Three killed in clashes in Libya
Xinhua | October 10, 2013 09:00
By Agencies
Three men were killed Wednesday evening in armed clashes that erupted at a military checkpoint, 20 km west of the Libyan capitol of Tripoli, a source from the defense ministry told Xinhua.
Unidentified assailants attacked the main military checkpoint on the road between Warshfana and Tripoli, run by brigades from the city of Zawyia.
According to the source, the road was closed by Zawyia brigades and three men from Warshfana armed militia were killed in the clashes.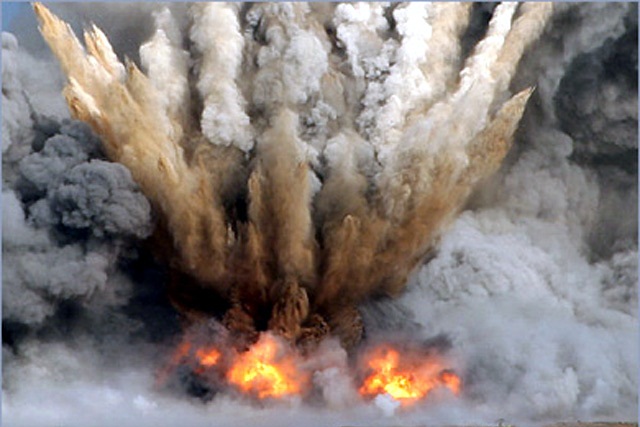 Somalia: Three Killed in Beled Hawo Explosion, Six Arrested
9 OCTOBER 2013
Three people were killed and three others injured in an explosion Monday night that targeted a small coffee shop near the central police station in Beled Hawo, Somalia's RBC Radio reported Tuesday (October 8th).
Beled Hawo regional police commissioner Jamal Hassan Sarey said the explosion was caused by a landmine detonated by remote-control.
"The three dead included two police soldiers and one civilian. A small hospital in Beled Hawo is currently treating three others of whom two are seriously injured," Sarey said.
Security forces in Beled Hawo arrested at least six people in connection with blast.
SOMALIA: At least five people died after bomb explosion, shooting in Kismayo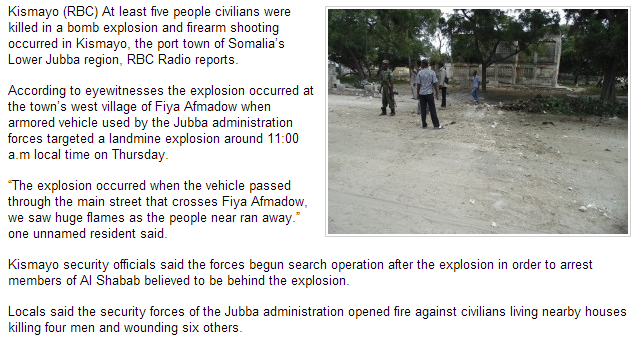 Sunni vs. Shiite feud lives on.
This is what the Muslim Arab Middle East does to each other, lots and lots of massacres. It's the main reason why Israel is vigilant that they never, ever lose weapons superiority, and they have plenty of daily reminders to sharpen their resolve.
Syria rebels executed civilians, says Human Rights Watch
Footage by Human Rights Watch appear to show damaged houses in a Syrian village
Rebel forces in Syria killed as many as 190 civilians and seized more than 200 hostages during a military offensive in August, Human Rights Watch says.
A report by the US-based group says the deaths occurred in villages inhabited predominantly by members of President Bashar al-Assad's minority Alawite sect near the coastal city of Latakia.
It said the findings "strongly suggest" crimes against humanity were committed.
The group has previously documented atrocities by pro-government forces.
The report calls on the UN to impose an arms embargo on all groups where there is credible evidence of their involvement in war crimes.
'Entire families targeted'
Human Rights Watch says it conducted an on-site investigation in September and interviewed more than 30 people, including survivors and combatants on both sides.
Egypt kills suspected killer of six troops
Aziz al-Din is accused for involvement in a military vehicle attack in the Nile Delta which killed one army officer and five conscripts.
Egyptian security forces on Thursday killed a "jihadist" suspected of killing six army troops earlier this week, a security official has told Anadolu Agency.
Fathi Aziz al-Din, 30, had been suspected of involvement in a Monday attack targeting a military vehicle in the Nile Delta Sharqiya province that killed one army officer and five conscripts.
Security forces shot the suspect on Thursday after he hurled two grenades at them during a raid on his home in the town of Abu Kabir, Sharqiya Security Chief Sameh al-Kelani said in a statement.
Aziz al-Din was taken to Zagazig University Hospital, where he succumbed to his injuries, the official added.
Iraq executes 42 convicts in last two days
Latest executions bring number of prisoners hanged this year to 132, as rights groups question trial procedures.
Last Modified: 10 Oct 2013 19:49
UN human rights chief Navi Pillay says that Iraq's criminal justice system is "not functioning adequately" GALLO/GETTY]
Iraq has executed 42 prisoners convicted of terrorism-related charges in the last two days, the Justice Ministry has said, defying international condemnation of its extensive use of the death penalty amid escalating violence.
The ministry said on Thursday that all 42 executed, including a woman, over the past two days were Iraqis convicted of "terrorist crimes, killing dozens of innocents in addition to other crimes aimed at destabilising the country, causing chaos and spreading horror".
The statement was accompanied by a photo of a noose on a black background, a reference to the way in which executions in Iraq are usually carried out.
Human rights groups have questioned trial procedures in Iraqi courts, alleging that some verdicts are based on testimony obtained by torture or forced statements against the accused.