Back and forth they go.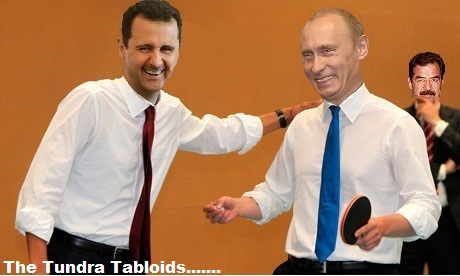 20 trucks with Syrian chemical equipment said sent to Iraq
Unconfirmed report in Lebanese newspaper echoes claims by Syrian rebels that Assad is hiding his WMD stocks to evade inspectors
Twenty trucks laden with equipment used in the manufacture of chemical weapons were driven across the border from Syria into Iraq on Thursday and Friday, the Lebanese newspaper Al-Mustaqbal reported on Sunday.
The trucks were "heavily protected" by security forces, and were not inspected by border guards, the paper reported, adding that its sources confirmed the illicit cargo.
There was no confirmation of the report in Al-Mustaqbal, a newspaper associated with groups opposed to the regime of President Bashar Assad.
Sunday's report came amid ongoing claims by the leader of the Free Syrian Army, Salim Idriss, that Assad was busy hiding his chemical weapons so that, when UN inspectors arrive to record and ultimately oversee the destruction of his stockpiles, a sizable amount of his WMD stocks will not be affected.
In interviews over the weekend, Idriss insisted his group had accurate information that Assad was sending some chemical weapons to Lebanon and Iraq, and more to "dozens of sites" across Syria to torpedo any attempt at international inspection and destruction of the stockpiles, as mandated by Saturday's US-Russia agreement.
A CNN report on Thursday also quoted Idriss claiming that the Syrian government had begun moving its chemical weapons stockpiles to Lebanon and Iraq.