Hey, they're Swedes, whose fellow countrymen parade themselves as peace activists (even dressing as religious Jews to evade detection) while sporting machine guns and pal around with their favorite terrorists.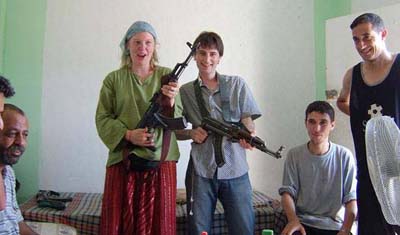 Short skinny: Swedish woman marries Palestinian Arab (most likely in Sweden where she converts to Islam), and then choose to raise their family in the disputed territories of Judea and Samaria. Their son aged 17 gets jihad happy and is part of a plot, the IDF get wind of it and make an arrest, 'The Swedish family' make an appeal to the Swedish consulate to intervene in the situation. The pro-Palestinian Swedish media will create a continuous 24/7 news-loop of the story in an effort to demonize the Jewish state.
H/T: Fjordman
West Bank Swede accused of terrorism
Updated: tisdag 24 september kl 19:15 (publicerades tisdag 24 september kl 17:25) , 
Radio Sweden
Radio Sweden: The Israel Defense Forces (IDF) tells the TT news agency that the 17-year-old Swede arrested in the West Bank Thursday is suspected of "involvement in terrorist activities".
The IDF says the case has been turned over to the intelligence agency Shin Bet.
The Swedish Ministry for Foreign Affairs says it has been told by the Israeli authorities that they will not be allowing Swedish diplomatic representatives or his lawyer to visit the imprisoned teen in the near future.