Desperately trying to counter UKIP advances in the polls.
I do not trust this wimp to keep his promises, that should be on the minds of every concerned voter desperate to see a complete change of course vis-a-vis the EU and current immigration policies. He and his psuedo conservative (anti-Thatcher) cohorts have no intention of doing anything, if not for UKIP raising these issues, he would be still be happy as a pig in slop with the existing status quo. He's an establishment get-along big business guy, what's important to him is the party hat, not principles and governing philosophies.
Don't believe a word of it……..
'But people should be in no doubt that under a Conservative-only government led by me, there will be the ability to throw out of this country far more rapidly people  who threaten us and our way of life.'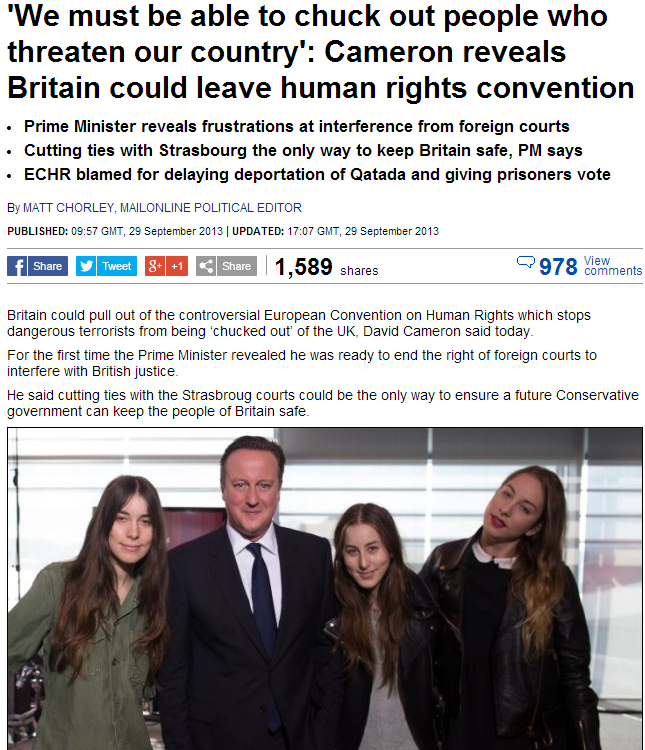 The European Convention has been responsible for deeply controversial decisions including repeatedly blocking the deportation of radical cleric Abu Qatada and insisting offenders in British prisons should have the right to vote.
Home Secretary Theresa May and Justice Secretary Chris Grayling have both argued that leaving the ECHR is the only way to give Britain control of its laws, without dangerous criminals and terrorists being able to appeal to European courts.
Mr Cameron said the UK could start by scrapping the Human Rights Act, and replacing it with a Bill of Rights.
But he suggested he was now ready to go further. Asked if he backed Tory MPs who want the Britain to leave the ECHR, Mr Cameron replied: 'It may be that that is where we end up.'
The Prime Minister said he wanted to 'think about what is the outcome we want' rather than focus on conventions the UK remains signed up to.
He told BBC1's Andrew Marr Show: 'As Prime Minister I want to know can I keep our country  safe.
'So for instance are we able to chuck out of our country people who have no right to be here, who threaten our country, I say we should be able to do that.
'Now, whatever that takes we must deliver that outcome. That's what I think we have the next 20 months to do and put into our manifesto whatever measures need to be taken so we can get the effect we want which is basically to have greater ability to keep our people safe.
'There are a range of options. You can write a British Bill of Rights so that when cases go to the European Convention on Human Rights you have a proper margin appreciation.
'The judges there can say well the British have got their own Bill of Rights, they have made they own decision and we should respect that.
'That is one possibility. But we have some time now to get this right before the manifesto.'