Well, yes it's exactly that.
Miss Jensen has steered her party to recovery since the aftermath of the twin attacks mounted two years ago by far-Right terrorist Anders Breivik, a former party member. The party's support dropped to 12 per cent but a softening in her rhetoric since the attacks has helped them recover.

"Siv Jensen used to talk about 'the hidden Islamisation of Norway', and she doesn't do that any more," said Martine Aurdal, political editor of the Dagbladet newspaper and Miss Jensen's biographer.

In recent months the party has published a hard-hitting 'Immigration sustainability report', while she has allowed other members of her party a free voice.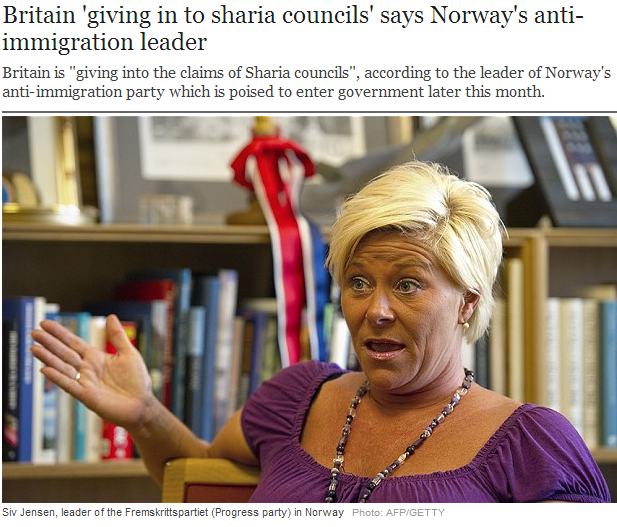 In an interview with The Daily Telegraph, Siv Jensen, the 44-year-old leader of the Progress party who cites Baroness Thatcher as her inspiration, said: "What I have seen that the UK has done is to give in to the claims of sharia councils, and I don't think we should give into that. In Norway we have one law, and that is the Norwegian law."
Miss Jensen, who is unmarried, said Britain was suffering the results of earlier mistakes in its immigration policy.
"I see some problems arising – You've had problems with riots, you've had problems with radical groups who aren't very fond of democratic systems and freedom of speech, and I think those are criteria that you really have to stick to in the modern world."
Miss Jensen's party has grown to become Norway's third largest since it was launched in the 1970s, pushing a libertarian economic and social policy, combined with a vehemently anti-immigrant, anti-Islamic stand.*
Ahead of parliamentary elections this Sunday, she could now enter into coalition for the first time with the more centrist Conservatives, who hold a wafer thin poll lead over their rivals Labour.
NOTE*: The Telegraph makes a typical claim that adheres to the political narrative, that anyone resisting mass immigration and totalitarian Islam, and those who seek to impose it upon others, is against immigration in general, it's a bold faced lie. Irresponsible mass immigration (the bulwark of multiculturalism) that doesn't allow for compatible immigrants nor time for their assimilation, is what's in question here, not normal, responsible immigration.