Folks, when you read Jukka's account of events leading up to the rally, at the rally itself and after the event, it's not hard to see just a normal fellow, 'a bloke' in British terminology, doing his part as he sees it, in promoting and securing our civil liberties and way of life. This is not just for Britain, but for Finland and the rest of us in the West as well.
NOTE: It's only the bigoted, 'self anointed elite', who look down their noses at these people, they really do hate them, us, and whoever stands in the way of their self imposed tyranny.
Special thanks to Gaia for the h/t in spotting Jukka, and to Mimosa Dedannan for bringing him into my network of friends.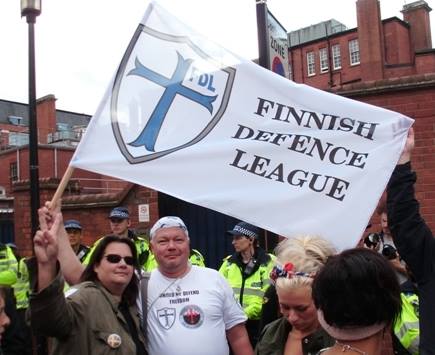 The FDL joins up with the EDL for demonstration at Tower Hamlets
Starting from Gatwick Airport on Friday the 6th, I managed to get to my hotel, though I was in London for the first time. Actually my first trip to UK ever. I was glad that the people of GDL (German Defence League) came to see me at the bar downstairs of my hotel in South Kensington.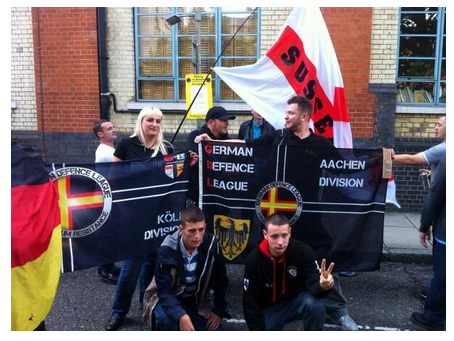 The bar was so noisy, so we headed to another pub where we got to talk and got to know each other better. I love the atmosphere of an English pub, especially with people who share the same ideas as I.
So there it was, the demo day that I had waited for with excitement, it was my first demo ever, since I am rather a new member of the FDL. I started early on Saturday morning, heading to London Bridge Station. As I wanted to be early to avoid stress, I went there 2 hours before the beginning of the march.
I went to a pub near London Bridge Station, had some beers and talked to a local guy there. Asked him if he knows where is the Queen Elisabeth Street. He said, "yes mate, just came from there. There's a lot of police officers there."
I was like: Oh really ?

He said: "Yea, there's going to be a march today."

I said, "gee, I don't know anything about it," and gave him a wink.
We decided to go to the rallying point together, but before that he introduced me to some local life, which was something that I wanted to learn more about, but not to see shopping malls and stuff.
As we walked towards the rallying point, we saw more and more police officers. We went into the ring of police officers, and they said that if you go inside this ring, you can't get out of there. I said ok. I Took my sweater off and revealed my t-shirt that has both EDL and FDL logos side by side.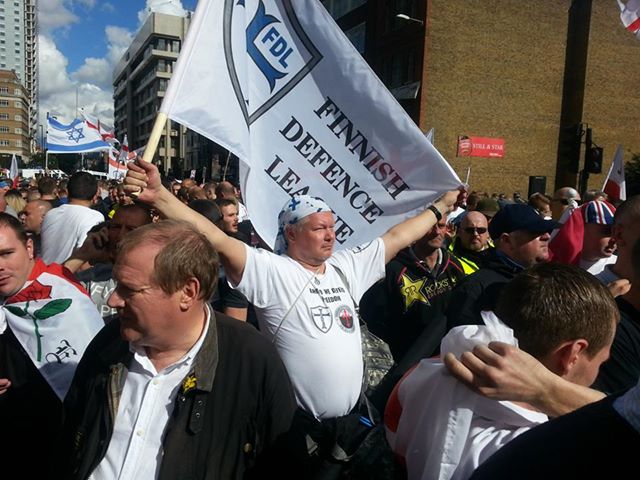 So the march began: a lot of people wanted to shake my hand and thank me for supporting the EDL. They even wanted to have photos with me. I was with Sisters and Brothers. There were about 3000 police officers (that is what I heard) securing us and not allowing any of the anti-fasists to attack us. People were shouting:
"Whose streets ? Our streets !"

"No Surrender !"

" Allah, Allah ! Who the f**k is Allah ?"
They were also singing something I could not quite understand. A lot of people outside the demonstration were on the streets supporting us. I felt the wave of real patriotism among us. We were on the right side. I couldn't understand some people called us nazis and racists. We were defending the people of Britain, Western laws and life style. It had nothing to do with racism !
To me, those who were against us reminded me of the collaborators of the invaders 70 years ago. Sorry to say that, but that is how I felt. And I guess everybody remembers what the real people of the homeland, British citizens, felt towards them back then.
I said to one EDL supporter, that you are the winners of WW2II! This shouldn't be a big problem to you when you all just unite together ! He agreed with me. The march itself went peacefully. I was so glad of it, because I had heard that there had been violent cases during some marches. But as far as I know, those problems were caused by either hooligans or anti-fascists, not the EDL.
It was a great way to see London, with a lot of Sisters and Brothers from Britain, German, Poland, France and America. I didn't get to meet the Poles, French or Americans, but hopefully I will meet them one of these days. I had a great time in London with my "security man" that I found at the pub, with EDL supporters and with German Defense League members.
After the march we gathered at a pub and shook hands, exchanged stickers, pin buttons etc. On Sunday morning I woke up at 6 am as my taxi to Gatwick airport was picking me up at 7 am. At the Gatwick airport I went through the security clearance and there two of the personnel told me I had a great T-shirt. It was my other FDL T-shirt with a fine text on the back. They said they would love to wear a t-shirt like that, but because of their jobs, they cannot.
So I went to a cafeteria to have some breakfast. Didn't know that there was a police officer having a breakfast as well…He got interest in my T-shirt and as I approached to departure gate, another police officer stopped me and wanted to talk to me. He was very friendly, explaining that for security reasons, they sometimes have to stop some people and to have an interview. I said its very understandable. The other police officer from the cafeteria joined us as well. So they wanted to see my passport.
"When did you come to our country"

– On Friday I said.

"Where did you visit in our country?"

– In London

"And what was the meaning of your trip, pleasure or business?"

– Pleasure

"So, what did you do in London?"

– Met some friends and went to some pubs.

"Did you stay with your friends or in a hotel?"

– In a hotel.

"What else did you do in London?"

– Just looked around and visited some pubs for a good beer.

The other police officer asked me then:

"Did you join the march they had yesterday?"

– So that is why you stopped me *grin* ?

"Yes, your T-shirt got us interested"

– I knew it 🙂

"Hod did the march go?"

– Excellent, very peaceful march.

Then I told them that EDL is not violent, that it is the hooligans who sometimes

cause the troubles, but the EDL cannot restrict or totally control who participate their demos.

"So you are from Finland. How many of you came from Finland?"

– Just me, nobody else.

"So, you are the ambassador of Finland ?"

– I guess you can say so.

"Ok..is it ok that we take a photo of your passport ? We are not giving

this info to anyone, the photo just stays on my laptop."

– Sure, go ahead.

– I asked if I am allowed to come back to the country, now that they know

I participated the rally.

"Of course you are welcome to visit again. As long as you also follow

the text on the back of your T-shirt. This is a free country."

– I am glad to hear that.

"Thank you for your time Sir. Have a safe trip back to Finland"
We shook hands and then I went to the gate as the other passengers were already boarding. My flight went to Copenhagen, where I had to wait another three hours for my flight back to Finland. I bought some souvenirs from Copenhagen to my family members and went to have Pasta Bolognese, cause at that point, I was hungry as a wolf.
As I was waiting in the line to order some food, an older man tapped my shoulder. He said he is an American and he would love to have an FDL T-shirt like mine. Where can I buy them ? I told him to visit Spreadshirt.com and find our web shop from there. He said that when he gets back to the States, he will most certainly do so.
I was feeling very happy about the whole trip…
It was a pretty tiring trip for my first demo, as I had to concentrate on new things around me, but at the same time I had an excellent time with other patriots from around the world! I felt myself very welcome to the DL-family!
At this point, I want to thank everyone whom I met during my journey. Especially Tommy and Kevin (I got to shake hands with them) for a very well organized and safe demonstration and of course my local guy and security man, whose name I cannot tell you.
Hoping to see you all very soon !
NFS !
Hoping to meet my Sisters and Brothers soon again.
Best of luck to everyone that I met !
NFS !