Unable to find any comparable technology developed in the Islamic world to aid in their jihad, the sons of Mohamed gladly use western technology to help blow each other up.
I think I'll invoke the wisdom of Star Trek's Prime Directive: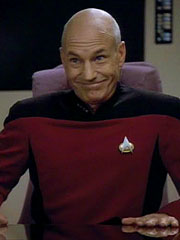 The Federation cannot expose an evolving species to technology that the species has not yet discovered.
NOTE: The jury is still out however on the 'evolving' portion of the clause.
Syrian Rebels Aim Mortars With The Help Of iPads

The Huffington Post  |  By Drew GuariniPosted: 09/17/2013 2:14 pm EDT
If there was ever a time that the mind-numbing cliche "there's an app for that" wasreally apt, this may just be it.
Mohamed Abdellah of Reuters took an incredible photo of Free Syrian Army rebels on Sunday as they used an iPad to guide mortar fire in the country's brutal civil war outside of Damascus.
Speculation around the photo has suggested that the rebels are using an iPad app such as iHandy Level Free to aim the mortars in the absence of sights.
"It is something they have been using for a while," Eliot Higgins, a British-based weapons analyst, told the Times of London. "Some are also using smart phones. It's quite common."
H/T: Fjordman