The Maltese aren't buying it.
Lets go to the golden quote found in the comments to the article:
In this country we need journalists not reporters on behalf of unreliable and questionable sources such as UNHCR. If one bother to download EC official data, one can easily work our through basic mathematics that Malta has the biggest burden which is at least twice that of Sweden. Secondly, as a legal citizen of this country, I do not care what the Swedes are happy with. They can do what they like with their own land.
NOTE: These un-elected statist-minded bureaucrats are a curse on society
H/T: Fjordman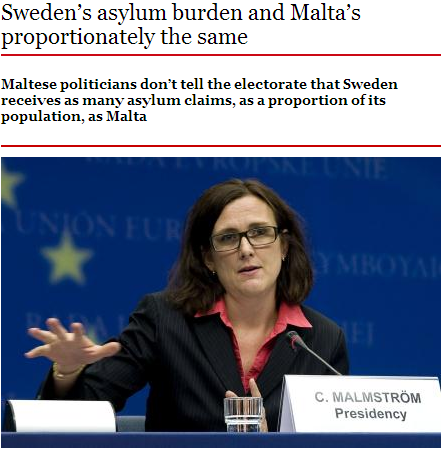 Small. Wealthy. Highly-urbanised. In 2013, the island of Malta jealously guards some of the most appealing of attributes. Relatively low levels of crime, amazing weather and a skilled and multilingual workforce. Democratic stability has contributed to uninterrupted flows of foreign investment – over €12 billion in the last year.
So why do African asylum seekers get the national dander up?
Malta has so far received 1,840 asylum seekers – two-thirds of them from Horn of Africa countries like Somalia and Eritrea – under a new Labour government which has already been stopped by the European Court of Human Rights from effecting an illegal deportation.
But throwaway comments by Prime Minister Joseph Muscat that Malta's burden should be taken up by such countries as Sweden – home country of the EU's Immigration Commissioner Cecilia Malmström – has been put paid by data showing the reality of Malta's asylum burden.
More here from the Maltese media spinmeisters.