Sweden, the socialist-loon gift that keeps on giving.
Flashback: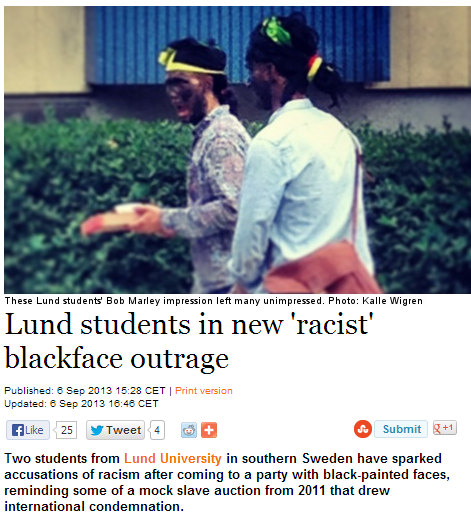 The students were imitating Jamaican reggae singers at an initiation party for new members of the Technology Management student association, which consists of about 80 masters students studying economy and technology.
The pair had used make-up to paint their faces black, and while other members of the club did not react to the interpretation of Jamaicans, others were left seeing red.
Kalle Wigren, a former Lund University student and lifelong resident of the town in southern Sweden, chanced upon the spectacle and was gobsmacked.
"I reacted so strongly because it reminded me of the slave auction at Hallands nation two years ago," he told The Local.
"The university said after the slave auction that it would work hard to prevent similar incidents in the future. But it's happened again."