No doubt millions lining to take up the offer, and the taxpayer coughs up the dough.
Israellycool's Brian of London: "Ikea needs more staff?"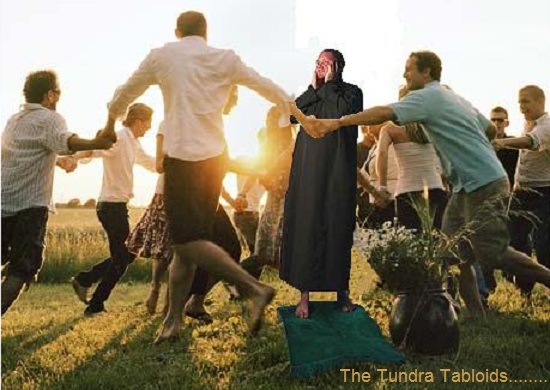 Suicidal morons, that's what governs in Stockholm, turn out the lights the socialist party is over. They couldn't care less what their people think about it, just enact one lame brain scheme after the other, with the grand finale being complete permanent residency and dissolving of the country. Utter buffoonery.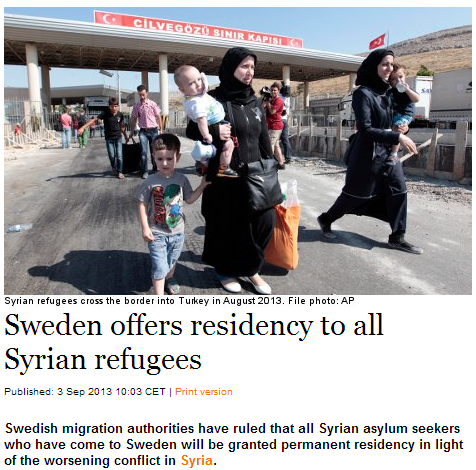 Sweden is the first country in the EU to offer permanent residency to refugees from Syria, news agency TT reported.
The decision covers all asylum seekers from Syria who have been granted temporary residency in Sweden for humanitarian protection. They will now receive permanent residence permits, the Swedish Migration Board (Migrationsverket) announced on Tuesday.
NOTE: Hans Erling Jensen (H/T) sends the following from Varg ei Veum who musters up an excellent response to the news that I publish in full because this has to be read in one sitting and disseminated broadly:
Hello refugees and non-refugees of the world.
september 3, 2013 — Varg i Veum
Are you starving? Does your government, family or anybodys family or relatives hate you? Isnt your prisons and hospitals exactly as "good" as Swedish hospitals and prisons? Do you or a relative of yours have a fatal disease that you can't afford to treat? Doesn't your country have welfare like Sweden? Do you live in a muslim country? Are you Christian (non-muslim) in a muslim country? Are you gay in a muslim country? (or some African countries where people hate people for being gay, but not Russian since your skin color is wrong) Are you just tired of having a hard life?
If so, you are welcome to spend rest of your life in Sweden, all of you. You can travel back to your country every year to visit relatives or find a spouse (and then the spouses relatives can come to live in Sweden too) many times taxpayers pay for your trip so you dont even have to do that.
You may not know it yet but you are actually Swedes, as soon as you put your feet on Swedish soil you are, by many Swedes, even the government, a real Swede! I bet you didn't know that? You see, Swedes doesn't really exist, they never have actually. Anybody is a Swede if you call yourself a Swede.
As a Swede you have the right to all the benefits of the Swedish welfare state, you don't even have to contribute, the taxpayers happily pay for you with one of the highest taxes in the world (for individuals, not big corporations or millionaires)
If you don't have the right according to UN specifications to call yourself a refugee, that is not a problem. Just make up some story, they never require any proof of your story, your word is good enough. But cruical here is the skin color. If you look white, they will question your motives.
If the extremely unlikely thing would happen; you don't get the right to live in Sweden for the rest of your life, you don't have to worry. Just call the papers or media, they will start a campaign for you. You may have to hide and become so called "papperslös". That doesn't mean you are NOT a Swede, it just means that you just haven't got your papers. Media and the leftists will fix that for you. Meanwhile you of course get free healthcare and your children can go too school. You don't have to worry about the police, media have them under control so they won't dare to do their job.
So, you don't have to worry. Welcome to Sweden and all your problems will be solved.
Don't forget to mention this to everybody in your country.
Disclaimer: this only applies to non white people, and white people from "white" countries. If you do not have a whit skin color and live, let's say in Italy or Greece. Then you are welcome to Sweden too.