Corporate welfare / crony capitalism is the enemy of every conservative who believes in the true free enterprise system. Not all big business acts that way, but those who do, do so to the detriment of the health of the nation, through the corruption of officials and government institutions and the subverting free market principles.
Excerpt: I think that Mexico is exactly what you want. Sometimes in business you have to take yes for an answer. And I think that in this case yes is the answer. You want a closed system where there is no competition and cronyism is the only way things get done, where the corporate taxes are a bit lower, but the difference is more than made up by bribes, a society sharply divided between the vast armies of the unprotesting poor who are resigned to their fate and a small wealthy elite that enjoys its superiority in ways that it can't on this side of the border.

You don't really want to build things. You want to keep other people from building them while you enjoy a monopoly on the things that someone innovative built twenty years ago before he was forced to leave the country.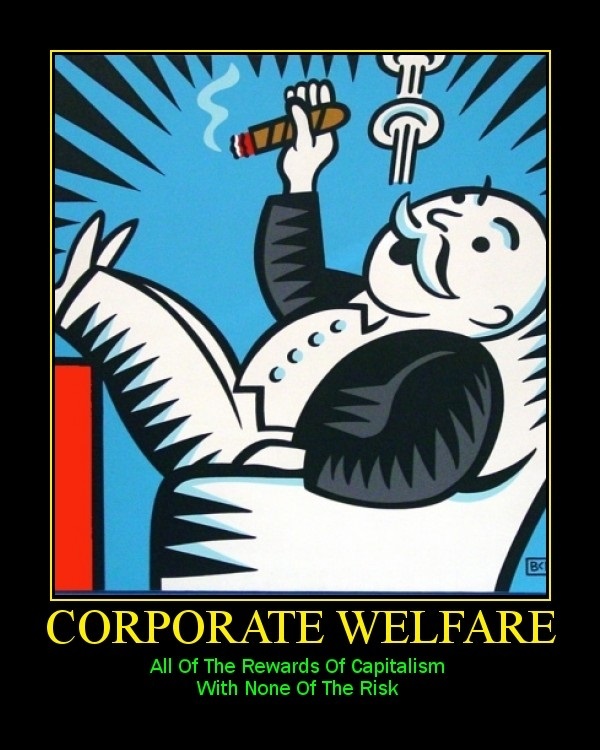 Dear Corporate America
Posted by Daniel Greenfield @ the Sultan Knish blog 

Dear Corporate America,
I haven't written to you in a while. At least not since my television broke down, my toaster developed a taste for human flesh and my phone company ran away with my phone number to Mexico.
Rachel Maddow says we're both on the right and are really close together. But then again Rachel Maddow also says the Republican Party drinks the blood of small children. So she can be a little factually challenged on occasion.
Still I'm on the right and you're occasionally sort of, but not really, on the right. I support lower taxes. So do you. At least for yourself. I support deregulation. You only support deregulation when it suits your narrow interests, but not when it lets smaller businesses and freelancers compete against you.
What you seem to want is a country with low taxes, your preferred forms of deregulation and the population of Mexico.
These things are not compatible. Mexico is currently governed by the Institutional Revolutionary Party; a member of the Socialist International. It has a multi-generational teachers' union whose members pass on their jobs to their children and whose riots have to be put down by armed force.
When it comes to ease of doing business, the United States is ranked 4th, Mexico is ranked 48th, coming in ahead of Kazakhstan. A Comparmex report showed that companies spend 10% of their revenue on bribes.
Is this what you really want for America?
Your lobbies and associations keep pushing for amnesty for 12 million illegal aliens even while your companies keep fleeing California.
If you don't like doing business in California, which is turning into the American version of Mexico, why do you want to turn the rest of America into California?