That's right, five minutes too much and into the nick.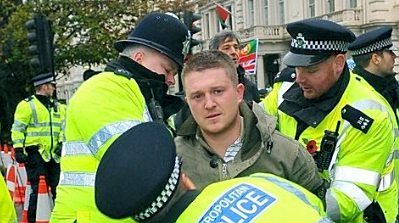 The police pressured by the politicians will use any means to harass the leadership of the EDL, that's just the sad state of affairs in the UK.
NOTE: Esmerelda Weatherwax gives the details of yesterday's events as they unfolded, thanks to her and the New English Review for publishing it.
Once off the bridge we didn't have long to wait at all until the police gave us permission to disperse. They thanked us for our co-operation and gave directions to where the coaches for divisions from further afield were parked.

I have since found out that the antifascists on the walkway under the bridge approach were arrested en mass and taken off in two double decker buses to the Police station. They were brought in each handcuffed to an individual officer.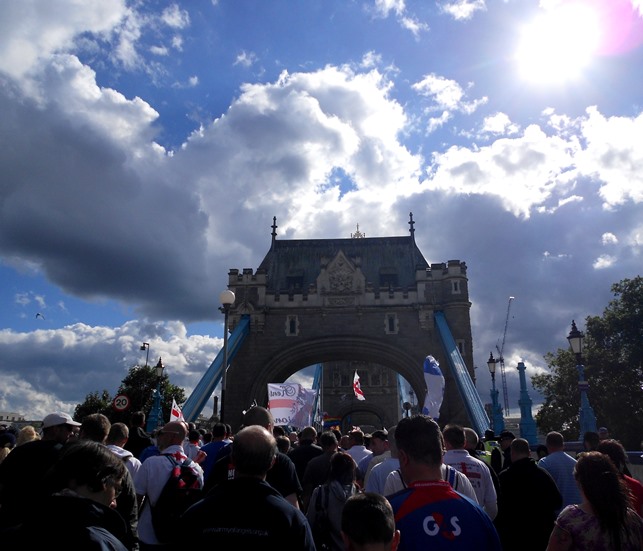 From Tower Bridge and back
To Tower Bridge for the EDL's second attempt to march and demonstrate against sharia law and other nasties in the London Borough of Tower Hamlets.
Regular readers will be aware of what happened last time, in 2011. The reasons for a demonstration, then and now, and the problems experienced with the route. Police renaging on the agreement because they admitted, and in court, backed by a High Court Judge that they feared they could not control the UAF, Antifa and Muslims of Tower Hamlets and elsewhere.
Frankly, this was 1936 in reverse. In 1936 Sir Oswald Mosley and his blackshirts of the British Union of Fascists wanted to march (in uniform, as well) from the Tower Of London to Victoria Park (which straddles the two boroughs of Hackney and Bethnal Green). They tried several routes but were stopped at Whitechapel and in Cable Street, which being so far south was not an obvious route to take. The police advised Mosley to turn back and the march was cancelled. While the incident is known as the Battle of Cable Street most of the old newsreel showing the fighting was filmed by the Royal Mint and at Gardener's Corner, outside a department store (long gone) at the junction of Commercial Road and Aldgate.
Then, the blackshirts marched on the East End and were stopped. Now the black flags of jihad and anarchy, the black veils and cloaks of sharia hold the East End and it was the descendants of the Londoners who stopped Mosley who were trying to enter.
The Muslim and UAF rally was under orders that they were restricted to Whitechapel and Altab Ali Park between certain hours. I started at Aldgate East to see what they were about.
Read it all here plus a lot of pictures to look at.
NOTE: Finnish Defense League was represented as well. (Picture & h/t: Gaia)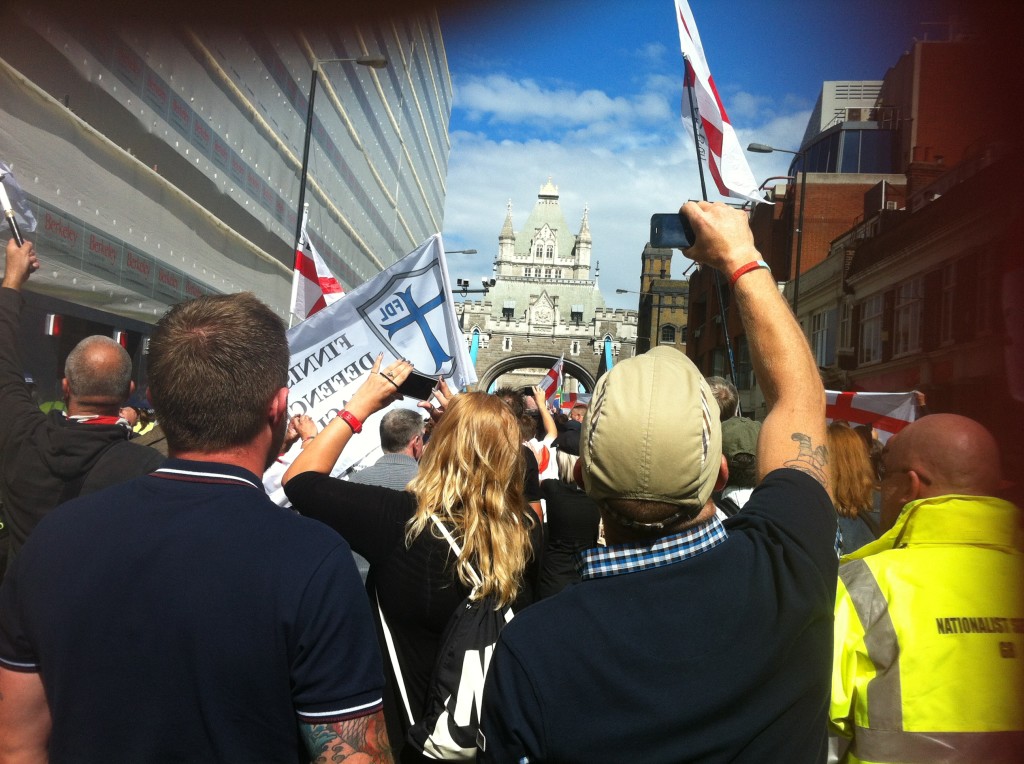 Via: EDL LGBT Division via (EDL) English Defence League
NOTE: Supposedly only 300 people…………..
Published on Sep 7, 2013
The English Defence League (EDL) marching across Tower Bridge heading towards the London Borough of Tower Hamlets (Today 07-09-2013)