If anyone remembers the movie, Not Without My Daughter, a story of an American woman, played by Sally Fields, who is falls in love with an Iranian doctor, and is forced to live in Iran during the time of the Shah's overthrow, and ends up running for her life with daughter in tow. That movie was subjected to much criticism of being anti-Iranian, and therefor, 'propaganda'. Well, Phyllis shows that in her book, what happened to Betty Mahmoody and her daughter is not an anomaly in the Muslim world.
I've never told this story in detail before, but felt that I must now. Because I hear some westerners preach the tortured cultural relativism that excuses the mistreatment of women in the name of Islam. Because I see the burqa on the streets of Paris and New York and feel that Afghanistan has followed me back to America. My hell In an Afghan Harem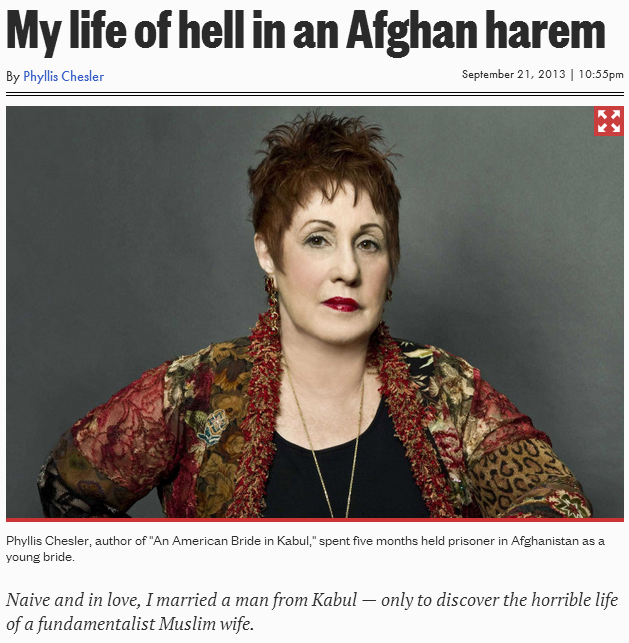 […]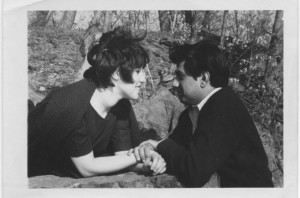 My parents are outraged and hysterical. They warn me that no good will come of this union. Little did I know then how right they would be. We marry in a civil ceremony in Poughkeepsie with no family present.
For our honeymoon, we travel around Europe with a plan to stop off in Kabul to meet his family. I did not know that this would be our final destination.
When we land, 30 relatives await our arrival. Among them, not one but three mothers-in-law. I am too shocked to speak, too shocked to question what these three women might mean for my future.
I learn that my real mother-in-law, Abdul-Kareem's biological mother, is only my father-in-law's first wife. Her name is Bebugul.
There are bear hugs and kisses all around. The family is warm and inviting — I try to forget about my husband's glaring omission.
But before the caravan of black Mercedes-Benzes can leave, an airport official demands that I turn over my American passport.
I refuse.
Everyone stops. Both the official and my husband assure me that this is a mere formality. It will soon be returned to me, so I reluctantly relinquish it.
I will never see my passport again.
That means — I would soon learn — that I would not be able to leave Afghanistan at will. I am now subject to the laws and custom of Afghanistan, and as a Afghan woman, that means hardly any rights at all.
My husband's father owns a compound comprised of numerous two-story European-style houses where the various families sleep with patios, expensive Afghan wool carpeting, indoor gardens, and verandas.
I am only 20, and I am now a member of this household, which consists of one patriarch, three wives, 21 children (who range in age from infancy to their 30s), two grandchildren, at least one son-in-law, one daughter-in-law and an unknown number of servants and relatives.
This is my new home. My prison. My harem.
Make sure to read the rest of the riveting tale here.
Good endorsements can be found here.
Watch Not Without My Daughter: