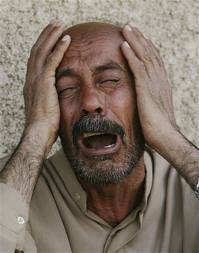 Blast rips through Peshawar bus; 10 killed
27 September 2013 11:43 (Last updated 27 September 2013 11:45)
Some 60 to 70 employees were onboard when the bomb, which was planted in rear portion of bus, went off in Pakistan
PESHAWAR (AA) – At least ten people were killed and 25 others wounded when a blast rocked a bus carrying government employees in Pakistan's northwestern city of Peshawar on Friday, hospital sources told Anadolu Agency.
The blast rocked the bus while en route to drop the civil servants at Charsaddah road.
Provincial police chief Nasir Durrani, however, said ten people were killed in the explosion.
Some 60 to 70 employees were onboard when the bomb, which was planted in rear portion of the bus, went off.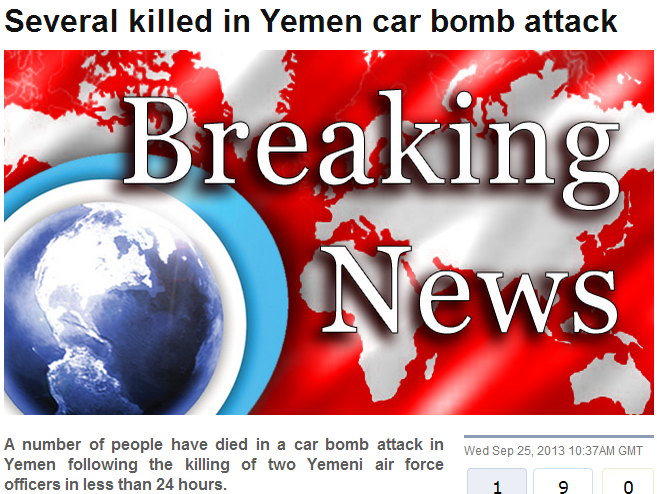 Source: Press TV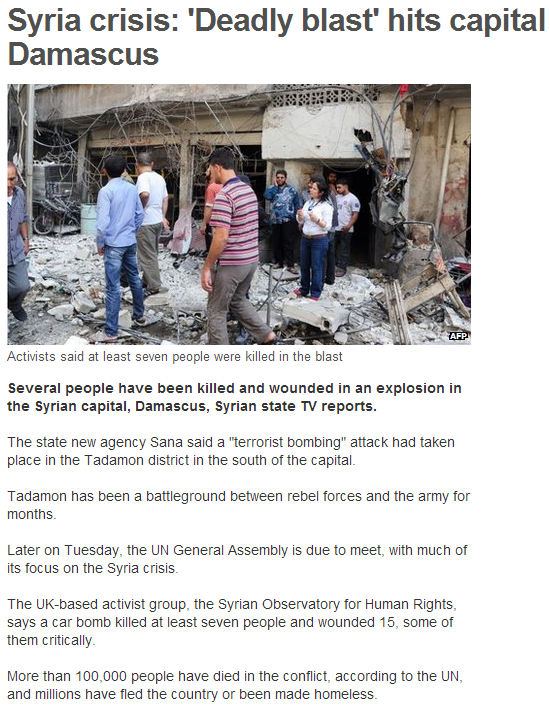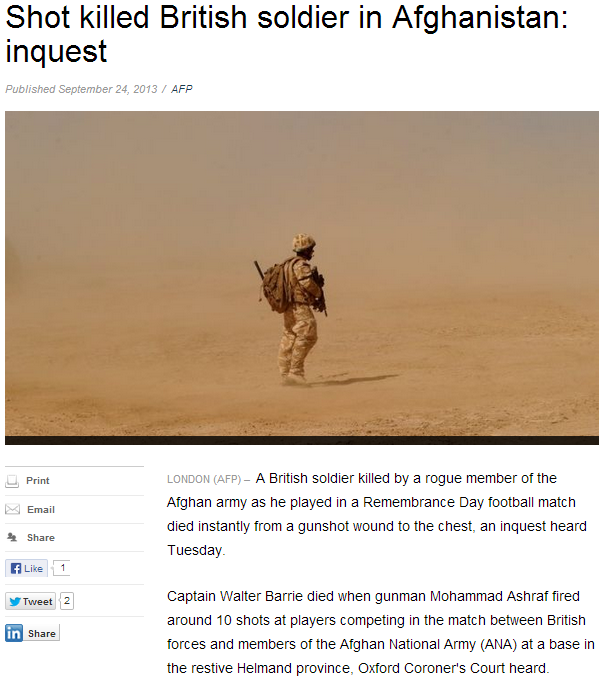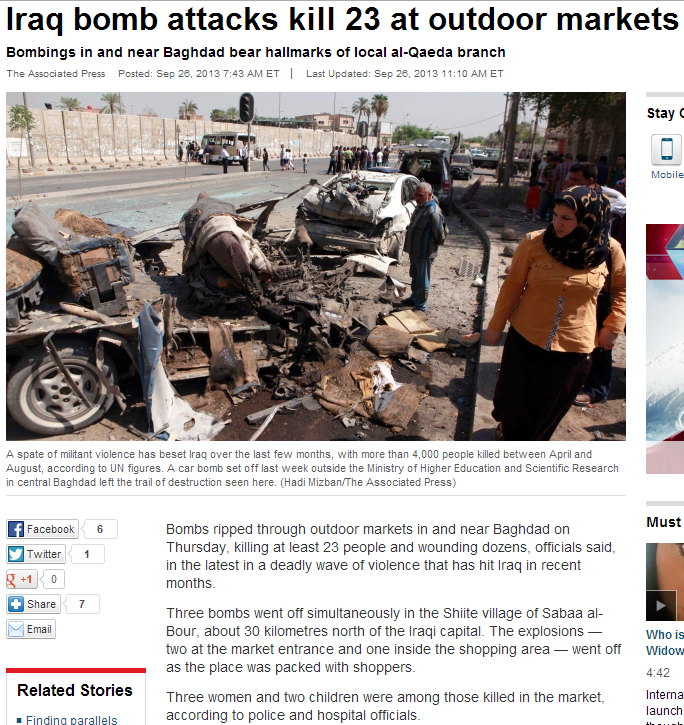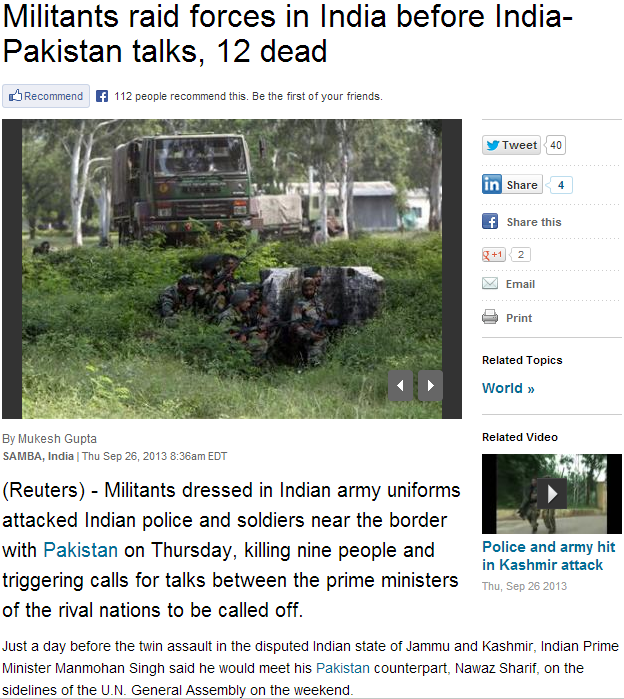 140 militants killed, 49 arrested in Algeria in 2013: source

 
The Algerian joint forces has killed 140 militants from January to September this year, during operations against terrorist groups, mostly near the borders with Mali, Tunisia and Libya, a security source said Wednesday.
A total of 49 individuals were arrested over charges of belonging to terrorist groups and trafficking arms, the source told Xinhua on condition of anonymity.
Early this year, army forces killed 46 militants linked to al- Qaida in the Islamic Maghreb (AQIM), during various operation in the southern region, the source added.
The Algerian army forces managed to foil attempts of weapon smuggling across the borders with Libya and Mali, and arrested several traffickers linked to AQIM, while a large number of arms and ammunition were seized.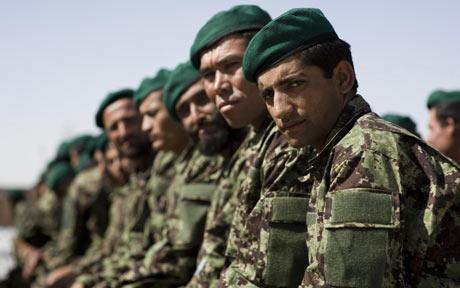 NATO says soldier killed in eastern Afghanistan
KABUL, Afghanistan (AP) — NATO says one of its service members has been killed by a member of the Afghan security forces in eastern Afghanistan.
The international coalition says the attack took place on Thursday and that the gunman was killed. NATO provided no other details.
Taliban spokesman Zabihullah Mujahid claimed responsibility for the attack in a text message sent to media.
A spokesman for the governor of eastern Paktia province, Rohullah Samon, says the shooting took place on an Afghan base in the Gerda Sarai district.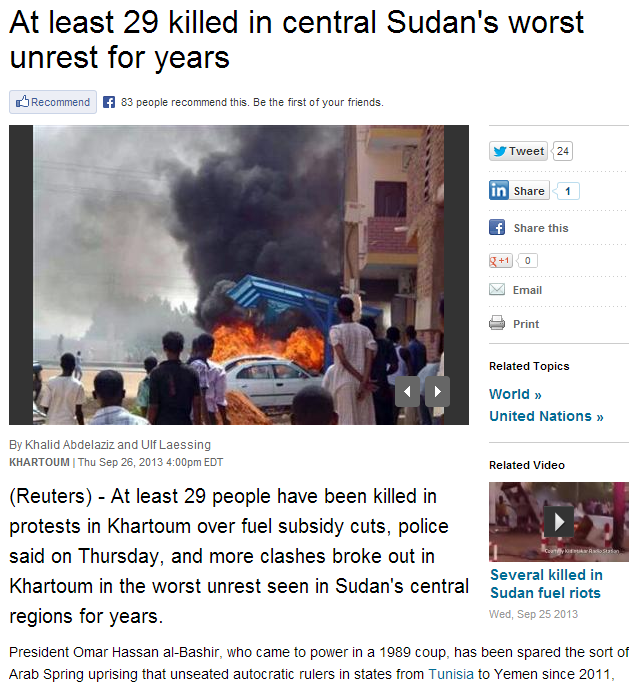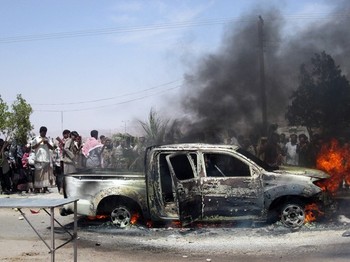 Intelligence officer killed in Yemen
Suicide bomber detonated a car in a market
AFP
Published: 15:53 September 26, 2013
Aden: A suicide bomber Wednesday killed a Yemeni army intelligence officer when he detonated his explosive-laden car in a market, a security official said.
The car detonated in the local market in the southern city of Ataq in Shabwa province, where Al Qaida in the Arabian Peninsula militants remain active, the official said.
The blast killed Lt Col Mohammad Al Saidi and seriously wounded another man, a passer-by, the official said. A medical official also confirmed the report of one death.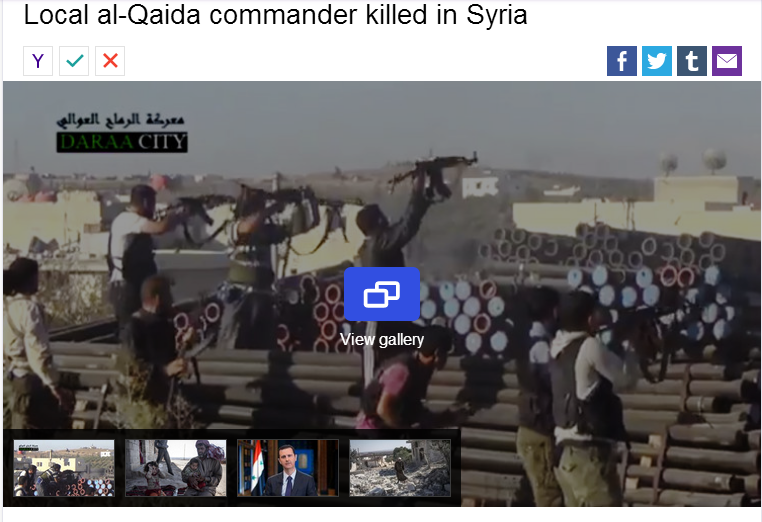 DAMASCUS, Syria (AP) — Activists say a local al-Qaida commander in Syria has been killed during clashes with Kurdish militiamen in northern Syria.
The Syrian Observatory for Human Rights, which closely monitors the fighting in Syria, says the commander died Wednesday night in fighting in the northern province of Aleppo.
The Britain-based group did not provide the man's name but identified him in a statement Thursday as a UAE national and the emir — or local commander — of Aleppo.
On Monday, a top al-Qaida commander was killed in an ambush by rival Western-backed rebels.
State news: Iraqi Consulate in Syria shelled; 1 dead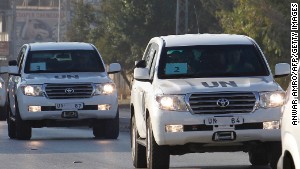 (CNN) — An Iraqi woman was killed when "a terrorists' mortar shell" fell on the Iraqi Consulate building in Damascus on Thursday, the state-run Syrian Arab News Agency reported.
U.N. weapons inspectors return to Syria
The shell landed in the building's reception hall, SANA said, citing a source at the consulate. Three other people were injured.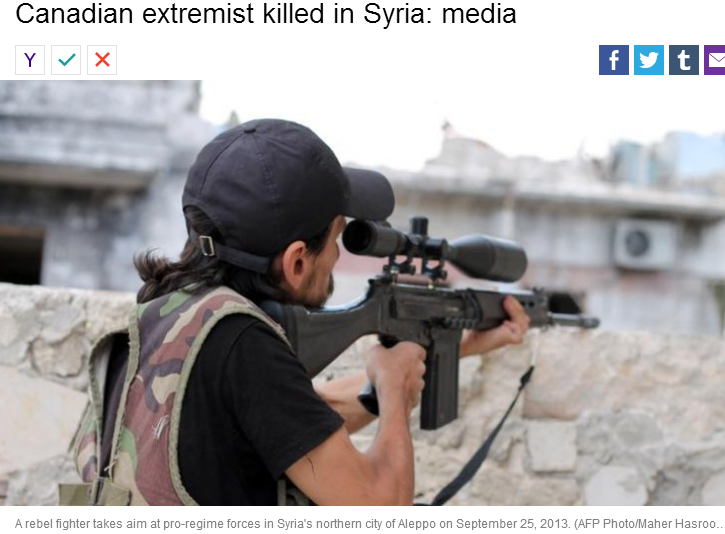 Ottawa (AFP) – A young man once jailed for smuggling weapons for the Toronto 18 terror plot to attack Canada's parliament and other targets has been killed in Syria, local media said Thursday.
Somalia-born Canadian Ali Mohamed Dirie reportedly left Canada after his release from prison in 2011 to join rebels fighting Syrian President Bashar al-Assad's regime.
The daily Toronto Star and other newspapers cited unnamed security and Toronto Muslim community sources as saying that Dirie had been killed in the civil war that has claimed more than 110,000 lives, including at least 100 Canadians who left for Syria in the past year.
Qatar under pressure over migrant labour abuse
International Trade Union Confederation says death toll could reach 600 a year unless government makes urgent reforms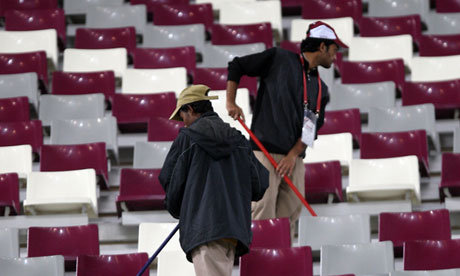 Asian workers cleaning the stadium at the end of the 2011 Asian Cup semi-final football match between Australia and Uzbekistan in the Qatari capital Doha. Qatar is under pressure over the deaths of workers preparing for the 2022 World Cup. Photograph: Yasser Al-Zayyat/AFP/Getty Images
Qatar is facing growing international pressure to act against the growing death toll of migrant workers preparing for the 2022 World Cup as unions warned another 4,000 people could die in the Gulf emirate before a ball is kicked.
The International Trade Union Confederation (ITUC) said at least half a million extra workers from countries including Nepal, India and Sri Lanka were expected to flood in to Qatar to complete stadiums, hotels and infrastructure. Unless the Doha government made urgent reforms to working conditions the death toll among migrant builders could reach 600 a year, or almost a dozen a week, the ITUC said.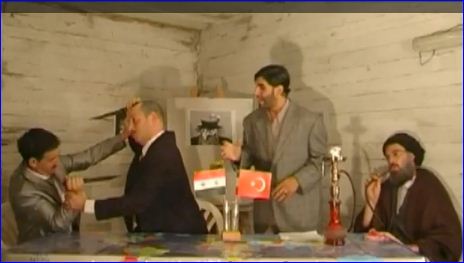 Arabs battle Syrian Kurds as Assad's foes fragment
By REUTERS
09/26/2013 22:47
AMMAN – Syrian rebels and al-Qaida-linked fighters clashed with Kurds in northern Syria on Thursday, activists said, in a battle for territory highlighting the country's descent towards sectarian and ethnic fiefdoms after two years of war.
The heavy fighting in the town of Atma on the border with Turkey's Hatay province followed outbreaks of internecine conflict by rival rebel forces elsewhere, which have undermined their military campaign to topple President Bashar Assad.
Even Assad's Sunni Muslim Arab opponents look increasingly divided after 13 rebel groups this week rejected the authority of the opposition coalition in exile and called for new Islamist leadership.
At least 15 fighters have been killed in two days of clashes around Atma, activists said.
The fighting pits Syrian Kurds, alarmed by what they see as Islamist encroachment in northern Syria, against Arab rebels who suspect the Kurds of seeking secession.