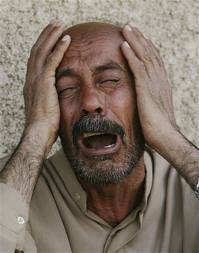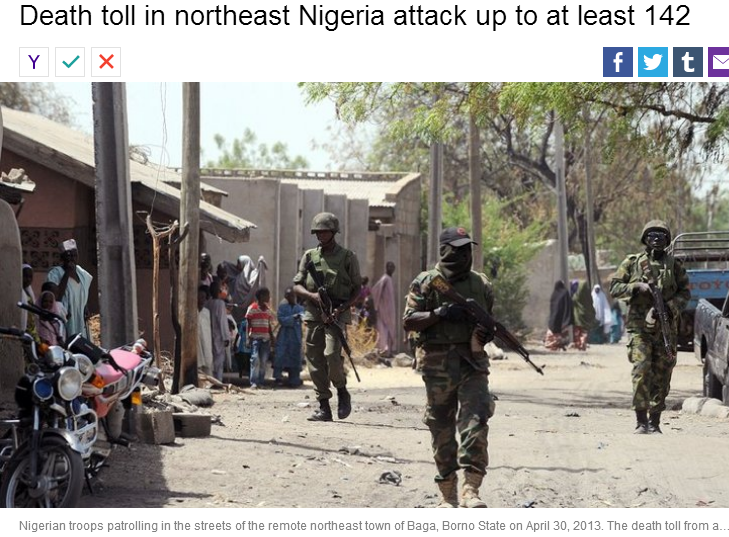 MAIDUGURI, Nigeria (AFP) – The death toll from an attack in northeastern Nigeria that saw insurgents dressed as soldiers set up checkpoints and gun down travellers on a highway has risen to at least 142, an official said Sunday.

"We recovered 55 bodies on Wednesday and 87 on Thursday," Abdulaziz Kolomi, an official with the environmental protection agency in Borno state where the attack occurred, told AFP. The previous toll from the attack late Tuesday in the Benisheik area was 87.

The insurgents, suspected to be from Islamist extremist group Boko Haram, also burned scores of homes and buildings in the assault and left corpses littering the roadside.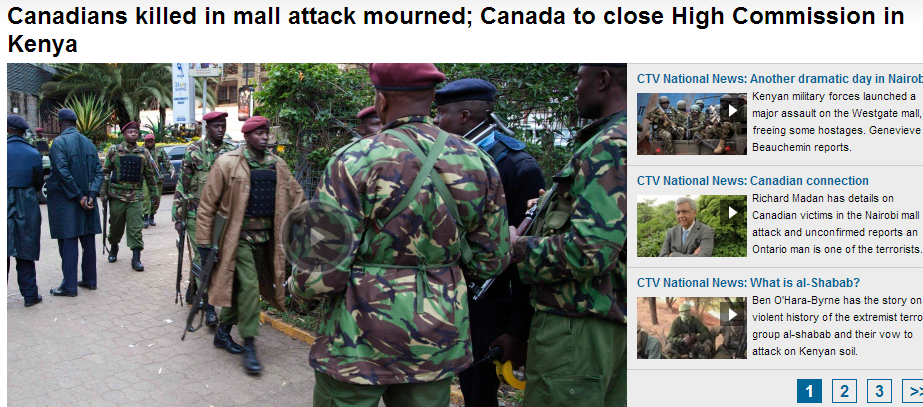 A second Canadian killed in an attack in an upscale mall in Kenya Saturday has been identified, while Canada will close its High Commission in Kenya.

Sources tell CTV News that Naguib Damji, a businessman from Vancouver, died in the attack at Westgate Mall in Nairobi, Kenya's capital.

Damji, 59, was visiting a cousin in Nairobi and was in the mall when the deadly attack began, sources say. Family members were initially told he died of a heart attack.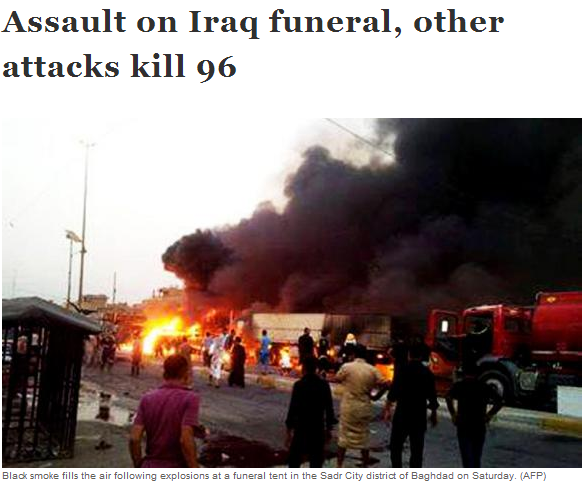 BAGHDAD: Two suicide bombers, one in an explosives-laden car and the other on foot, struck a cluster of funeral tents packed with mourning families in a Shiite neighborhood in Baghdad, the deadliest in a string of attacks around Iraq that killed at least 96 people on Saturday.

The assaults, the latest in a months-long surge of violence, are a chilling reminder of insurgents' determination to re-ignite sectarian conflict more than a decade after the US-led invasion.

Thousands of Iraqis have been killed in violent attacks in recent months — a level of bloodshed not seen since Iraq pulled back from the brink of civil war in 2008 — despite appeals for restraint from Shiite and Sunni political leaders.
Syria: Bashar al-Assad's forces kill at least 15 in Sunni Muslim village
Syrian Observatory for Human Rights says woman and two children among victims of soldiers and pro-government militia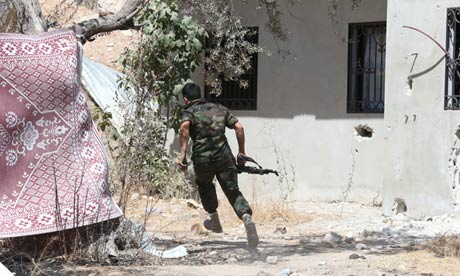 A Syrian government soldier in combat in Damascus earlier in the week. Forces loyal to Bashar al-Assad killed at least 15 people in Sheikh Hadid overnight. Photograph: Pochuyev Mikhail/ITAR-TASS Photo/Corbis
Syrian forces loyal to President Bashar al-Assad killed at least 15 people in a Sunni Muslim village north-west of the city of Hama.
The Syrian Observatory for Human Rights said a woman and two children were among those killed in the overnight attack in the village of Sheikh Hadid by soldiers and pro-Assad militia.
The British-based group, which monitors violence in Syria through a network of activists and medical and security sources, said the killings followed attacks by rebels on military checkpoints in the area over the previous two days.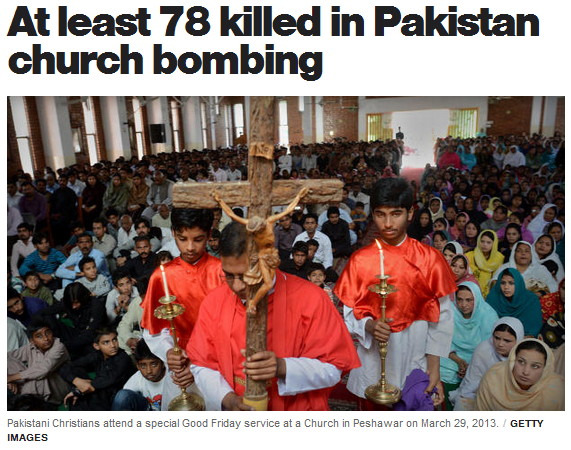 ISLAMABADA suicide bomb attack likely to have been carried out by Taliban militants on Sunday targeted a church in Pakistan's northern city of Peshawar, killing at least 78 people while more than 120 were wounded, Pakistan's government officials and intelligence officials told CBS News. Many of the wounded were in critical condition, raising the possibility of the death toll rising further.

According to a senior Pakistani government official who spoke to CBS News from Peshawar, all the victims appeared to be Christians who were leaving their church near the 'Kohati gate' neighborhood in central Peshawar when two suicide bombers raced towards the main entrance of the church and blew themselves up.

"All the indications suggest that this was an attack by the Taliban," said the government official who spoke to CBS News on condition of anonymity because he was not authorized to speak to journalists. The official said at least 600 people were present in the church when the attack took place.