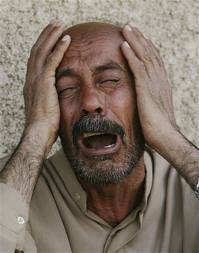 Report: Israeli-Arab fighting with rebels against Assad killed in Syria
By JPOST.COM STAFF
09/17/2013 23:41
Wadi Ara man's family says he's a martyr, died "a hero's death."
Syrian rebels run to take cover. Photo: REUTERS
A 28-year-old Israeli-Arab man was killed in Syria while fighting with the rebels against the regime of President Bashar Assad, Israel Radio reported on Monday.
Mueed Jumaa was from the village of Musherifa near Umm el-Fahm in the Wadi Ara region.
Jumaa entered Syria several weeks ago, likely through Turkey, and joined the ranks of the forces battling Assad. The circumstances of his death remained unclear.
Jumaa's family, who learned of his death on Facebook, stated that they viewed him as a martyr. "He died a hero's death, fighting against the regime of Assad the criminal in Syria."
In July, Israel sentenced an Arab citizen to 30 months' imprisonment for endangering national security by briefly joining Syrian rebels fighting to topple Assad.
Gunmen kill Egyptian army officer and soldier in Nile Delta
By Michael Georgy
CAIRO | Tue Sep 17, 2013 4:56pm EDT
(Reuters) – Gunmen killed an Egyptian military officer and a soldier in an attack on an army vehicle northeast of Cairo on Tuesday, security sources said, raising concerns that an Islamist insurgency is taking hold beyond the Sinai.
The number of militant attacks has risen since the army deposed President Mohamed Mursi of the Muslim Brotherhood on July 3, following mass protests against his rule.
Most of the attacks on the army have been limited to the relatively lawless Sinai, near Israel and the Gaza Strip, which is ruled by Hamas, an offshoot of the Muslim Brotherhood.
Tuesday's attack, which also wounded an army officer and a soldier, took place in Sharkia province in the Nile Delta. The assailants, who were in a vehicle, opened fire with automatic weapons, security officials said.
Most Syrians killed in unlawful conventional attacks, UN human rights panel says
From right: Paulo Pinheiro, Chairman of the Commission of Inquiry on Syria and Commission members Karen AbuZayd, Carla del Ponte and Vitit Muntarbhorn at the 24th Session of the Human Rights Council. Photo: Jean-Marc Ferré
16 September 2013 – The vast majority of Syrians are killed in unlawful attacks using conventional weapons such as guns and mortars, with children making up a large proportion of the casualties, the United Nations-appointed human rights probe today reported, calling for a halt to weapons being supplied to Government and the rebels.
"Arms transfers should not occur where there is a real risk that they will be used in the commission of crimes against humanity, violations of international humanitarian law, or war crimes. In Syria, this is a tragic reality," Paulo Pinheiro, the chairman of the International Commission of Inquiry on Syria said as he introduced the report to the Human Rights Council.
He noted that failure to bring about a settlement to the conflict has led it to deepen in its intransigence and also to widen "expanding to new actors and to unimaginable crimes".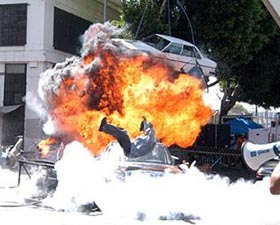 Car bomb kills head of Libya's criminal investigations unit in east in latest attack on police
TRIPOLI, Libya –  A security official in the eastern Libyan city of Benghazi says a car bomb has killed the head of a criminal investigations unit there.
The security official said Imrajae el-Ereybi's car was targeted on Tuesday in the neighborhood of el-Selmani in the heart of the city. The official said el-Ereybi died in a hospital shortly after the car bomb attack and a second passenger was wounded. He spoke anonymously because he was not authorized to brief reporters.
Col. Jumaa el-Misri confirmed el-Ereybi led one of the criminal investigation units in the volatile city.