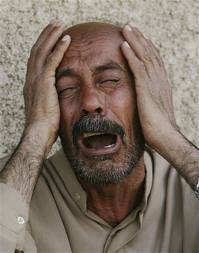 110,000 DEAD IN SYRIA: Here's A Look At Who Has Been Killed
Michael Kelley, provided by

Published 12:59 pm, Wednesday, September 11, 2013
The Syrian war has been going on for 2½ years.
The Syrian Observatory for Human Rights (SOHR) — which relies on a network of activists, doctors and lawyers throughout Syria — says that 110,371 people have been killed so far, and there is no end in sight.
Here's a breakdown of some of SOHR's numbers:
At least 40,146 civilians have been killed (including nearly 4,000 women and more than 5,800 children).
21,850 rebel fighters have been killed.
27,654 army soldiers have been killed.
17,824 pro-regime militia and 171 members of the Lebanese Shia group Hezbollah have been killed battling on the Syrian army's side.
2,726 unidentified people have died.
As of July, about 5,000 people are killed each month.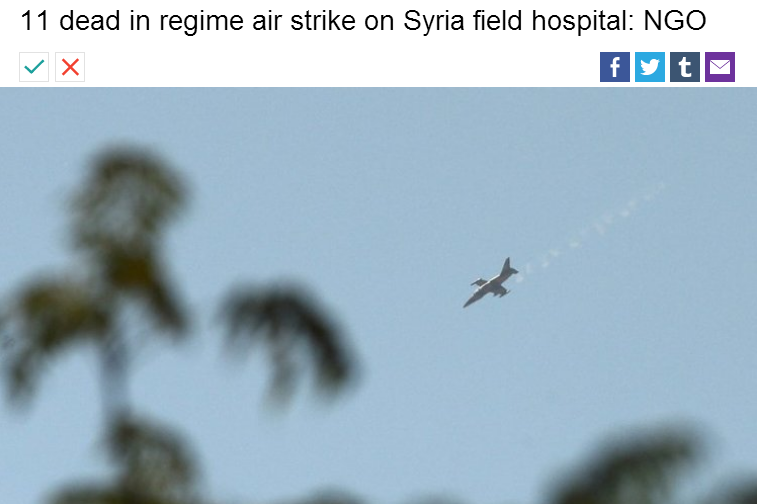 A Syrian regime air strike on a field hospital in the northern province of Aleppo killed at least 11 people on Wednesday, the Syrian Observatory for Human Rights said.
"At least 11 people, including a doctor… were killed in an air strike on a field hospital in Al-Bab," the Britain-based monitoring group said.
On Monday, regime air strikes hit a school in the town, in northeast Aleppo province, which was being used as a base by the Islamic State of Iraq and the Levant — an Al-Qaeda affiliate.
Elsewhere, jihadists killed at least 20 civilians in the central province of Homs on Tuesday, with members of the Qaeda-linked Al-Nusra Front among the assailants, said the Observatory.
Fighters from Al-Nusra and another rebel group attacked three Alawite villages near the city of Homs, said the group which gets its information from a network of activists, lawyers and medics.
"Fierce clashes broke out between rebels and army troops," Observatory director Rami Abdel Rahman told AFP.
Suicide bombs hit Egypt military in Sinai, kill 9
EL-ARISH, Egypt (AP) — In near-simultaneous attacks, a pair of suicide bombers rammed their explosives-laden cars into military targets in Egypt's volatile Sinai Peninsula on Wednesday, killing at least nine soldiers and nudging the conflict there closer to a full-blown insurgency.
The bombings in the town of Rafah on the border with the Gaza Strip appear to be a deadly response by insurgents to a military crackdown on their north Sinai hideouts that has reportedly left over three dozen dead.
Suicide attacks are a new element in the wave of political violence triggered initially by the ouster of Egypt's Islamist President Mohammed Morsi on July 3, and intensified by a violent crackdown on his supporters' protest camps. They suggest that al-Qaeda-inspired groups may be developing a new capability to strike at security and other targets, both in Sinai and elsewhere in Egypt.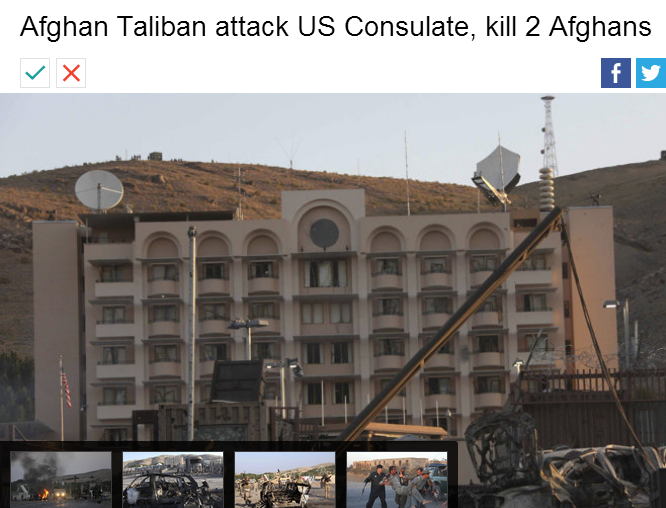 KABUL, Afghanistan (AP) — Taliban militants set off two suicide car bombs in an attack on the U.S. Consulate in western Afghanistan on Friday morning, triggering a gunbattle with security forces that left at least two Afghans dead.
The U.S. said all its personnel from the consulate in the city of Herat were safe and American forces later moved into the area to secure the site.
The attack underscored the perilous security situation in Afghanistan, where U.S.-led troops are reducing their presence ahead of a full withdrawal next year.
According to Afghan officials, the attack in Herat started with the Taliban setting off two bombs — one in an SUV and the other in an explosives-laden small van — while militants on foot opened a firefight with Afghan security forces around the compound in the city, 1,000 kilometers (625 miles) from Kabul.
Egypt tanks cross fence leading to Gaza
September 12, 2013 10:00 PM
Gaza's Hamas rulers neither confirmed nor denied the incursion, but said no Egyptian tanks had entered the besieged Strip.
An Egyptian soldier sits atop a bulldozer on the border between Egypt and southern Gaza Strip September 12, 2013. (REUTERS/Ibraheem Abu Mustafa)GAZA CITY, Palestinian Territories: Two Egyptian army tanks crossed an initial border fence leading to Gaza for the first time on Thursday, witnesses said, but did not enter the Palestinian territory itself.
The tanks "crossed the first Egyptian border fence along the corridor between Egypt and (Gaza), and drove along the road running next to the cement wall" that Egypt built, the witnesses told AFP.
They said it was the "first time Egyptian tanks have been in this area, although they didn't cross into the Palestinian side," adding that soldiers on top of the tanks had masked faces.
Muslim rebel clashes spread to second southern Philippine island
By Erik de Castro
ZAMBOANGA CITY, Philippines | Thu Sep 12, 2013 9:12am EDT
(Reuters) – Fighting between security forces and rogue Muslim rebels seeking to declare an independent state escalated in a southern Philippine city on Thursday and spread to a second island, officials said.
U.S.-trained commandos exchanged gunfire with a breakaway faction of the Moro National Liberation Front (MNLF) holding dozens of hostages in Zamboanga City, on the southernmost island of Mindanao, army spokesman Domingo Tutaan said.
The violence illustrates the security challenge potential investors face in the impoverished south of the majority Roman Catholic country despite a strong nationwide economic performance in the second quarter.
It also raises questions about the strength of a peace deal agreed last October with a larger Muslim rebel group, the Moro Islamic Liberation Front, to end four decades of conflict that killed 120,000 people and displaced two million in the resource-rich region.
The Muslim Moro make up the largest non-Christian group in the Philippines, at around 10 percent of a total 97 million Filipinos.
Dozens of Syrian rebels and Kurds killed in clashes
BEIRUT | Thu Sep 12, 2013 10:36am EDT
(Reuters) – A surge of clashes in Syria's oil-producing northeast has killed dozens of rebels and Kurdish fighters in the past two days, activists said on Thursday, in fighting that highlights a struggle for territory and resources.
Fighters from Syria's ethnic Kurdish minority – roughly 10 percent of the 23-million-strong population – have carved out an increasingly autonomous region near the frontiers with Iraq and Turkey.
Syrian Kurdish militants, particularly the armed wing of the Democratic Union Party (PYD), have repeatedly clashed with opposition fighters led by al Qaeda-linked units in the region as government forces retreated over the past year.
The fighting has underlined the growing complexity of Syria's conflict which started with largely peaceful protests against President Bashar al-Assad and degenerated into a civil war that has killed more than 100,000 people.
Divisions in Syria along ethnic and sectarian lines – as well as the rise of radical Islamist units that have come to dominate the rebel movement – have made Western powers including the United States more hesitant to get directly involved in the 2-1/2-year-old uprising.