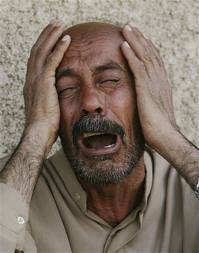 Afghanistan: Militants Killed in Attack on U.S. Base
By THE ASSOCIATED PRESS
Militants attacked a United States base in Afghanistan near the border with Pakistan on Monday, setting off bombs, burning vehicles and shutting down a highway used by NATOsupply trucks, officials said. At least three people — apparently all fighters — were killed.

The Taliban claimed responsibility for the strike in the Torkham area of Nangarhar Province, the latest in a surge of attacks in Afghanistan as American-led foreign troops reduce their presence en route to a full withdrawal by the end of next year.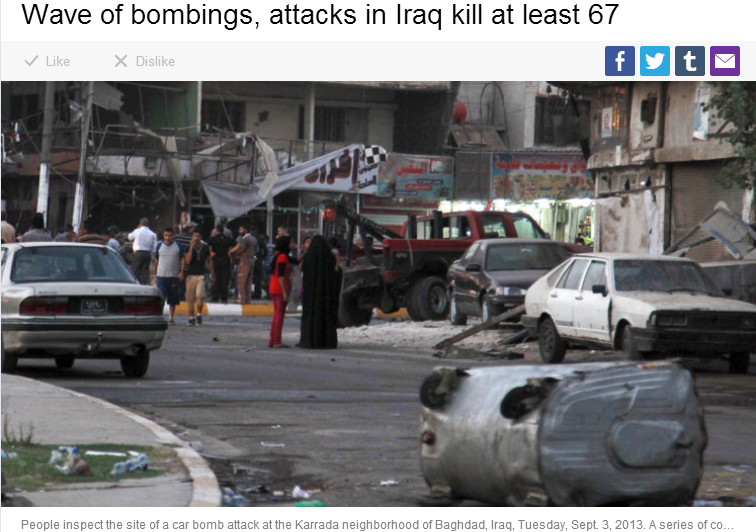 BAGHDAD (AP) — A series of coordinated evening blasts in Baghdad and other violence killed at least 67 people in Iraq on Tuesday, officials said, the latest in a months-long surge of bloodshed that Iraqi security forces are struggling to contain.
Many of those killed were caught up in a string of car bombings that tore through the Iraqi capital early in the evening as residents were out shopping or heading to dinner. Those blasts struck 11 different neighborhoods and claimed more than 50 lives in a span of less than two hours.
The killing comes amid a spike in deadly violence in recent months as insurgents try to capitalize on rising sectarian and ethnic tensions. The scale of the bloodshed has risen to levels not seen since 2008, a time when Iraq was pulling back from the brink of civil war.
6 Boys Killed While Swimming in Northern Afghanistan
By ROD NORDLAND
KABUL, Afghanistan — Six boys were killed on a swimming outing in northern Afghanistan, apparently the victims of fishermen who fired a rocket into a river, according to Afghan officials and relatives of the victims.
The suspects were identified as policemen, and six of them were arrested, including their commander, First Lt. Ahmed Farid, officials said.
The episode took place on Saturday in the village of Drumbak, in Baghlan Province, when policemen on one side of the Larkhab River fired a rocket-propelled grenade into the water. But the round went astray and exploded among a group of children bathing on the opposite shore, about 50 yards away.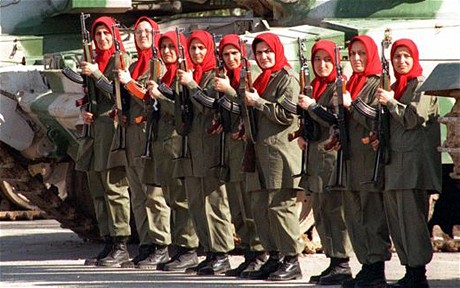 Iranian dissidents killed in Iraq camp, U.N. demands inquiry
(Reuters) – At least 47 people were reported killed at an Iranian dissident camp in Iraq on Sunday, the United Nations said, urging Baghdad to investigate the "tragic events" at a site north of the capital.
The violence took place hours after a mortar bomb attack on the camp which the dissent group Mujahadin-e-Khalq (MEK) blamed on the Iraqi army.
Two Iraqi security sources said that army and special forces had opened fire on residents who had stormed a post at the entrance to Camp Ashraf, a site that Iraq's government wants closed down. They said at least 19 were killed, 52 wounded and 38 arrested and that they believed residents were not armed.