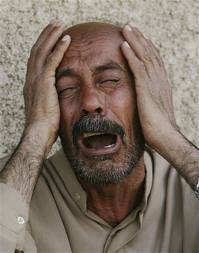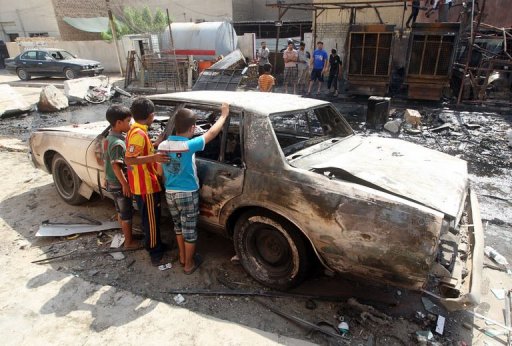 Iraq attacks kill 11, wound top army officer
(AFP) – 13 hours ago
BAGHDAD — Violence in Iraq killed 11 people on Monday as an army official escaped an assassination attempt, the latest in a surge of unrest that left more than 4,200 dead this year.
The attacks were the latest in months of unrelenting bloodshed, the country's worst since 2008.
Monday's blasts and shootings mostly struck areas north of the capital and came a day after nationwide attacks which killed 60 people.
In the deadliest new attack, a roadside bombing targeting an army patrol in the northern city of Mosul killed four soldiers, an army first lieutenant and a doctor said.
Also in Mosul, a suicide bomber blew himself up at an army checkpoint, killing a soldier and wounding 10 others, among them the provincial army intelligence chief Brigadier General Ismail al-Juburi, officials said.
Separate shootings in the city left two others dead.
Syria jihadists claim they killed Homs Alawites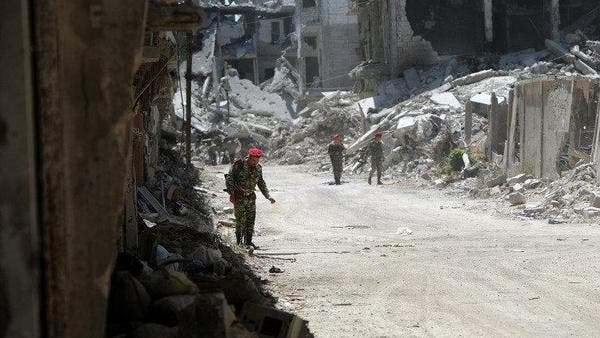 Syrian government forces patrol the Khalidiyah district of Homs on July 31, 2013. (AFP)
AFP, Beirut
The jihadist Al-Nusra Front said in an Internet statement on Sunday its fighters attacked three villages in Syria's Homs province and killed dozens of Alawites five days earlier.
"The people's wall of fear has been broken, as this was the first time these villages were entered and such a high number was killed," the Al-Qaeda-linked group said in the statement published on a jihadist forum.
Al-Nusra said its fighters entered the villages of Massudiyeh, Maksar al-Hissan and Jab al-Jerah on Tuesday and killed 30 members of the Alawite community, to which President Bashar al-Assad's clan belongs.
The statement said Al-Nusra fighters were urged by an Islamic jurist "to kill the Nusairis, enemies of God", using a pejorative term for Alawites.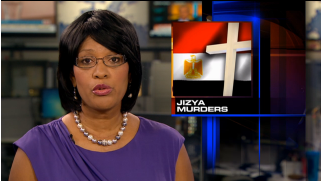 Egypt Christians Killed for Not Paying 'Jizya' Tax
Muslims in southern Egypt killed two Christian men for failing to pay them protection money.
Muslims in the area are demanding Christians pay them "jizya," a kind of tax that Islamic law requires religious minorities to pay Muslims.
However, the tax is so high many Christians simply can't afford it.
The Voice of the Martyrs reports that a Muslim man demanded a Christian in a village in Assiut pay him nearly $1,500.
The Christian sought help from local police but to no avail.
When he failed to come up with the money, several Muslims went to his home and shot him and his cousin to death.
Roadside bomb hits police bus in Egypt's Sinai, wounds 9
By ASHRAF SWEILAM | ASSOCIATED PRESS | Sep 16, 2013 1:27 PM CDT in
Suspected militants set off a roadside bomb in the northern part of the Sinai Peninsula on Monday as a bus full of police conscripts drove by, wounding nine of them, security officials said.
The blast on the outskirts of el-Arish, northern Sinai's provincial capital, came amid a counterinsurgency operation by Egypt's military and police in the volatile desert region.
The bus that was bombed Monday was traveling from the border town of Rafah, near the Palestinian Gaza Strip, to el-Arish and was escorted by an armored police car. The bomb was set off by remote control, said officials who spoke on condition of anonymity because they were not authorized to speak to the media.
The attack comes as Egypt's military presses its largest offensive in years against militants in Sinai in response to attacks the army says have killed more than 100 policemen and soldiers since the July coup that ousted Islamist President Mohammed Morsi from power. The deadliest attack took place Aug. 19 when unidentified gunmen pulled 25 police conscripts off minibuses and shot them dead on the side of the main road linking Rafah to el-Arish.
Military conscript killed in attack on checkpoint
Basil El-Dabh  /   
A checkpoint on the Ismailia-Cairo desert road comes under fire, killing one conscript
Unknown attackers opened fire on a military checkpoint on the Ismailia-Cairo desert road on Sunday, killing one conscript and leaving three other military personnel injured, according to the office of the spokesman of the Armed Forces.
Men in a car opened fire on a checkpoint on Sunday evening when approaching a military checkpoint that would not allow immediate passage. The attackers fled the scene after opening fire and were not found in the aftermath of the gunfire that left a conscript fatally wounded.
Emergency law was extended on Thursday for an additional two months for "security reasons" according to the cabinet.
3 police killed by suicide car bomber in Chechnya, wounded in Ingushetia blast
(Musa Sadulayev/ Associated Press ) – Chechen Police officers and investigators work on an aria after a bomb blast at the police station in Sernovodsk, Chechnya, southern Russia, on Monday, Sept. 16, 2013. Russian news reports say three policemen have been killed and four injured by a suicide car bombing in Chechnya.
By Associated Press, Published: September 16
MOSCOW — Three Russian policemen were killed and six others wounded Monday in a pair of car bombings in the restive Caucasus region. Another attempted attack on a police station was foiled, authorities said.
It was not clear if the incidents in the southern republics of Chechnya and Ingushetia were coordinated, but Russian officials said they believe one of the region's armed groups was responsible for all the attacks.
Three women shot dead in Pakistan 'honour' killing
Graphic map showing Darra Adam Khel in Pakistan's tribal area where relatives have shot dead three women in 'honour' killings, according to officials Monday. (AFP Graphics)
PESHAWAR, Pakistan (AFP) –  Relatives have shot dead three women in a lawless tribal area of northwest Pakistan after one of them left her husband, officials said Monday.
The "honour" killings happened in Jawaki village in the Darra Adam Khel district, between the cities of Peshawar and Kohat.
A 22-year-old woman from Karachi who married a Jawaki shopkeeper about two years ago was accused of fleeing her husband's house and marrying another man in the northwestern Swat valley with the help of her aunt and cousin, a local administration official told AFP.
The local tribal council or jirga intervened in the matter and decided on Sunday that the women should be killed.