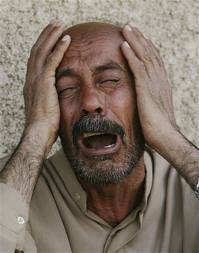 Clashes erupt in Egypt as Islamists stage protests
CAIRO (AP) — Clashes erupted between supporters and opponents of Egypt's ousted president during nationwide protests Friday as the military battled al-Qaida-inspired groups in northern Sinai.
The street rallies came a day after Egypt's military-backed interim government extended a nationwide state of emergency by two months, citing ongoing security concerns.
Officials said they feared more terrorist attacks after a failed assassination attempt targeting Egypt's interior minister last week and suicide attacks this week at a military intelligence headquarters and a checkpoint in Sinai that killed six people.
Unrest in Egypt spiked after the popularly backed July 3 military coup that toppled President Mohammed Morsi. The interim government has responded by targeting members of Morsi's Muslim Brotherhood for arrest and detention.
Soldiers killed in clashes in Egypt's Sinai
Three troops killed as military continues offensive targeting fighters in desert region adjoining Israel and Gaza.
Last Modified: 13 Sep 2013 19:59
The Egyptian military has launched an offensive to crush armed groups in Sinai [Reuters]
Three soldiers have been killed after Egyptian troops and helicopter gunships attacked fighters in the Sinai Peninsula striking suspected  hideouts for armed groups.
A source told Al Jazeera that the soldiers died on Friday in three separate incidents in the villages of Sheikh Zwaid, al-Mahdya and Abu Tawila in Egypt's desert region adjoining Israel and the Gaza Strip.
Security forces detained two wanted men and seized a rocket, dynamite used to build bombs, and 200 books on Islamic fundamentalism, security officials told the Reuters agency.
UPDATE: Bomb blast hits Sunni mosque, attacks across Iraq kill 33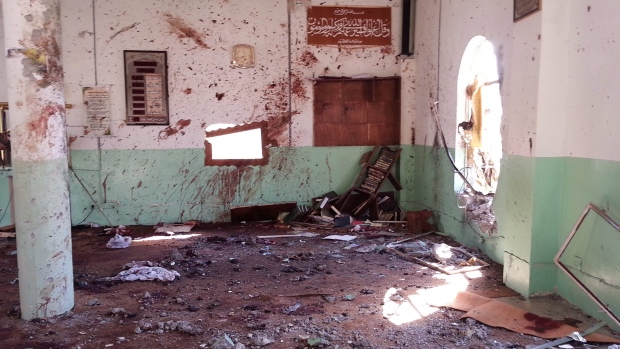 Funeral Bombing, Other Attacks Kill 25 in Iraq
BAGHDAD September 14, 2013 (AP)
By SAMEER N. YACOUB Associated Press
A suicide bomber attacked a funeral Saturday in northern Iraq attended by members of an ethnic minority, part of a series of assaults that killed at least 25 across the country, officials said.
Iraq is weathering its deadliest bout of violence in half a decade, raising fears the country is returning to a period of widespread killing such as that which pushed it to the brink of civil war following the 2003 U.S.-led invasion. More than 4,000 people have been killed in violent attacks since the start of April, including 804 just in August, according to United Nations figures.
In the suicide attack, the bomber detonated his explosive belt inside a tent during the afternoon ceremony held by members of the Shabak minority near the city of Mosul, 360 kilometers (225 miles) northwest of Baghdad.
Authorities said the blast in the village of Arto Kharab killed at least 20 people and wounded 35. The funeral was for a member of the Shabak minority who had died of natural causes, officials said.
Five killed in clashes among Syria militants near Iraq border
File photo shows Syria foreign-backed militants in the northwestern province of Idlib.
Sat Sep 14, 2013 2:4PM
Al-Qaeda-linked groups have fought deadly battles with other militant groups operating in Syria several times since the beginning of the unrest in the Arab country more than two years ago."
At least five people have been killed in heavy clashes among Syria foreign-backed militants near the Iraqi border.
The clashes erupted in the Boukamal town on Saturday among the al-Qaeda-linked Islamic State of Iraq and the Levant (ISIL) and other militant groups, the Associated Press reported.
The infighting came after ISIL declared an offensive on Thursday against two militant groups, the Farouq and Nasr Battalions.
ISIL accused the two groups of attacking its forces and suggested they may have even collaborated with the Syrian government.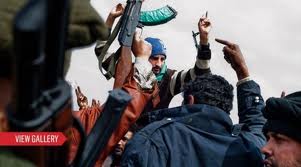 File photo
Clash Between Tribesmen in Western Libya Kills 11
TRIPOLI, Libya September 13, 2013 (AP)
By ESAM MOHAMED Associated Press
A Libyan security official says fighting between members of two rival tribes in a southwestern town near the Algerian border has killed 11, and forced several residents to flee.
The official says clashes erupted late Thursday between border guards from the western tribe of Zintan and Garamna tribesmen, following a personal dispute.
The fighting took place in the town of Derj, 550 kilometers (340 miles) southwest of the Libyan capital, Tripoli.
The officials says several residents fled into Algeria after Zintan border guards set fire to houses of the rival tribe. The official spoke on condition of anonymity because he was not authorized to talk to the media.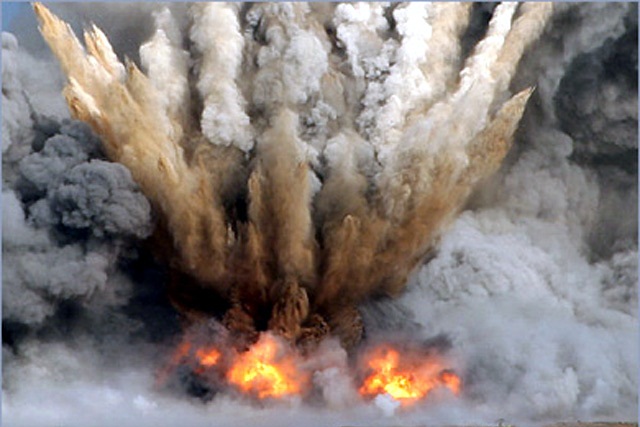 2 killed, 4 injured in blast in Pakistan
At least two members of a Pakistani pro-government militia were killed and four others injured today when a remote controlled bomb exploded during an archaeological dig in a volatile tribal region in northwest.
The explosive device went off with a big bang at the site in the mountainous area of Darra, 20 kilometres northeast of Khar, the main town of Bajaur Agency.
About a dozen members of a local peace committee were digging at an excavation site when a remote controlled bomb went off, killing two members and wounding four others, a senior local administration official said.
Police Officer Killed In Karachi
September 14, 2013
Unidentified gunmen have killed a police officer in Pakistan's southern metropolis, Karachi.
Reports say that Mumtaz Shah was killed on the morning of September 14 while driving to work near the city's Malir Cant area. The murder comes amid a massive government crackdown to restore order to the city plagued by crime and terrorist attacks.
Pakistan's Prime Minister Nawaz Sharif had ordered the operation in port city on September 4.
Scores dead, thousands flee from violence in Nigeria
The violence was reportedly fuelled by police arrest late Thursday of some Ombatse militiamen on charges of carrying arms and preparing to attack their rivals.
World Bulletin/News Desk
Ethnic violence erupted in the central Nigerian Nassarawa state late on Friday, reportedly claiming many lives and forcing many panicky residents to flee for safety.
The violence, according to eyewitness and police accounts, is between the Eggon youths who constitute the dreadful and outlawed Ombatse militia and Alago youths, both of whom co-habit the Obi local government of Nassarawa, the state closest to the country's seat of power, Abuja.
The violence was reportedly fuelled by police arrest late Thursday of some Ombatse militiamen on charges of carrying arms and preparing to attack their rivals.