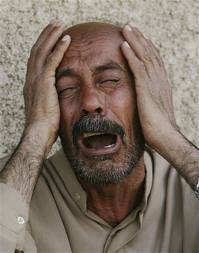 Jordanian MP opens fire in parliament
No injuries reported after member of parliament fires automatic weapon following a dispute over a budget matter.
Last Modified: 10 Sep 2013 18:05
A Jordanian member of parliament has opened fire inside the parliament building in Amman, releasing at least three shot from his automatic weapon.
There were no injuries reported in the incident in which MP Talal Al Sharif allegedly fired his weapon at the ceiling and a wall just outside the main hall of parliament after a political dispute over a budget matter.
Several MPs confirmed to Al Jazeera that Al Sharif ran down to his car after the dispute to get his fire arm.
Right before he entered the main hall of parliament, MP Mariam Al Lozi tried to stop him from using his weapon by directing it at the ceiling. Al Sharif pulled the trigger and fired at least three bullets at the ceiling and a wall.
The incident happened during a closed session of parliament, which was surrounded by riot police shortly after the shooting.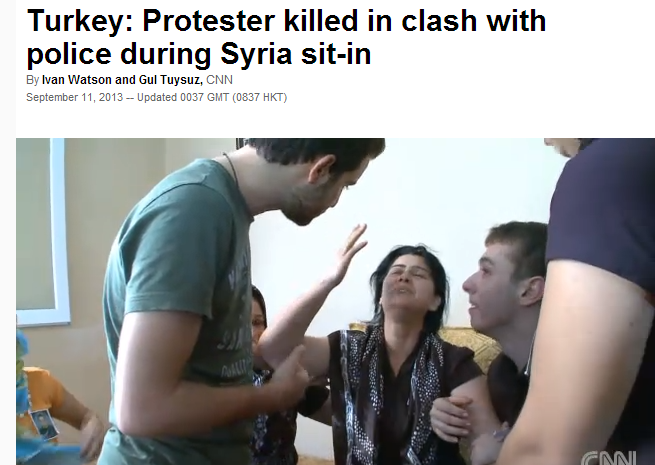 Hatay, Turkey (CNN) — Clashes erupted across Turkey on Tuesday after a predawn skirmish between police and protesters left one demonstrator dead in the border province of Hatay.
Crowds of demonstrators gathered in the cities of Istanbul, Ankara and Hatay to denounce the death of Ahmet Atakan, a 22-year-old who recently graduated from accounting school.
Police in Istanbul dispersed demonstrators using water cannons, tear gas and rubber pellets. Thousands of demonstrators tried to reach Taksim Square, a main commercial area that has been the site of clashes since May. Riot police prevented small groups from congregating in the square.
Demonstrators erected barricades, threw stones and shot firecrackers at the police.
Crowds of protestors chanted "Down with the government" and "Solidarity with Armutlu" referring to the neighborhood in Hatay where Atakan was fatally injured.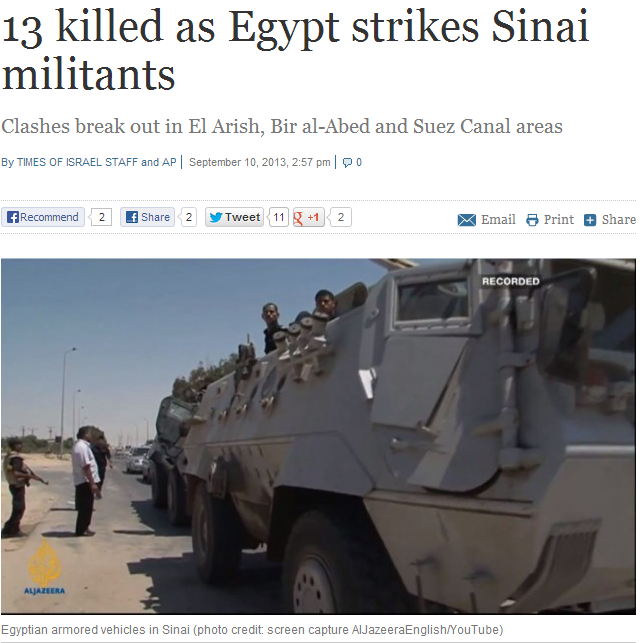 Thirteen people were killed in a series of clashes in Egypt's Sinai Peninsula over the past 24 hours, Egyptian officials said on Tuesday.
Army troops, backed by helicopter gunships, attacked hideouts of Islamic militants in Sinai, killing nine and arresting 10, according to an Egyptian army official said, raising the death toll among suspected militants to 29 since the start of a major military offensive in the Sinai Peninsula on Saturday.
The military also found explosives material, weapons and ammunition Monday in the villages of el-Mahdiya and Naga Shabana, south of the town of Rafah near the border with Gaza, he added.
Bombs target Iraqi Shiites and Sunnis, at least 20 dead
September 10, 2013 10:37 PM (Last updated: September 11, 2013 12:22 AM)By Sinan Salaheddin
Iraqi security forces look at a map during a raid and weapons search operation in Baquba, about 50 km (30 miles) northeast of Baghdad, September 6, 2013. REUTERS/Mohammed Adnan
 BAGHDAD: Bomb attacks targeting both Shiite Muslims and Sunnis killed at least 20 people in Iraq Tuesday, part of a spiral of violence that raised has the specter of a return to the full-blown civil conflict of 2006-07.
In the ethnically mixed province of Diyala, a car bomb targeted Shiites in a marketplace in the village of Anbakiya, killing five people in the third such attack of the past two months, police said.
"A white car parked near a barber's shop inside Anbakiya market exploded. I got shrapnel in my head and my family took me to Baqouba hospital," said 24-year-old college student Ali Kadhim.
It was not immediately clear who was behind the attack, but Sunni Islamist groups including Al-Qaeda, which view Shiites as non-believers, have been regaining momentum in Iraq, galvanized by civil war in neighboring Syria.
Militants behead three anti-Taliban militia chiefs in northwest Pakistan
Pro-Taliban militants in Pakistan (file photo)
Tue Sep 10, 2013 1:14PM
Heavily-armed militants have beheaded at least three anti-Taliban militia chiefs and kidnapped several others in Pakistan's troubled northwest tribal region, security officials say.
Local security officials said on Tuesday anti-Taliban chiefs were killed when dozens of pro-Taliban militants armed with guns and rockets attacked their homes in Bara, the main town in the Khyber tribal region, late Monday.
Security sources said the attackers have managed to flee the scene before the tribal policemen cordoned off the area.
The authorities said they have launched an investigation into the brutal incident.
Retired colonel killed in Benghazi car-bomb blast, son critically injured
By Ahmed Elumami.
Tripoli, 10 September 2013:
A retired colonel from the Qaddafi-era External Security Agency has been assassinated in a car-bomb attack in Benghazi.
Salem Mohamed Al-Urufi, aged 75, was killed in the explosion. His son was critically injured and is now being treated in a Benghazi hospital intensive care unit.
Several other people were also reported to have been injured in the blast.
"The incident took place after Noon Prayers in Benghazi's Hay Al-Salam district, near the local car market in the east of the city," spokesman for Benghazi's Joint Security Room Abdullah Zaidi told the Libya Herald.
Yemen clashes kill 42 in 10 days
Forensic experts inspect the scene of a bomb blast targeting a military bus in Sanaa yesterday.
At least 42 people have been killed in 10 days of clashes in Yemen between Sunni Islamists and Shia rebels, tribal sources and an official said yesterday.
Tension is mounting with stumbling national reconciliation talks, begun after the ouster of former president Ali Abdullah Saleh last year, set to conclude this month.
There have been days of clashes between gunmen loyal to tribal chief Hamid al-Ahmar—a leader of the Sunni Islah party, and Shia Houthi rebels in Amran province north of the capital, several sources said.
More than 30 people have been killed in the past 10 days in fighting in Osaymat and Ozur, a tribal chief said of two areas named after the Sunni and Shia tribes who live there.
At least 12 others were killed in firefights between Houthis and Sunni Islamists in the Rudma region near Ibb, a local official said.