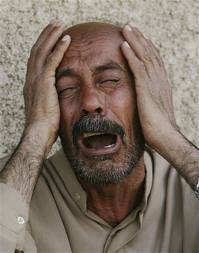 UN Says Over 800 People Killed in Iraq in August
BAGHDAD September 1, 2013 (AP)
By SAMEER N. YACOUB Associated Press
More than 800 people were killed in Iraq in violence throughout August, the UN said Sunday. That was down somewhat from July, but still one of the highest monthly tolls in recent years.

Violence in Iraq has spiked following a deadly crackdown by the Shiite-led government on a Sunni protest camp in northern Iraq in April.

Attacks including waves of multiple coordinated car bombings, mostly blamed on al-Qaida's local branch, target the military, police and Shiite civilians. The scale of the bloodshed is intensifying fears Iraq is heading back toward the widespread Sunni-Shiite sectarian killing that peaked in 2006 and 2007. Security forces have tried to ratchet up counterinsurgency operations in response, but do not appear to have made a major dent in the pace of attacks.

The UN mission in Iraq said it recorded 804 people killed in August, including members of Iraq's security forces but not insurgents. The capital Baghdad was the part of the country worst affected, with 317 killed. The U.N. figure was lower than its July death toll, which stood at 1,057.

The report says a total of about 5,000 people were killed since the start of 2013.
Senior intelligence officer in Yemen killed in suspected militant attack in country's south
SANAA, Yemen –  Security officials in Yemen say suspected al-Qaida-linked gunmen have shot and killed a senior intelligence officer.

The security officials said Hassan al-Mansouri was killed Saturday in Labous, in the southern Lahj province, following a day of clashes between local tribesmen and suspected members of al-Qaida in the area. They say Al-Mansouri had organized local tribes in a campaign to weed out the militants from the area.

The officials said they suspect the officers' killers are from al-Qaida in the Arabian Peninsula. Washington considers the group as the most dangerous al-Qaida branch to threaten U.S. interests, and has waged drone attacks against it in Yemen.
6 killed, 190 injured in Egypt's Friday clashes: health ministry
English.news.cn   2013-08-31 18:50:42
CAIRO, Aug. 31 (Xinhua) — At least six people were killed and 190 were injured in clashes between security forces as well as citizens and supporters of ousted president Mohamed Morsi during Egypt's Friday protests, the Health Ministry reported.

In a press release, the ministry said two people were killed in Cairo, three in Giza and one in Port Said.

On Friday, medical officials and state-run media said that 11 people were killed and dozens of others were injured in skirmishes between supporters of Morsi and citizens, and in attacks launched by unknown militants against police stations in different governorates.

Also, more than 350 members of the Muslim Brotherhood were arrested on the same day, according to official news agency MENA.

Meanwhile, the National Alliance for Supporting Legitimacy, a pro-Morsi bloc comprising 33 Islamic movements, announced on Saturday that the protests will continue on a daily basis against what they said is an "oppressive coup."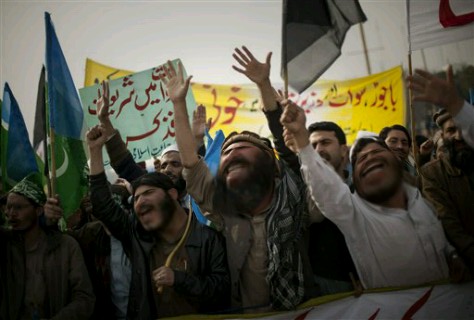 Bomb Kills 3 Soldiers in Northwest Pakistan
ISLAMABAD September 1, 2013 (AP)
The Pakistani army says a bomb blast has killed its three soldiers in a tribal region near its border with Afghanistan.

An army statement says the roadside bomb exploded Sunday in a village near Miran Shah, the main town in the North Waziristan tribal area.

The region is home to a mix of local Pakistani, Afghan and al-Qaida-linked foreign militants.

While there's no Pakistani military offensive in the region, the U.S. carries out suspected drone strikes targeting militants.