The Leftist extremists are out!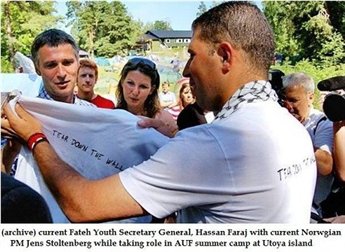 This should be a period of far better relations between the two states than it has been in a very, very long time. Like in Australia, the socialist-light parties that comprise what's known as the Norwegian right, have a far better view of Israel than that of the radical, extremist Left.
NOTE: It's high time for a change in Norway's bigoted, racist policies towards the Jewish state.
Center-Right victory in Norway elections expected to improve country's tone toward Israel
09/11/2013 01:29
"They will still criticize settlement construction, but it might be done in a more understanding way."
NORWEGIAN CONSERVATIVE LEADER Erna Solberg addresses supporters, Sept 9 Photo: Stian Lysberg Solum/Reuters
Pro-Israel groups in Norway hailed Monday's national Norwegian elections that will bring to power a center-right government expected to be considerably more sympathetic to Israel than the outgoing coalition.
"Among pro-Israel supporters in Norway there is generally a sense of relief that the Norwegian people voted out of power those who have very little understanding for Israel and some of whom worked for a boycott of Israel," said Conrad Myrland, head of With Israel for Peace (Med Israel for Fred), the largest non-religious, pro-Israel organization in the country.
Norway's opposition Conservatives, headed by Erna Solberg, swept to victory on Monday. They are poised to form a coalition with the populist right-wing Progress Party and two small centrist parties, the Christian Democrats and the Liberals.
Myrland termed both the Progress Party, which has an anti-immigration and an anti-tax plank, and the Christian Democrats as pro-Israel.