Nothing to see here, move along folks.
I have yet to run across someone starting a webpage with a Muslim name who didn't have some kind of a connection with Islam. This portion of text was buried deep within the article.
Law enforcement officials told NBC News that Alexis created a webpage with the name "Mohammed Salem," but they said he never did anything with it. They said they had found nothing else that might indicate any interest in violent jihad or even in Islam.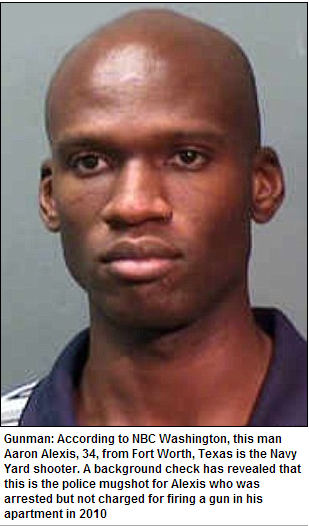 Navy Yard gunman's mother says she is heartbroken and sorry for families
By Kyle Eppler, Pete Williams and Erin McClam, NBC News
The mother of Aaron Alexis, the Washington Navy Yard shooter, said Wednesday that she was heartbroken and sorry for the families of the victims and that she was glad he is "in a place where he can no longer do harm to anyone."
In a brief statement to a reporter in New York, the woman, Cathleen Alexis, said her son "has murdered 12 people and wounded several others."
"His actions have had a profound and everlasting effect on the families of the victims," she said, her voice trembling. "I don't know why he did what he did, and I'll never be able to ask him why. Aaron is now in a place where he can no longer do harm to anyone, and for that I am glad."
More here. H/T: Donny Kligman