Yet in spite of all this that happens on a daily basis throughout the entire Islamic world, the OIC promotes 'Islamofauxbia' as the greatest scourge affecting world peace today.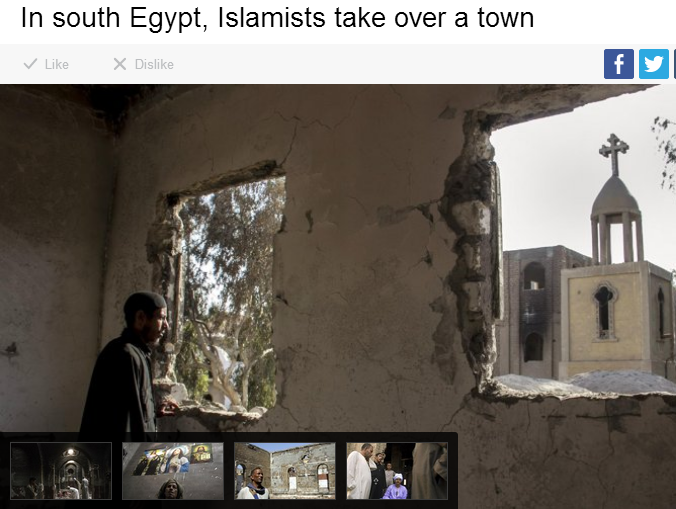 DALGA, Egypt (AP) — The Coptic Orthodox priest would talk to his visitor only after hiding from the watchful eyes of the bearded Muslim outside, who sported a pistol bulging from under his robe.
So Father Yoannis moved behind a wall in the charred skeleton of an ancient monastery to describe how it was torched by Islamists and then looted when they took over this southern Egyptian town following the ouster of the country's president.
"The fire in the monastery burned intermittently for three days. The looting continued for a week. At the end, not a wire or an electric switch is left," Yoannis told The Associated Press. The monastery's 1,600-year-old underground chapel was stripped of ancient icons and the ground was dug up on the belief that a treasure was buried there.
"Even the remains of ancient and revered saints were disturbed and thrown around," he said.
A town of some 120,000 — including 20,000 Christians — Dalga has been outside government control since hard-line supporters of the Islamist Mohammed Morsi drove out police and occupied their station on July 3, the day Egypt's military chief removed the president in a popularly supported coup. It was part of a wave of attacks in the southern Minya province that targeted Christians, their homes and businesses.
View gallery."
In this Sept. 3, 2013 photo, Egyptian Christian villagers clean up the damaged ancient chapel inside …
Since then, the radicals have imposed their grip on Dalga, twice driving off attempts by the army to send in armored personnel carriers by showering them with gunfire.