Or in other words, Leftist employment of humanitarian racist thinking.
Once again, former Ambassader to Finland, Avi Granot, addressing Avi Shlaim's historical revisionism at Helsinki University, that placed all blame for the conflict upon the Israelis.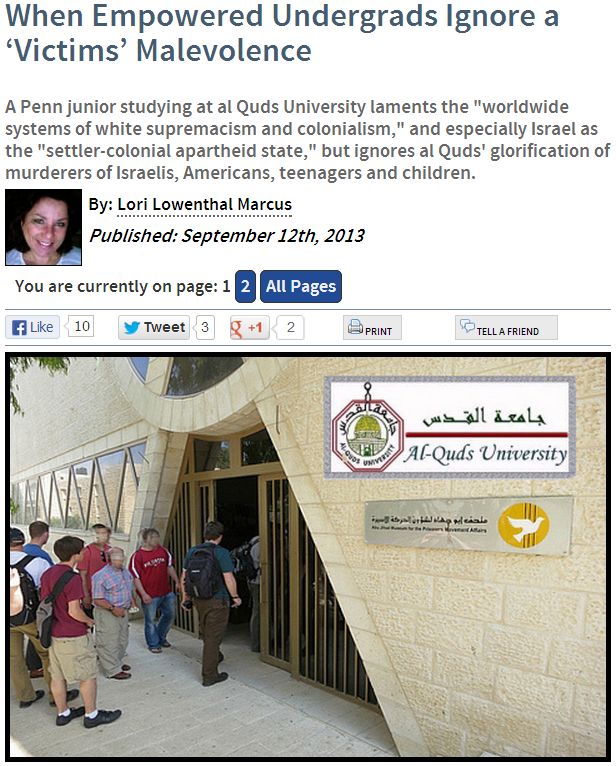 al Quds University has the abu Jihad Museum, which honors one of the most brutal Arab Palestinian terrorists
The young woman who wrote the article, "The Problem with Band-Aids," is a junior at the University of Pennsylvania.  Her article appeared in Penn's highly regarded newspaper, the Daily Pennsylvanian, on September 8.  The subtitle of O'Conor's article is: "From Palestine to Penn/ When Talking About Dialogue, Empowerment and Reform Does the Rhetorical Work of Oppression and Injustice."  At Penn, Clarissa O'Conor focuses on Gender, Sexuality, and Women's Studies and Modern Middle East Studies.
But O'Conor, who presents herself as an advocate for those who are disempowered, is fed up with what she claims is the oppressive force behind the term "empowerment." This fall O'Conor is studying at al Quds University, in a place she calls, without quotation marks, "Palestine." In this article, O'Conor explains why Penn, which apparently gives her college credit for studying at al Quds, and Bard College, which  created at al Quds "a small honors college at which Palestinian students can earn a dual-degree with American accreditation," earn her contempt.
Why?
"Especially at Penn, we like to 'empower' people.  We have all sorts of organizations and initiatives to do this.  We really like to 'empower' communities and women," she writes, but O'Conor is above all that.  She disdains the Western efforts to empower her comrades in "Palestine."