Libya is nothing more than a plethora of fiefdoms exerting control over their own patch.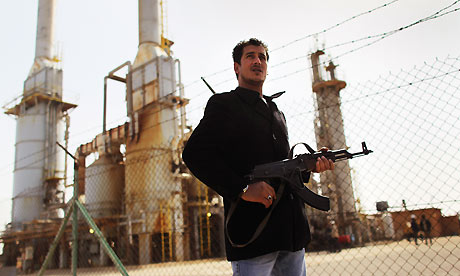 Libya's oil exports plunge as problems escalate
BY ESAM MOHAMED
ASSOCIATED PRESS
The volatile atmosphere threatens to further destabilize Libya and has already contributed to jitters among international oil traders and refiners.
The protests by Petroleum Facilities Guard personnel have cost Libya around $140 million a day, or what is more than $5 billion in total losses, according to the National Oil Corp.'s website.
Libya's central bank has warned that if the situation remains as it is through the end of the year, the country could lose its contracts with foreign companies. Bank officials said the national budget and the government's ability to pay civil servants would also be severely impacted.
Naji Mokhtar, head of the energy committee in Libya's elected parliament, said the strikes at ports are also choking imports of diesel and fuel oil for electricity plants, leading to rolling shortages.
"Now we don't have a choice other than using force to disperse these sit-ins," he told reporters this week.
Water shortages also have hit Tripoli in recent days, with hospitals and homes relying on storage from wells and large tanks. The shortages began around three days ago when the Megraha tribe in Sabha cut the power on pumps that keep water flowing from the south to the northwest, where the capital is located.