How dare those Jews have weapons to defend themselves from mass slaughter by invading Arab/Muslim hordes.
The war Arab/Muslim war against the Jewish state of Israel is waged on all fronts, especially now on the international political front. It's the reason why anyone spouting off with "the UN passed this or that resolution against Israel", should be met with "yeah, and the legislatures (Dems) in formerly segregated states of the U.S. South passed laws against Black Americans.
NOTE: This is just one more reason to end participation in the UN, a commie construct that should have been still born.
h/t: Matti Nevalainen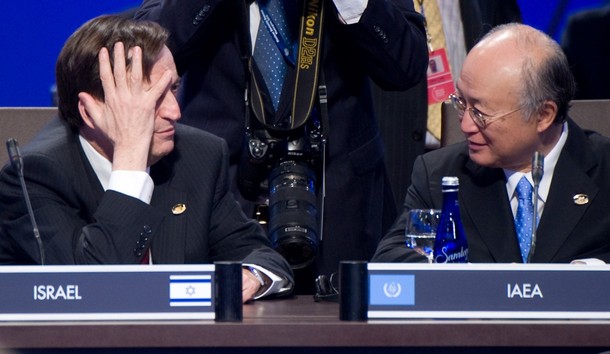 IAEA: Anti-Israel Resolution Narrowly Defeated
"Israel-bashing" resolution, backed by Iran and the Arab League, would have exclusively targeted Israel for criticism.
A proposed resolution by Arab states criticizing Israel's widely-rumored atomic arsenal was narrowly defeated Friday at a gathering of the UN nuclear agency.
Following a lively debate at the International Atomic Energy Agency's annual generalconference, the measure, supported by Iran, was defeated by 51 votes against and 43 in favor with 32 abstentions.
Israel is widely assumed to have nuclear weapons but has never acknowledged it and is not a signatory to the landmark Treaty on the Non-Proliferation of Nuclear Weapons (NPT).
The Jewish state is a member of the International Atomic Energy Agency but is not subject to IAEA inspections except for at a small research facility.
The resolution debated at the meeting of all 159 IAEA member states expressed "concern about Israeli nuclear capabilities and calls upon Israel to accede to the NPT and place all its nuclear facilities under comprehensive IAEA safeguards".
In 2009 the same resolution was narrowly approved by members of the IAEA, and in 2010 it was defeated only after intensive lobbying efforts by Western countries.
In 2012 and in 2011 Arab states decided not to propose the resolution, saying that they did so in order to encourage the creation of a Middle Eastfree of weapons of mass destruction.
These efforts, however, have so far come to nothing, with a hoped-for conference failing to take place in late 2012 as planned.