Better late then never, but…..
I've seen this photo on  a wall at the Helsinki Jewish community center, Abraham Tokazier, was the runner on the very bottom of the picture, you can see Mak on his shirt, and his right leg clearly extended over the finish line further than anyone else. How he ended up in fourth place, well…….?
H/T: Sanna Haikala-Reyes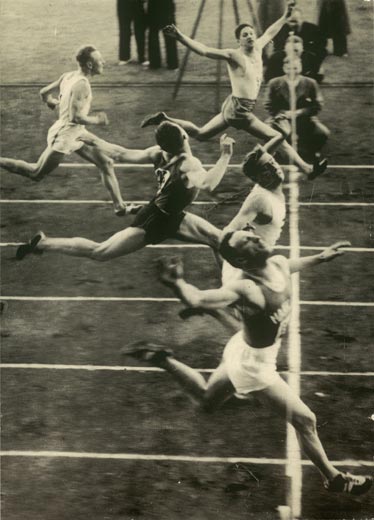 Sports federation to apologize for error in 1938 judgement
Wednesday, 18/09/2013 at 21:24
IL: Finnish Sports Federation will present its formal apology for a summer of 1938 running competition in the Olympic Stadium in Helsinki, indicating that the race standings, and the results were clearly erroneous.
Following the opening ceremony of the stadium, at the time, one of the two Finnish runners was declared the winner of the 100-meter race instead Abraham Tokazier. The results lifted three other runners ahead of Tokazier. The reason for such a thing to have happened has been thought that there was a desire to please guests from Nazi Germany who were viewing the races.
– Now, since there is a photo of it, it can be proven that the finish line judges have ruled wrongly, Athletic League informed.
The results, however, can no longer be over ruled due to the international track and field rules.
This was a concern raised by author Kjell Westö in a book recently, but the Maccabee Sports Club has demanded a correction of the results for the past 75 years. Tokazier who represented Maccabee stopped his racing career at the same time. He died in Sweden in 1976.