Experience dictates that any talks with Obama are anything but 'open, fair and thorough'.
Europeans love their socialist US brethren.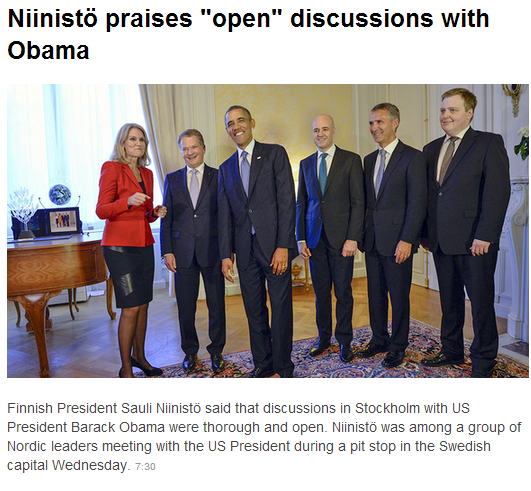 Niinistö described discussions among the group of Nordic leaders Wednesday as fair and thorough in many respects. The Finnish president said that the group covered a wide range of topics ranging from a proposed EU-US free trade agreement to climate change, arctic interests and gender equality.
Niinistö represented Finland in the talks, which were attended by Danish Prime Minister Helle Thornig-Schmidt, Swedish Prime Minister Fredrik Reinfeldt, Norwegian Prime Minister Jens Stoltenberg and Iceland premier David Gunnlaugsson.
Obama and the Nordic leaders issued a joint statement following the meeting, in which they strongly condemned the use of chemical weapons in Syria.
"It seems quite clear that chemical weapons have been used in Syria and that is a crime against humanity," Niinistö said.
The President added that the situation has highlighted the responsibilities of the United Nations Security Council and U member states.
More here at the Finnish taxpayer funded propaganda dept. YLE